How to Choose a Scooter for Children
|

Vendula Kosíková

Every child is different, some will master scootering immediately, others will take some time to gain the necessary confidence. If the scooter is light enough, though, its size corresponds to the child's age and the footboard height does not burden the supporting leg excessively, then nothing stands in the way of children enjoying the pleasures that riding a scooter brings.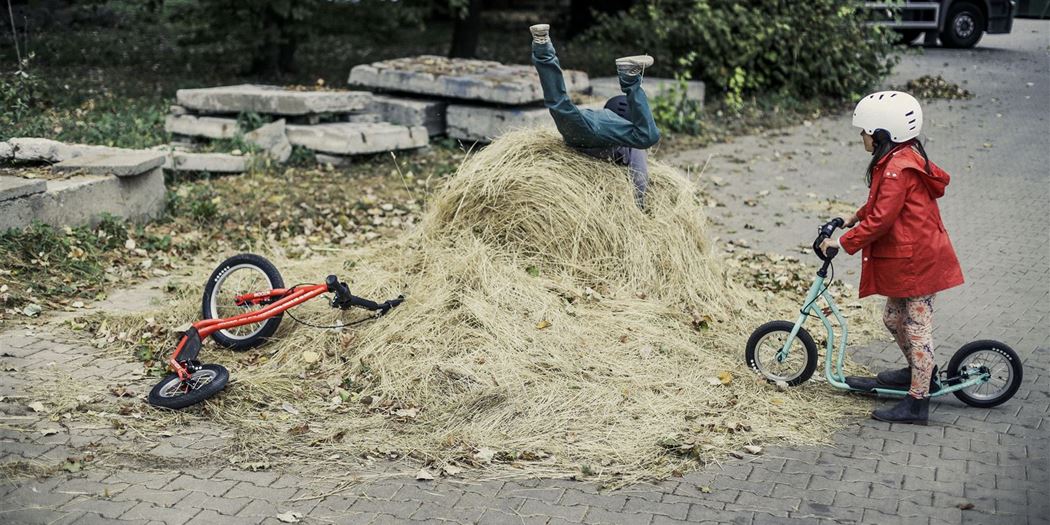 Size adequate to the child's age
Just as it not advisable to buy shoes several sizes higher, you should not select a scooter thinking that the child will grow into it and it will last him longer. A scooter that is larger and heavier will be difficult for children to handle. A frustrating experience may put them off scootering completely.
The advantages of a scooter
Riding a scooter develops motor skills, a sense of balance and brings the joy from movement out in the fresh air. 
If you buy a quality scooter, it will last for several generations of children. If you have no one to pass it on to, you can easily sell it in one of the bazaar with items for children.  
When selecting a scooter, mainly the height of the child should guide you, but take into account the child's physical ability and physique as well.
A more able individual will be able to manage even a larger scooter, which will no doubt last him longer, too. A more delicate child will feel better on a smaller scooter, which it will be able to handle more easily.
If your child measures 120 cm, for example, is fit and physically gifted, you need not be afraid to select a model from the 120 – 140 cm category. You will set the handlebar height to the minimum for him.
In the opposite case (a more delicate child), you should rather reach for a scooter from the 110 – 135 cm category, where you will find smaller and lighter models. You will then set the handlebar height to approximately the middle. Attention: The range of handlebar setup may differ for the individual models.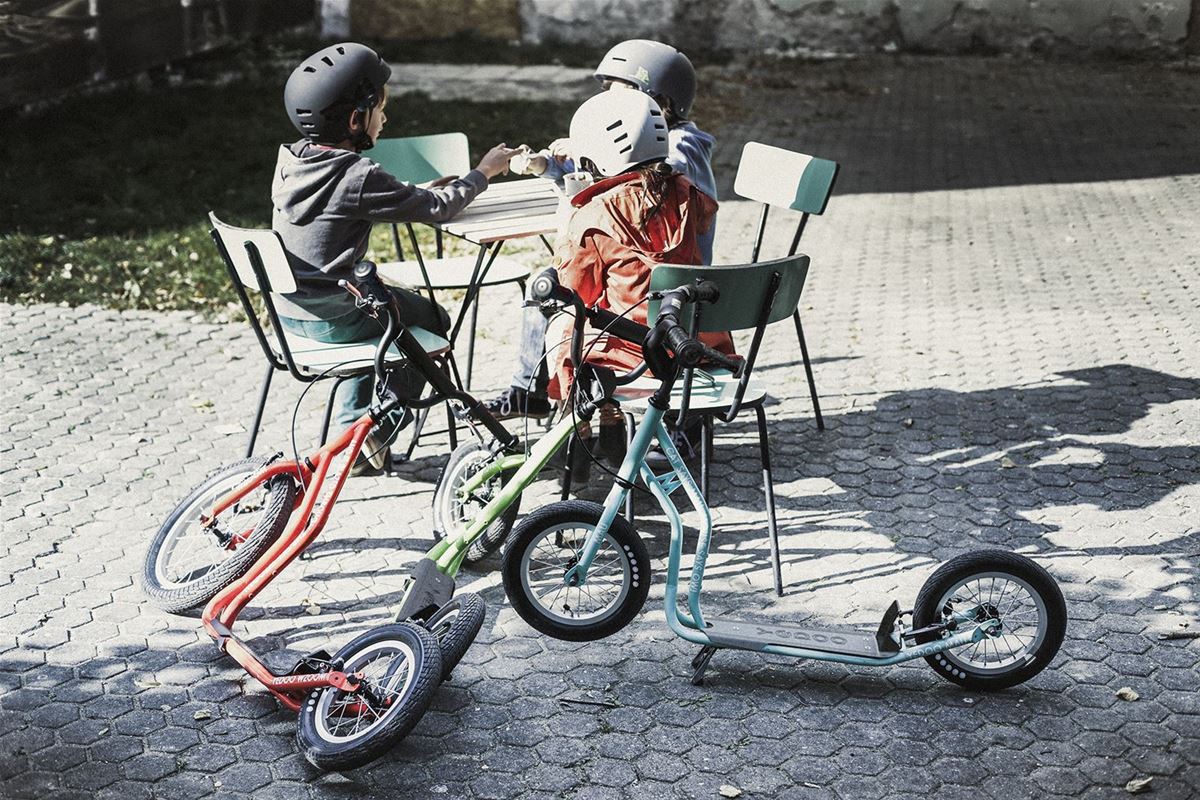 Riding tips
The right timing
When is the right time for a scooter? Usually no sooner than at the age of 4 years, or when the child grows tall and strong enough to be able to handle the scooter safely. Children under the age of four will probably feel better with a balance bike. For the smallest children, we recommend the Yedoo Mau, for pre-schoolers the Yedoo Tidit, for older kids the Yedoo Wzoom or Yedoo Frida and Fred.
Allow children enough time for learning
At first sight, riding a scooter may seem easy and intuitive. Yes, some children have no problem coordinating the necessary movements and keeping balance. But others need a little time to figure out how to handle the scooter. Therefore do not rush them and do not give up after the first failure. On the contrary, encourage them and allow them to be clumsy. 
Practice switching legs
You should also practice switching the kicking leg with them, which may be unusual even for those, who are more able. A little time will do and children will change legs naturally as a matter of course. They will thus avoid overburdening one side of the body and will develop motor skills, which are necessary for brain development, too.
Teach them to make a circle
Explain to the children before the ride that sharp turns are not good for the scooter and that it is better to make a nice circle than to turn the handlebars into a sharp angle, in which the scooter tends to lose stability. 
Small or large wheels
Folding scooters with small wheels made of PU rubber may be light (approximately 3 kg) and storable, but due to small wheels, which sink into the smallest hole, they are also rather dangerous. The risk that the child may fall over the handlebar is there even on common interlocking pavements or cobblestones.  Folding scooters also have narrow handlebar, which makes them unstable and uncomfortable especially during a longer ride. They are mainly suitable for short transfers around town.
Scooters with inflatable wheels are a little heavier compared to foldable ones (around 6 kg), but they can handle surfaces of all kinds well and pass over potholes, tram tracks as well as cobblestones easily. Besides, if they have quality bearings and properly inflated tyres, they ride lightly, as if by themselves. 
Take a look at children's Yedoo scooters with inflatable wheels.
Footboard height
The so-called tread height of the footboard determines how comfortable / strenuous riding a scooter will be. The higher the footboard is, the lower the child will have to squat and the sooner their legs will start to ache. Therefore, take the footboard height as one of the main parameters and look for scooters with a tread height of about 7 cm. It provides sufficient comfort and a good pass through all terrain.

The exact distance of the footboard from the ground can be found under the term Ride Height, or you can easily calculate by subtracting the footboard width from the tread height. The higher the footboard from the ground, the better it overcomes uneven terrains. Children usually do not go off-road and the ride height of 4-5 centimeters will beadequate.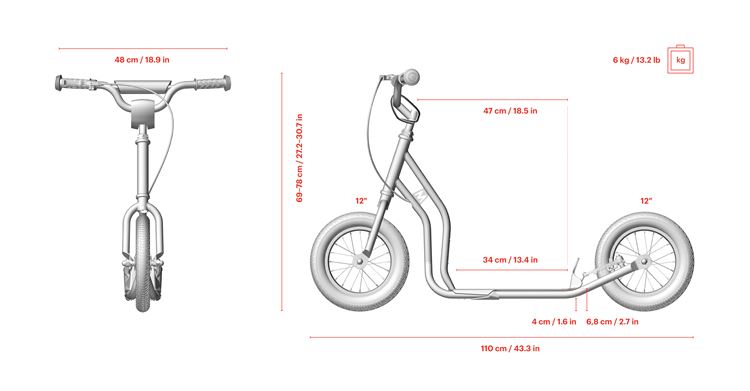 Adjustable handlebar height
Another parameter that will be useful for you when comparing scooters is the minimum and maximum height of the handlebar. This will determine, how long the scooter will last your child. Most kids scooters have a screwed headset, which enables simple adjustment of handlebar height using a hex key. The optimum range of setup should reach between 7 and 10 cm.
The Yedoo Frida & Fred scooter for older kids has the ambition to become a scooter for a lifetime. All you need to do is exchange kids handlebar for an adult one.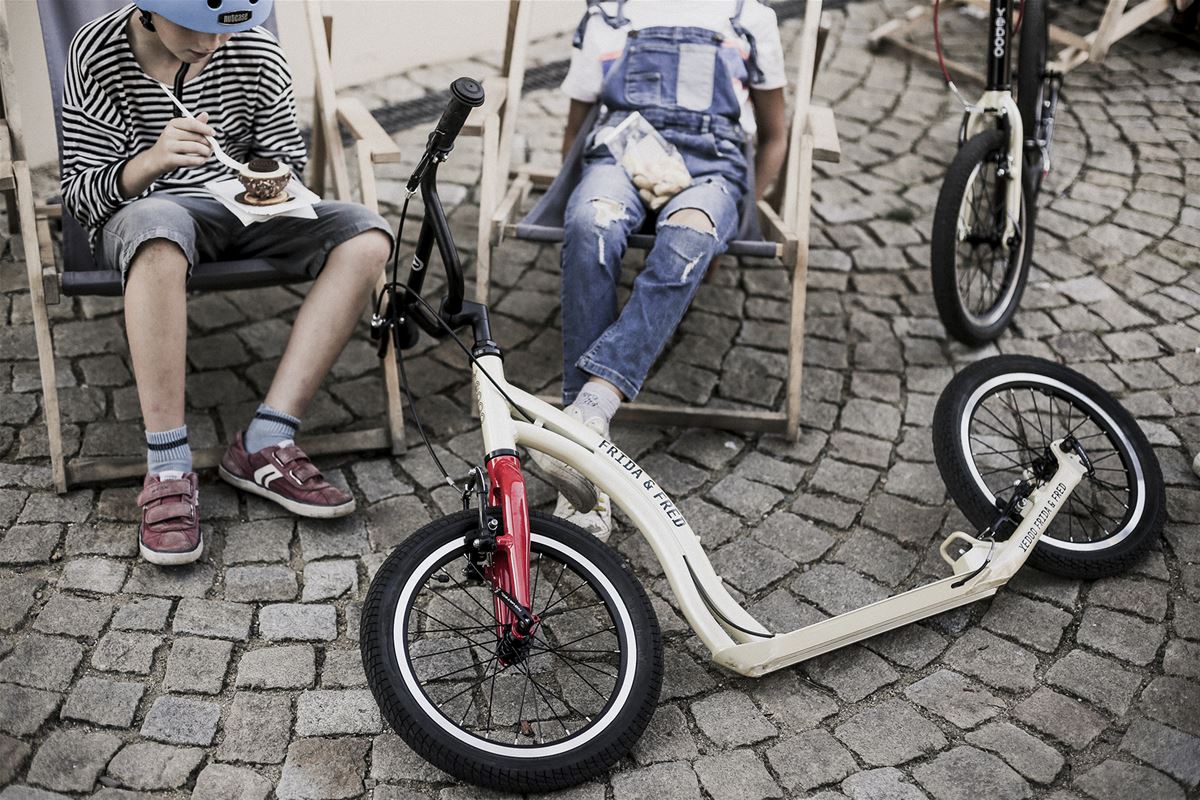 Brakes and brake levers
A scooter should have at least one quality brake with a brake lever that corresponds to the child's hand and for which its distance from the handlebar can be adjusted so that the child's small fingers could reach it.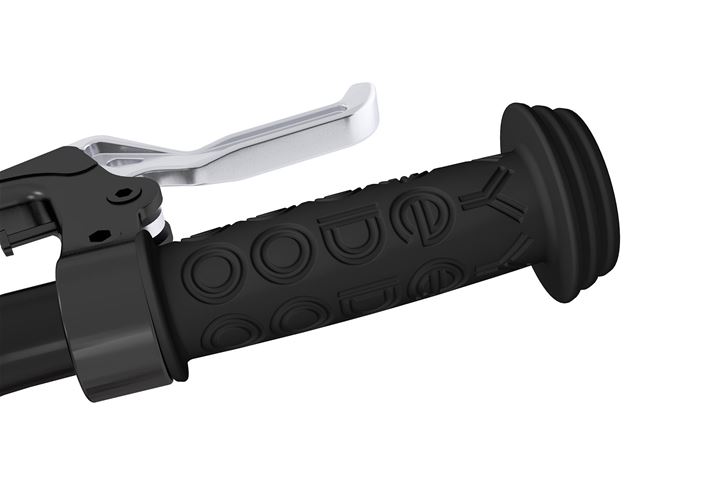 Total length of the scooter
The total length of the scooter determines the degree of agility of the scooter, which means, how easy it will be to go into turns with it, to turn it around and to control it. It is also good to attend to this information due to the storability of the scooter.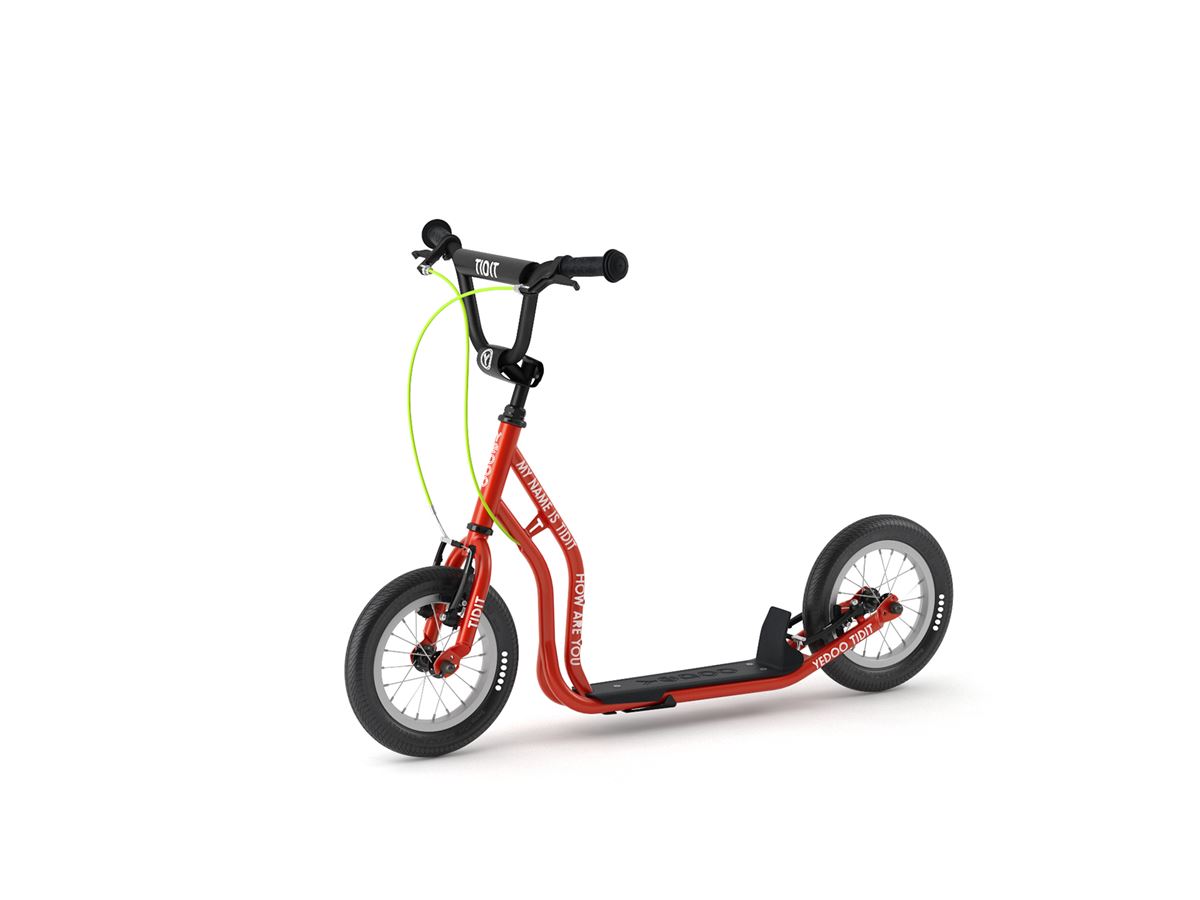 Footboard length
The size of the footboard is related to the total length of the scooter. It need not be extra long or wide, it is enough if it provides enough space for one foot and enables changing feet. A wide footboard would prevent kick-off and a long one would unnecessarily reduce the agility of the scooter. The ideal length is up to 35 cm and width a little larger than the foot. The footboard should also contain anti-slip elements, which will increase safety when riding on wet ground.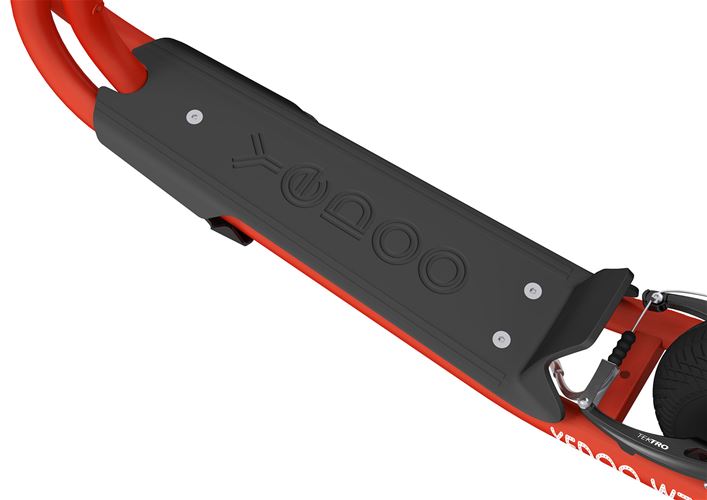 Quality bearings
How do parents evaluate Yedoo scooters?
"A scooter that will probably grow for several years with the child."
"Quality and durable construction."
"We already have two scooters and we are satisfied."
"Superb for the kids and I as an adult can take a ride, too, without any problem."
"A superb scooter with normal wheels, with which kids can ride normally and anywhere. Not those tiny wheel that look like they are for in-line skates."
"Perfect wheels and perfect brake efficiency (only a little control force is needed)."
The lightness, with which a scooter will ride, is determined by the bearings. We can expect no miracles from cheap machines, therefore it pays off to pay for quality in case of bearings. Bearings with well-inflated tyres give true enjoyment of the ride. At first kick-off, you should already be flooded by joy so great that you will feel compelled to whoop: Yedoo [yeah-do].
You can recognize inferior bearings by the fact that the wheel "wobbles" when you make it spin in the air.
Security first
Every proper machine for children should meet the respective standards. It should not lack safety reflective elements either, an ergonomic handlebar with widened ends, which prevent hand injuries in case of a fall and countersunk screws that will protect the child from injury.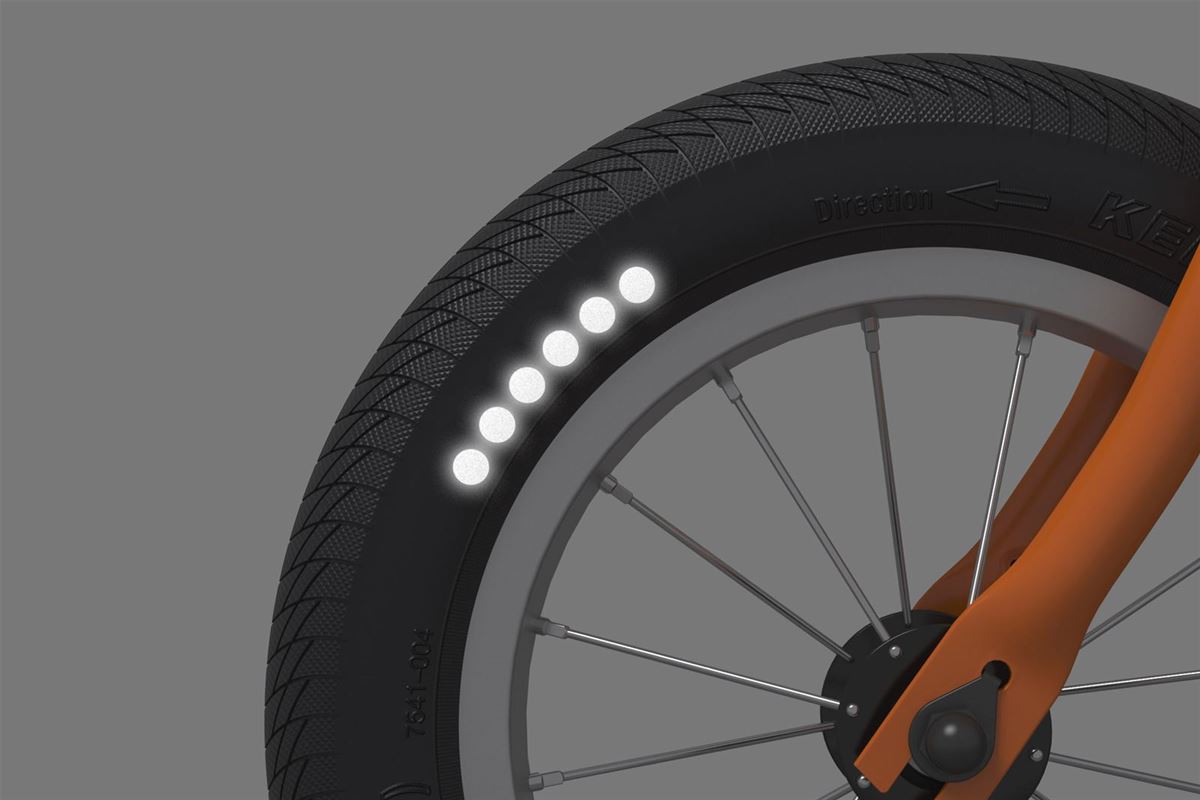 Test rides will pay off
We recommend to all serious potential buyers to take the trouble and go test the scooter with their child first. There are many options, whether at a fair or at scooter rental shops.
At a Yedoo rental shop you can borrow scooters for kids as well as for adults for weekdays as well as for the weekend. You can then set out on a trip together.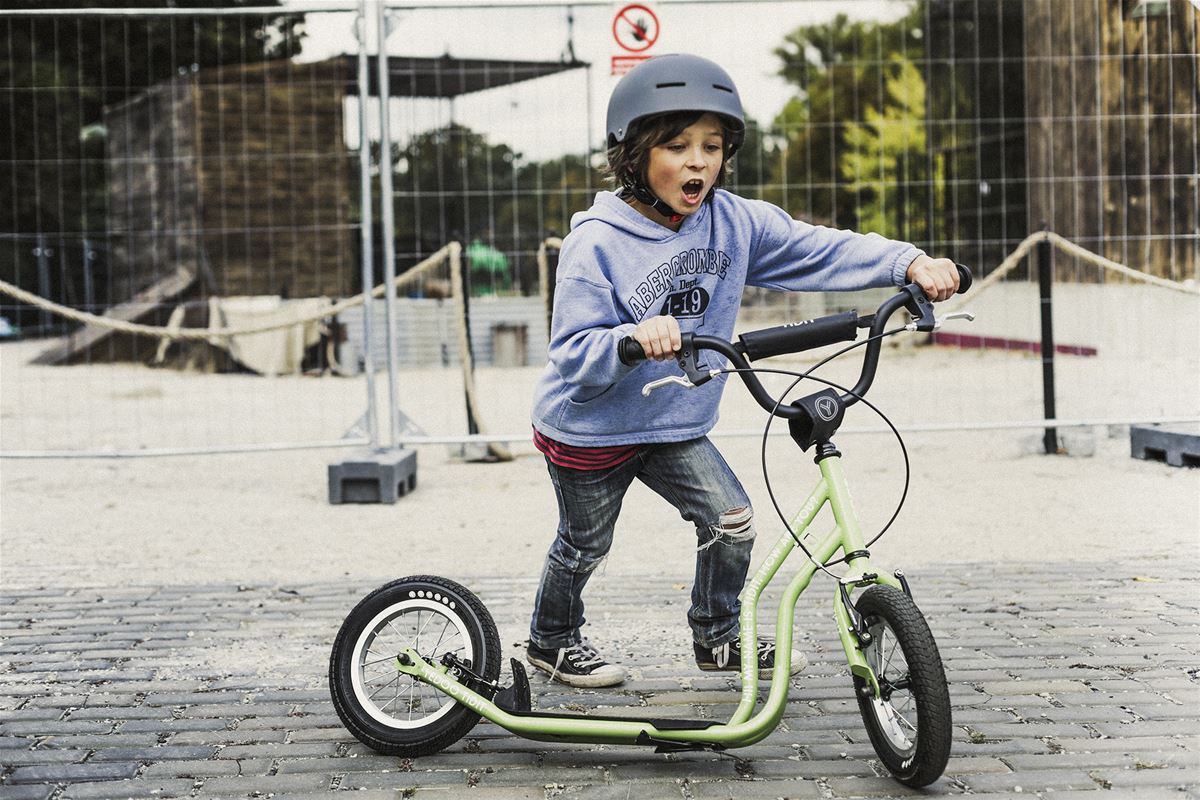 At Yedoo, we take scooters for kids as seriously as those for adults. Our scooters for kids are light, easy to handle, and prepared for various adventures of pupils as well as pre-schoolers.