How to Choose a Scooter for Adults
|

Vendula Kosíková

Two wheels, a frame and handlebar. Looks perfectly easy at first sight, but when you start thinking about buying one, a number of questions arise: Are larger or smaller wheels better? An aluminium frame or a steel one? Higher or lower tread height? … We will help you find the answers and explain the most important parameters that you should focus on when selecting a scooter.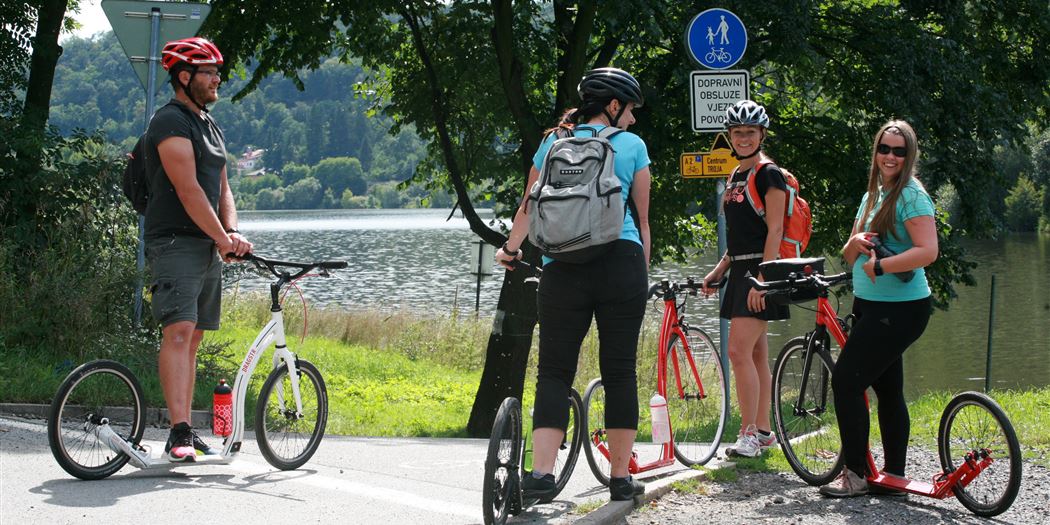 Ask yourselves first
Before you start looking for the scooter of your dreams, you need to be clear about where you will be riding it and what distances you need to overcome. The basic questions to yourself, then, will be:
Parameters that you should focus on
Wheel size
Tread height
Frame material
Scooter weight and maximum load
Total length of the scooter
Quality of components
For details, scroll lower on the page.
Am I looking for an alternative means of transport for the city, or do I rather want a physical activity that I would enjoy and that would help me get in better shape?
How many kilometres will I probably travel in a day, week, month?
Do I want to ride for fitness or do I have the ambition to compete?
Do I have enough or little space to store the scooter?
Do I need to transport it by car occasionally?
Will I be riding on asphalt or more off road?
Am I smaller and slightly built or taller with more robust stature?
How much money can I spend?
I need a scooter for the city and for short distances
Do you need a fast and reliable scooter that will be able to pull you through narrow city lanes, dense traffic and that will serve predominantly as an alternative urban means of transport?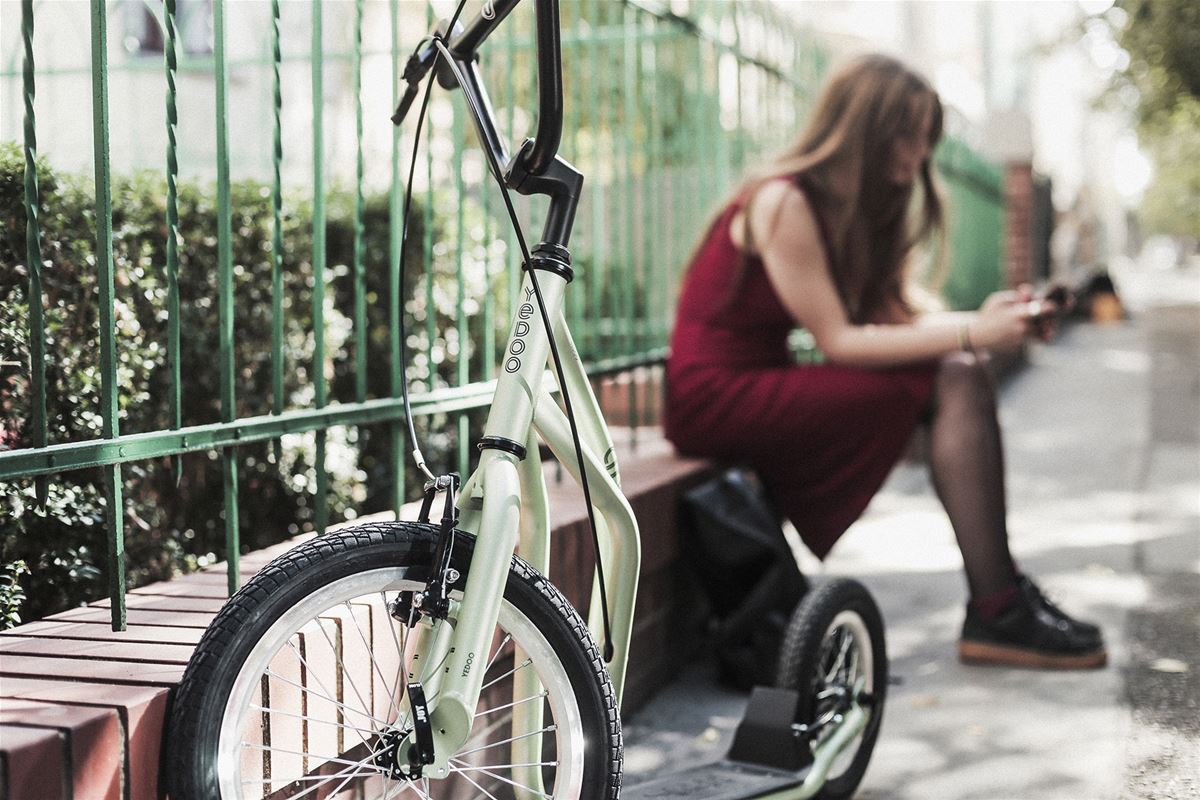 Smaller scooters with 12 to 20-inch wheels meet these requirements the best. They are shorter and thus more easily storable and mainly more agile. They are easy to manoeuvre and due to their low weight they can be carried without any problem. They will fit into a tram, an apartment or on a balcony, so you can keep them handy at all times.
You can comfortably cover distances up to 10 - 20 kilometres on them. You will also be pleased by their lower price, which is fitting even for beginners, who are only just beginning to find their bearings in the scootering world.
City scooters according to wheel size
16"/12" 
Good old classic, agile and easy to store, which even children can handle.
16"/16" 
A larger rear wheel gives the scooter greater speed, dynamics as well as stability. It is popular among café lovers, recreational riders, students, mommies with children on balance bikes as well as pensioners.
In town during the week and in the woods on weekend
Do the cafes, snack bars and picturesque taverns attract you as much as fresh air, trees and open spaces? Then you need to choose a more universal type of a scooter with 20"/16" or 20"/20" wheel, which can handle the city as well as the outdoor well.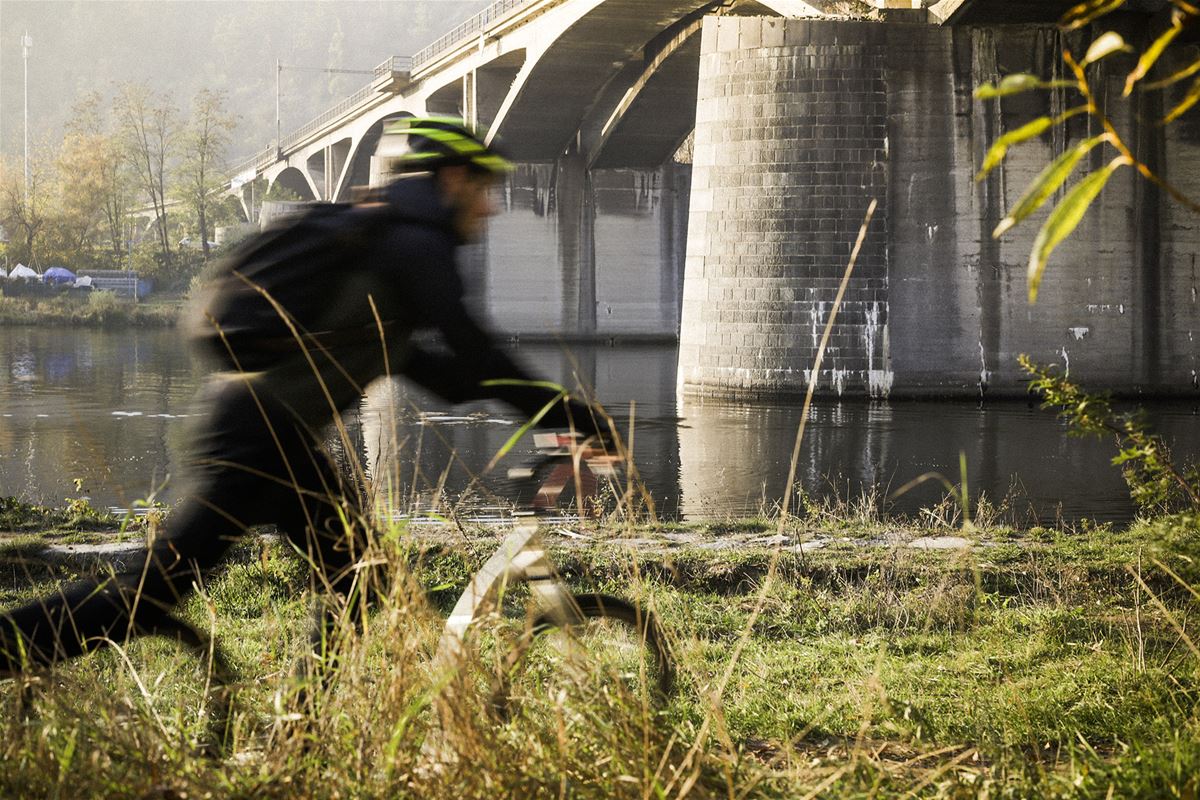 Their greatest advantage is their compactness with sufficiently high speed. The wheels keep on track well, the scooter is more agile and generally more stable.
You will use it not only for travelling around town, but also for fitness rides on suburban bike trails as well as for nature trips on weekends. 
With the 20"/16" wheels, you can easily travel up to 30 kilometres, with the 20"/20", the fitter ones among you may even venture to ride fifty km.
These models are also very popular among mommies. Child seats fit very well on these scooters, the seat is placed facing forward between the handlebar and the parent, so the child can thus look around as much as he or she likes to. 
I am looking for a scooter to ride for exercise and for nature trips
Do you need to get out, sometimes, and leave everything behind you? Get some proper workout after a week at the office? Or are you attracted to far off and unknown places? Then you need to look for reliable scooters built for longer trips or expeditions.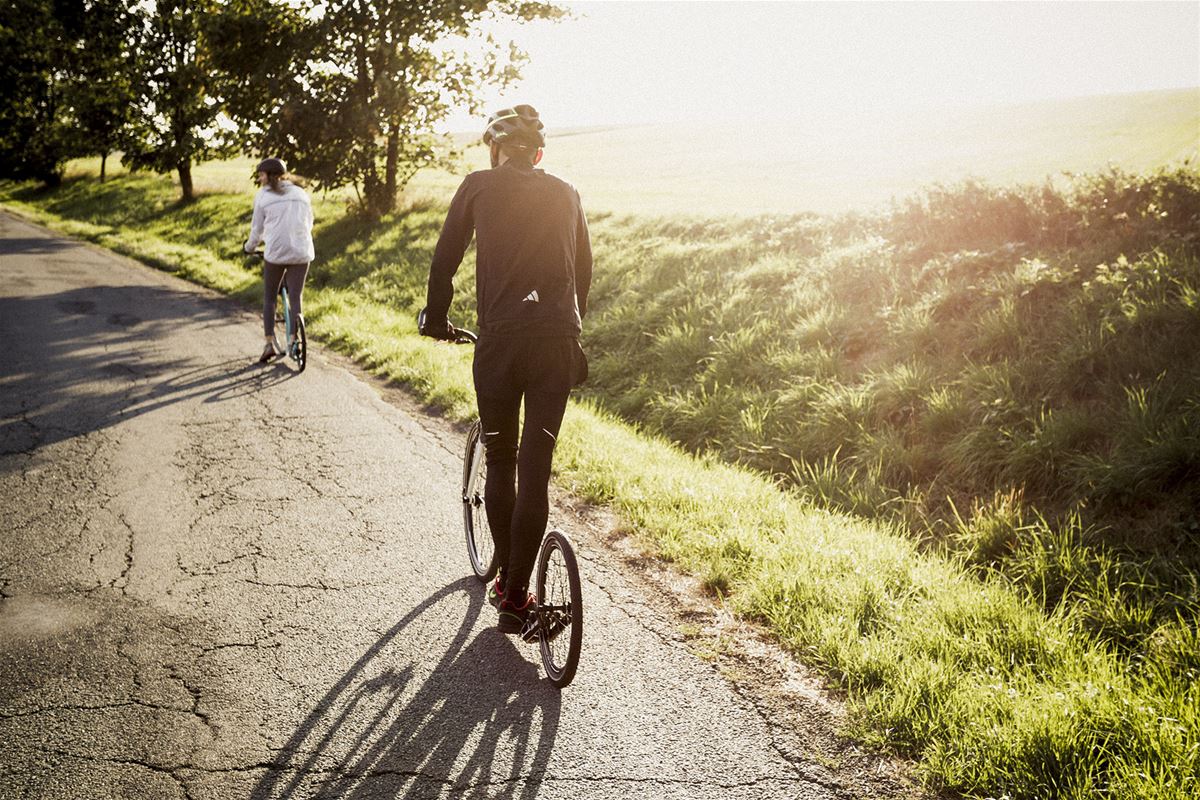 Scooter weight and maximum load
Yedoo S2620   26"/20" –  130 kg – 9,2 kg   
Yedoo Trexx     26"/20" –  130 kg – 7,9 kg   
Yedoo Wolfer*   28"/20" –  120 kg – 7,0 kg   
*The Yedoo Wolfer scooter is, in principle, intended mainly for fast ride on the road, but knowing that users often adjust it for treks (with trekking tyres and by raising the tread height), we mention it in this category as well. 
For longer distances, it pays off to invest in comfort and larger 26"/20" and 28"/20" wheels, which will ensure maximum speed for you with minimum exertion.  And since you never know, where your legs may lead you, we recommend scooters with adjustable footboard height, which reaches between 6 and 7.5 cm in basic setup.
You also need not fear loading it well with baggage. Their durability has been tested by many a traveller, for example Marek Jelínek travelled through half of the world on Trexx. You can read his travel journal.
Scooters with an aluminium frame are not only lighter than the steel ones, but also more rigid, so that a maximum of the kick-off energy translates into movement forward.
Due to three millimetres of added material on the chassis, the Yedoo Trexx is prepared for riding off road. The shape of the scooter chassis minimizes contact with the surface and protects the footboard from damage. You need not fear scratches, they will be to you, what stamps in the passport are to travellers
The steel ones are heavier, but they absorb vibrations better. It is not easy to choose among them at all, and we therefore recommend borrowing several models and giving them a proper test ride. It is often not until the 50th kilometre that people decide.
I am a sportsman to the core and like riding on the road
Are you attracted to fast ride on small roads, races, perfect machines and top-level components? Then choose scooters with 28"/20" wheels and a light, ideally aluminium frame, which will help you win over others as well as over yourselves.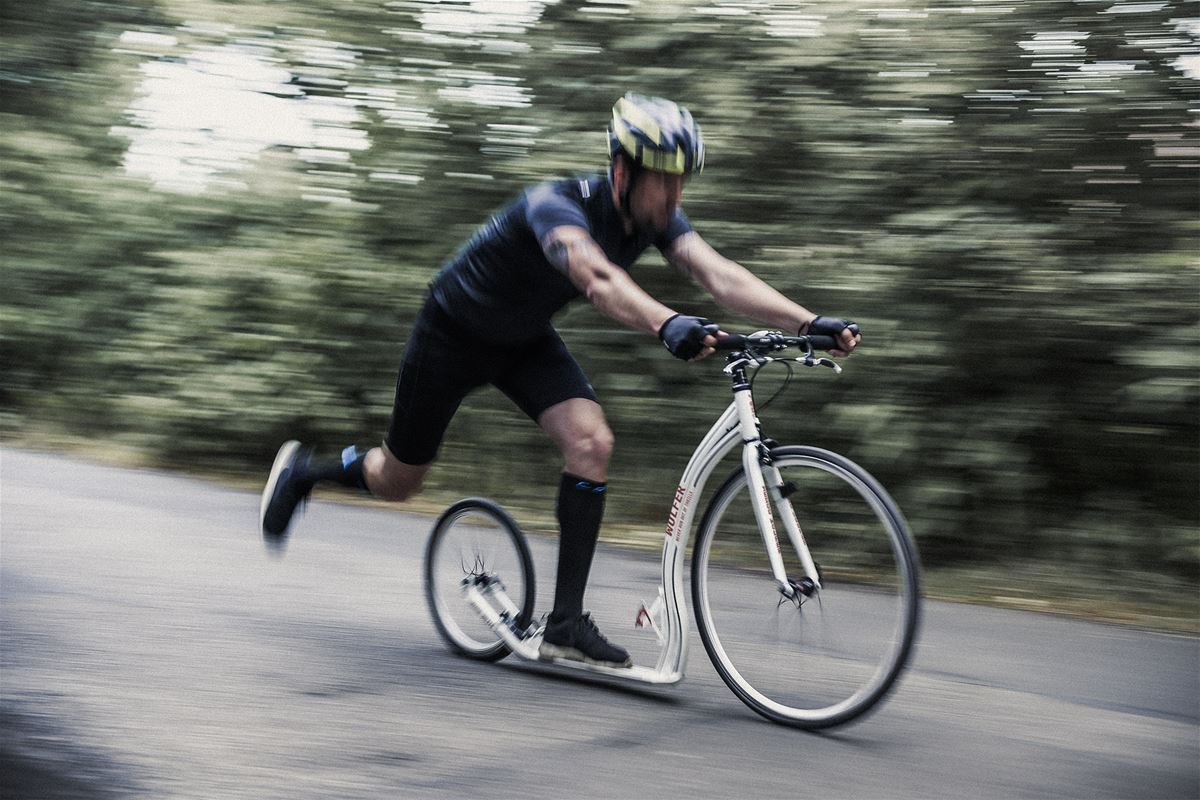 These machines have low weight, low tread height, top-level components, thin tyres and A-head headset.
Yedoo Wolfer
Yedoo Wolfer – weight 7, 0 kg –loading limit 120 kg – Distance between footboard and ground 3,2 / 5,2 cm – ride height 5,9 / 7,9 cm  –Length 172 
The Yedoo Wolfer scooter is a perfect machine – so perfect that it wins not only on the racing circuit, but also in the field of applied arts. Would it not be nice to ride a scooter that has won the international RED DOT AWARD 2016 in the category of product design? 
They belong among the most expensive, but if you ride regularly or even compete, the investment will return to you many times in the form of enjoyment of the ride, speed or the number of medals you will have won.
I like downhill and off-road riding
Riding outside paved roads is more difficult on a scooter than it is on a bicycle, but if you see yourself beyond the old paths nonetheless, then you should seek machines with higher ride height and off-road tyres. To those, who will not be deterred from riding by weather or mud, we recommend scooters with disc brakes for example like Yedoo Mezeq.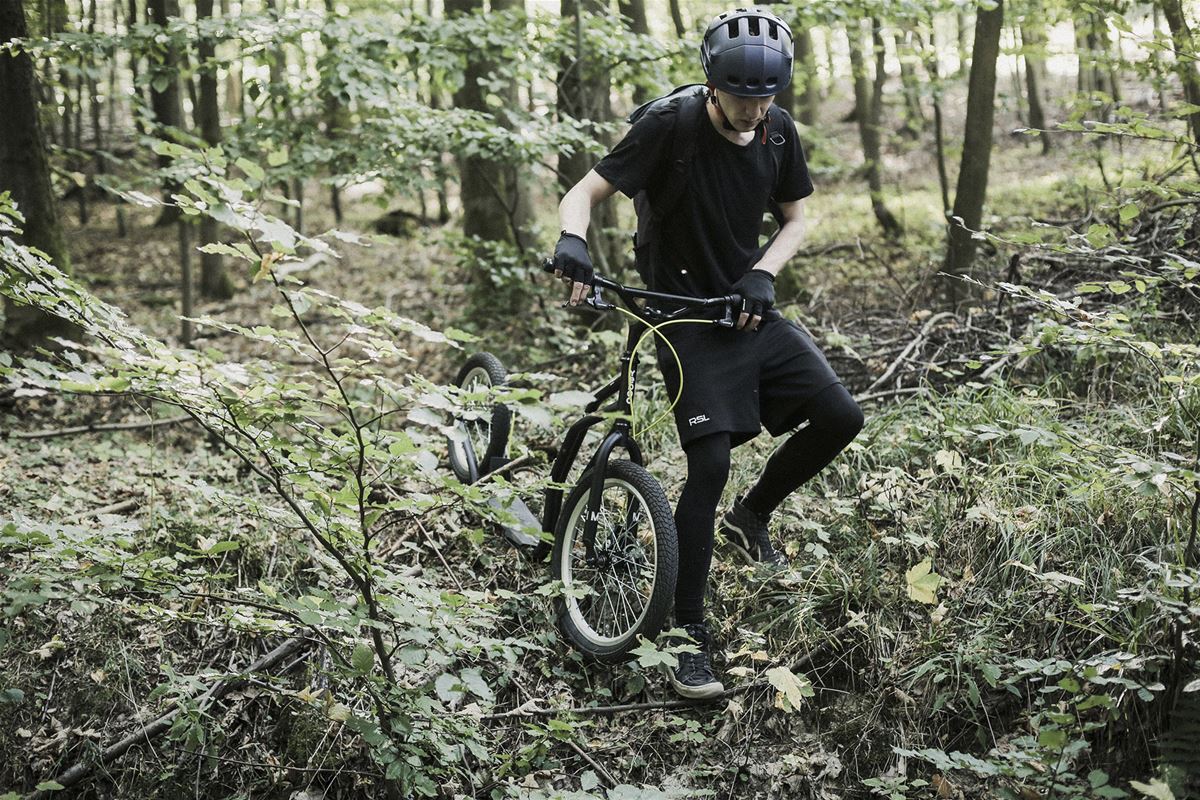 I enjoy trips with a dog and mushing
You can involve your four-legged friend in scootering as well, all you need is to look around for a mushing set, which can be mounted on almost all types of scooters. It is up to you, if you want to ride in the nearby park or attend musher races. Larger scooters such as Yedoo Trexx, Yedoo S26/20, Yedoo Dragstr etc. are suitable for these people.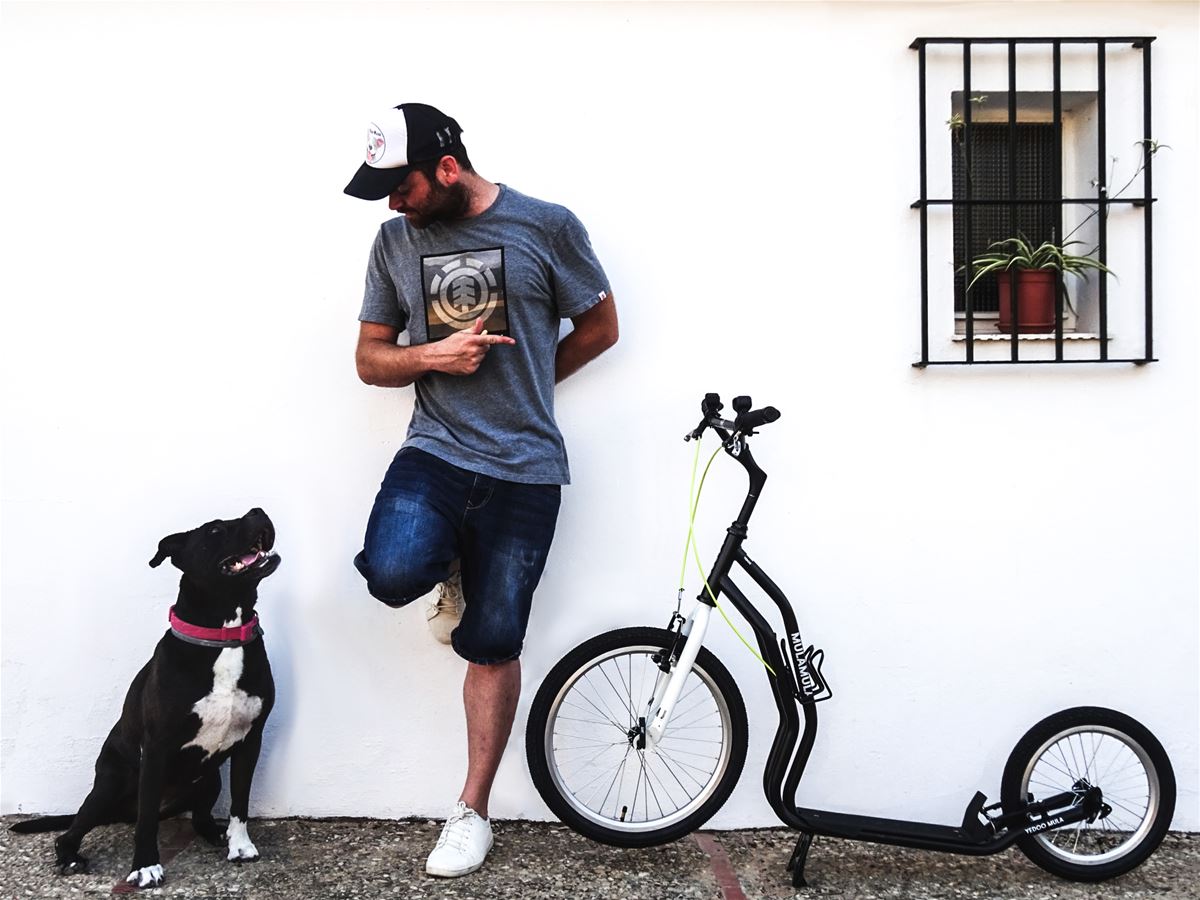 SELECTING A SCOOTER ACCORDING TO PARAMETERS
When selecting a scooter, you can also choose according to the parameters that influence a scooter's riding performance the most. What are they? 
Wheel size
Wheel size influences the riding performance and the total size of the scooter. The larger the front and rear wheel, the faster the scooter will ride and the easier it will cover uneven ground. Riding on larger wheels will be more stable, more comfortable, but less agile and the demands on transport or storage will be greater.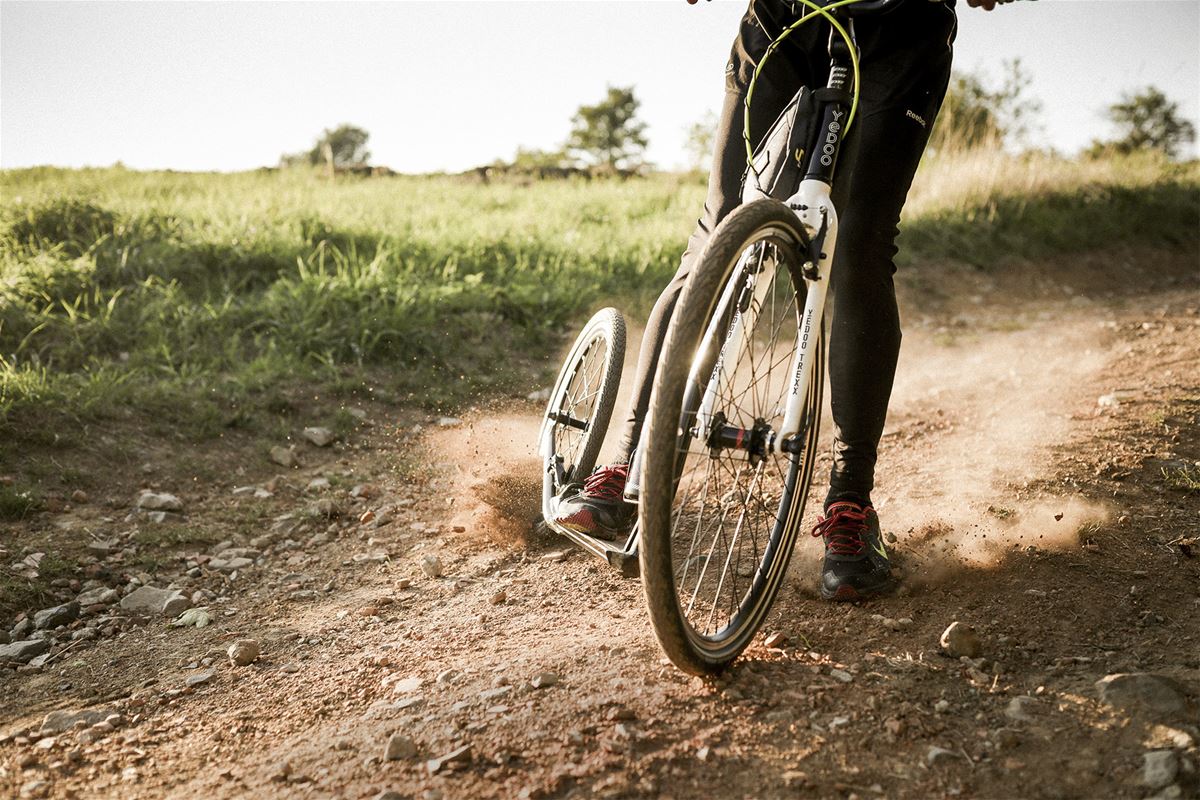 Frame material
The frame material influences not only the weight of the scooter, but riding performance and price as well. Aluminium frames are very light, firm, with optimum solidity and very durable. A higher price corresponds to their unique riding performance and high functional characteristics.
The classic steel frame may be heavier, but it is more flexible and thus absorbs bumps better. The ride will be more comfortable, with a greater feeling of stability. Mainly those, who are only just beginning to ride a scooter, will appreciate this. Its lower price will please you as well.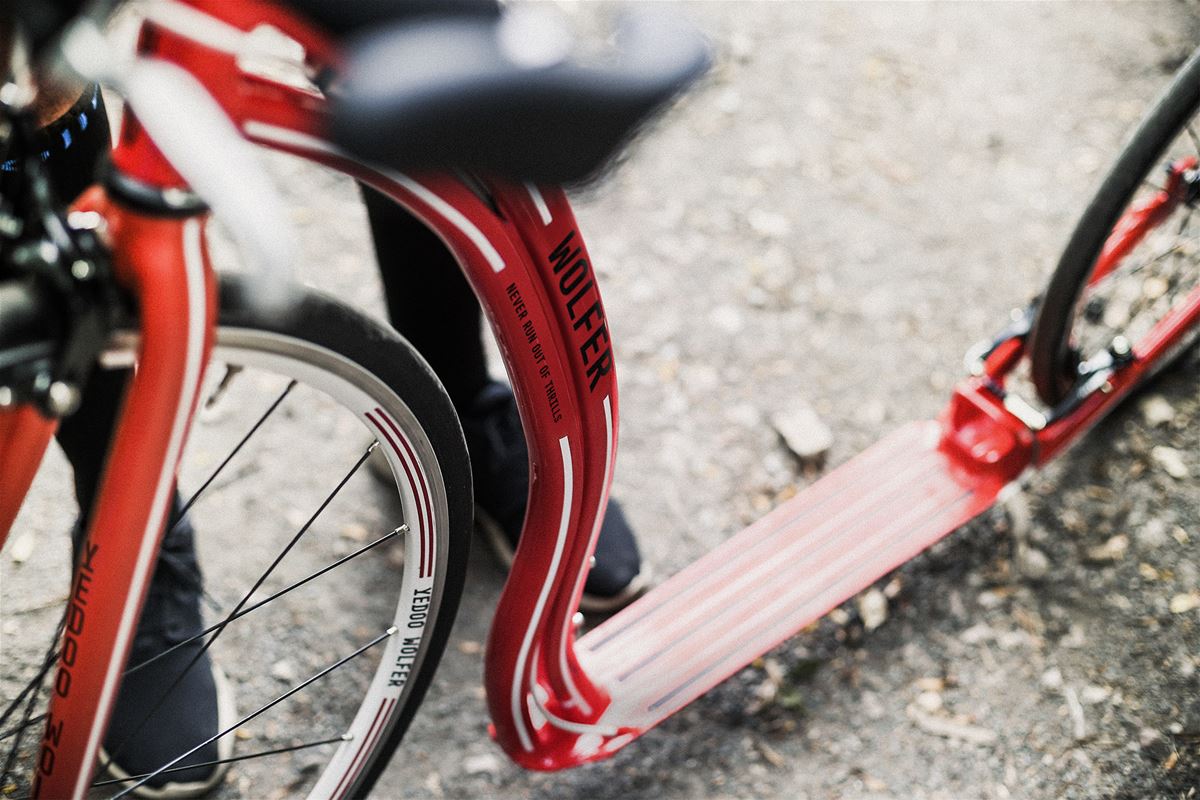 Tread height
The tread height and the ride height of selected scooters*
Yedoo Wolfer    3.2/5.2 cm – 5.9/7.9 cm
Yedoo Trexx       4.0/6.0 cm – 6.7/8.7  cm
Yedoo S2620     4.5/6.5 cm – 7.3/9.3 cm 
Yedoo Dragstr   4.0/6.0 cm – 6.7/8.7 cm
Yedoo Friday     4.0/6.0 cm – 6.7/8.7 cm 
Yedoo S2016     4.0/6.0 cm – 6.8/8.8 cm
Yedoo Mula       4.5/6.5 cm – 8/10 cm
Yedoo City         4.5/6.5 cm – 8/10 cm
*Two figures are given for scooters with adjustable footboard height. Tolerance +-0.2 cm.
One of the most important parameters that you should focus on when selecting a scooter is footboard height, which determines, how demanding the ride will be.
When kicking, you make squats on the foot that is standing on the footboard. The higher the footboard, the greater the squats you will need to make, and the more you will be burdening the supporting leg. In case of greater distances, you will perceive even a few extra millimetres. 
Another thing related to tread height is the ride height (the distance between the ground and the lower side of the footboard), which influences the ability to pass through the terrain. The ride height basically determines how much you will be rubbing against bumps when riding.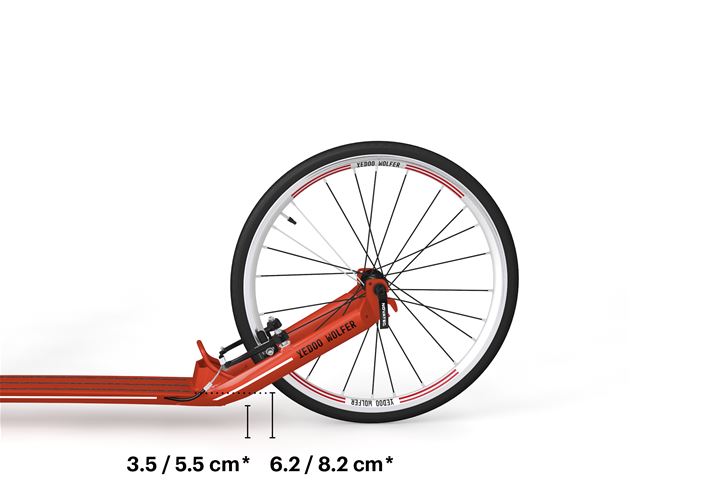 The tread height in case of the Yedoo Wolfer sports scooter, for example, is approximately 5.9 cm in the basic (lower) position. After subtracting the width of the footboard, we reach ride height of 3.2 cm. Which is ideal for smooth asphalt, where you do not need to overcome uneven off-road ground and you burden the supporting leg only minimally.
By putting the wheel into the lower fork position, the tread height will increase to 7.9 cm and the ride height to 5.2 cm. You can ride even outside the racetrack with this one. PS: You just need to keep in mind that by changing the position of the rear wheel, you will also need to adjust the rear brake and fenders. 
Generally, it is better to learn to read the terrain and scrape occasionally then be annoyed by demanding squats during the ride. PS: Do not worry about the footboards, they are prepared for scratches, especially the aluminium ones.
The ideal ride height for riding on asphalt is between 3 and 4.5 cm. If you are planning on riding off road as well, we recommend scooters with dual-position rear fork, thanks to which you will be able to raise the ride height of the footboard, when you decide to ride off road.
Handlebar height
Most smaller scooters have handlebars with a screwed headset, which enables quick adjustment of height using one hex key. This comes in handy for example if the entire family uses one scooter. 
Sports scooters, on the other hand, which are expected to only have one owner, are equipped with quality A-head headset, the height of which can only be adjusted to a limited extent using spacer rings, or by turning or exchanging the stem. 
The height and angle of the handlebars is adjusted individually according to body height and riding style. In general, lower-placed handlebars are suitable for sportier riding style. Handlebars that are put higher are more comfortable for longer routes and recreational riding around town.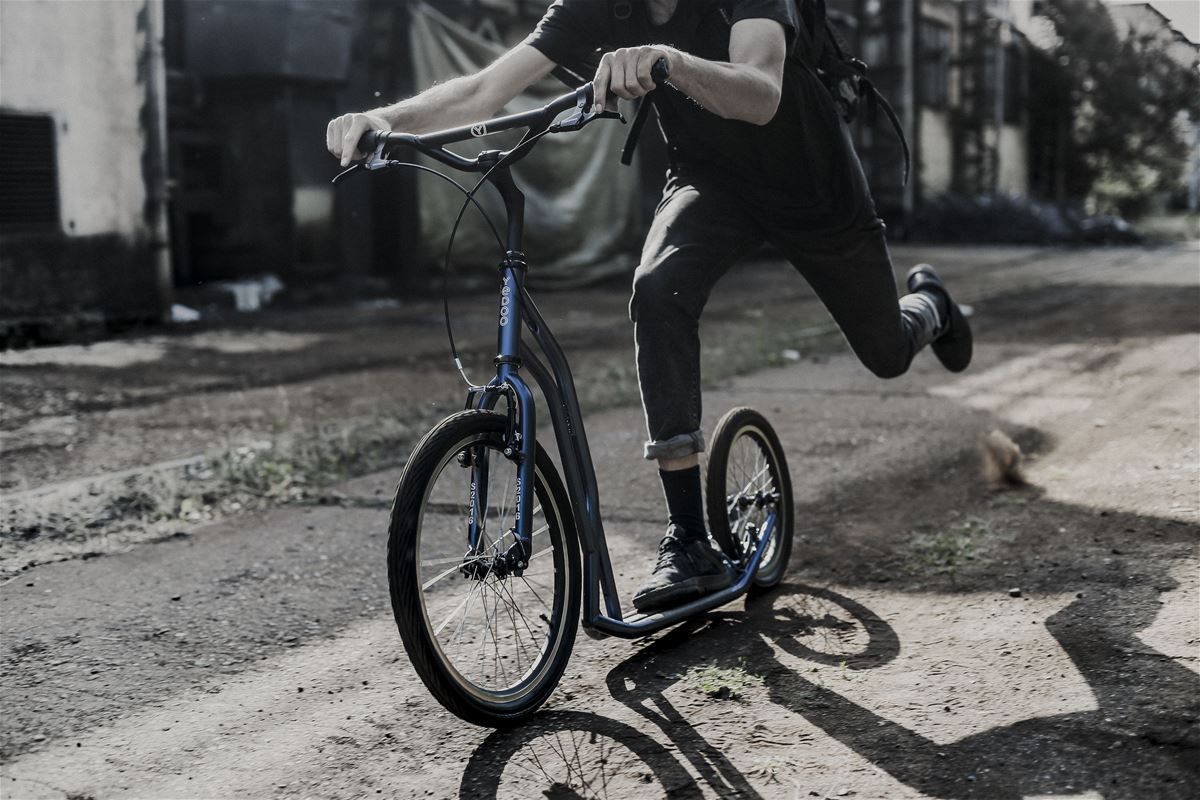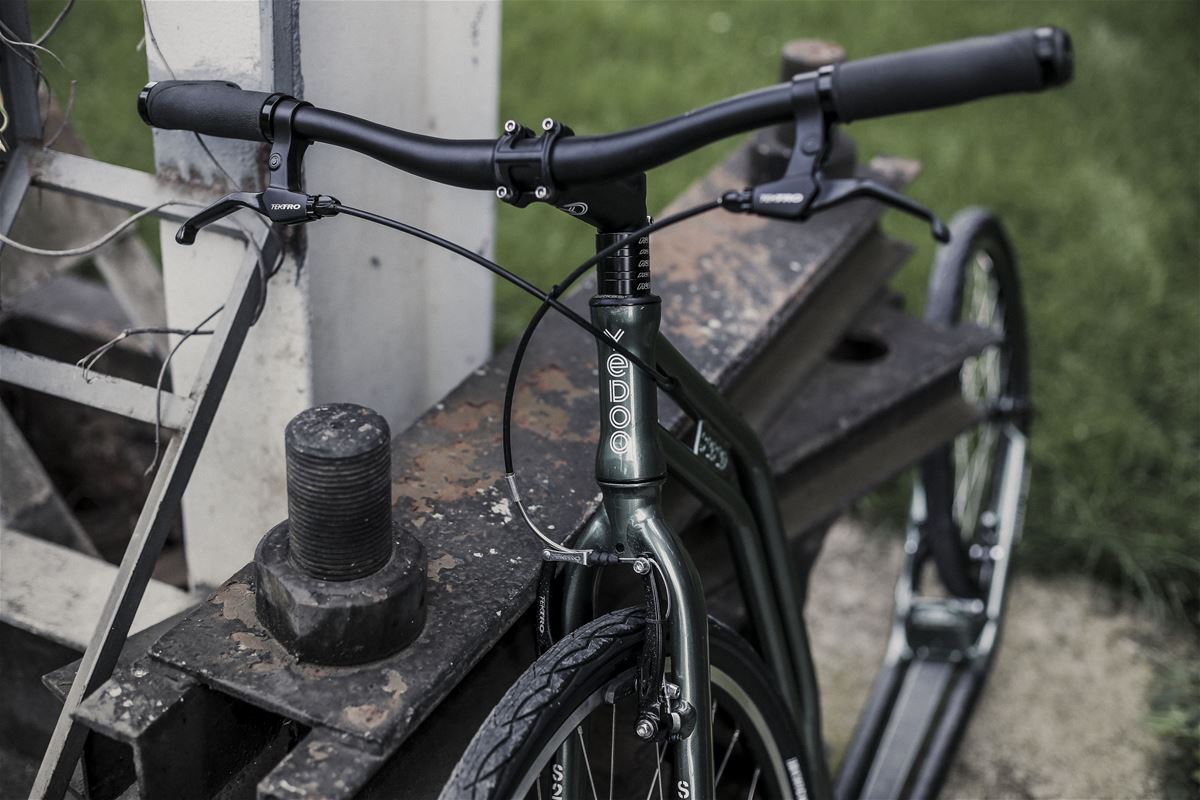 Drum or disc brakes
The drum brakes, the so-called "V-brakes", are a classic that you know from bicycles. They are reliable and their maintenance easy.
Disc brakes are something that adrenalin riders, who do not fear downhill riding or demanding conditions such as rain, mud or fallen leaves, will appreciate. Disc brakes are highly efficient, but heavier, more expensive and more demanding on maintenance and adjustment than V-brakes. Even transporting the scooter in lying position in the car may unbalance them.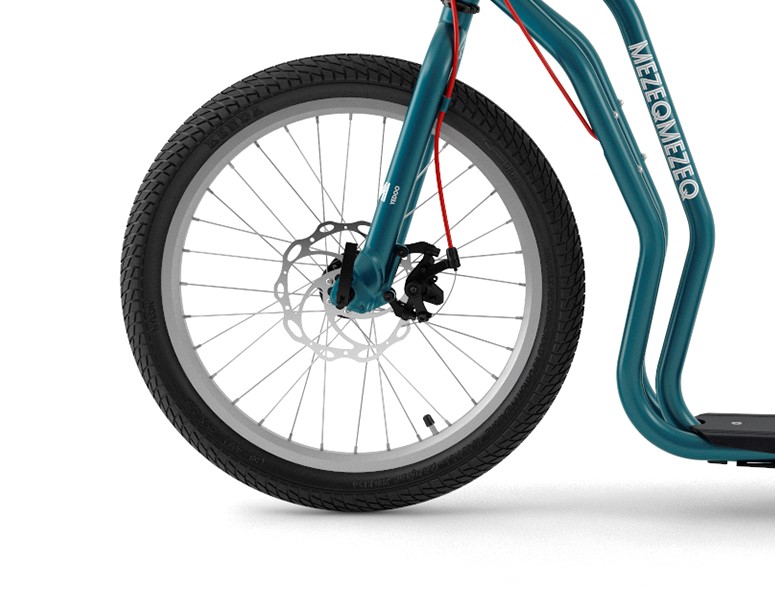 Load-bearing capacity
A new scooter needs running in first
Same as with cars, it is also good to run in scooters, before you expose them to regular use. The spokes, cables and other components gradually "settle" and work during the first rides. It is therefore important to thoroughly check and service the scooter after approximately 50 to 100 kilometres of riding* – especially to tighten up the spokes, check the threaded joints, adjust the brake wires etc.
*It depends on how much you weigh and thus with what force you impact the scooter. The heavier you are, the sooner you should go to the service shop. 
The construction of every scooter is designed for a certain riding style and surface, and therefore the scooters' maximum load differs. We recommend that your weight should not exceed the maximum load of the chosen scooter.
When selecting a scooter, though, do not get carried away by the load-bearing capacity of the frame alone, which is significantly higher in the case of steel as well as aluminium scooters than is the total load-bearing capacity of the scooter. This derives not only from the load-bearing capacity of the frame, but also from the load-bearing capacity indices of other components used, especially the tyres and wheels (spokes). Smaller scooters therefore usually have higher load-bearing capacity than those with large wheels.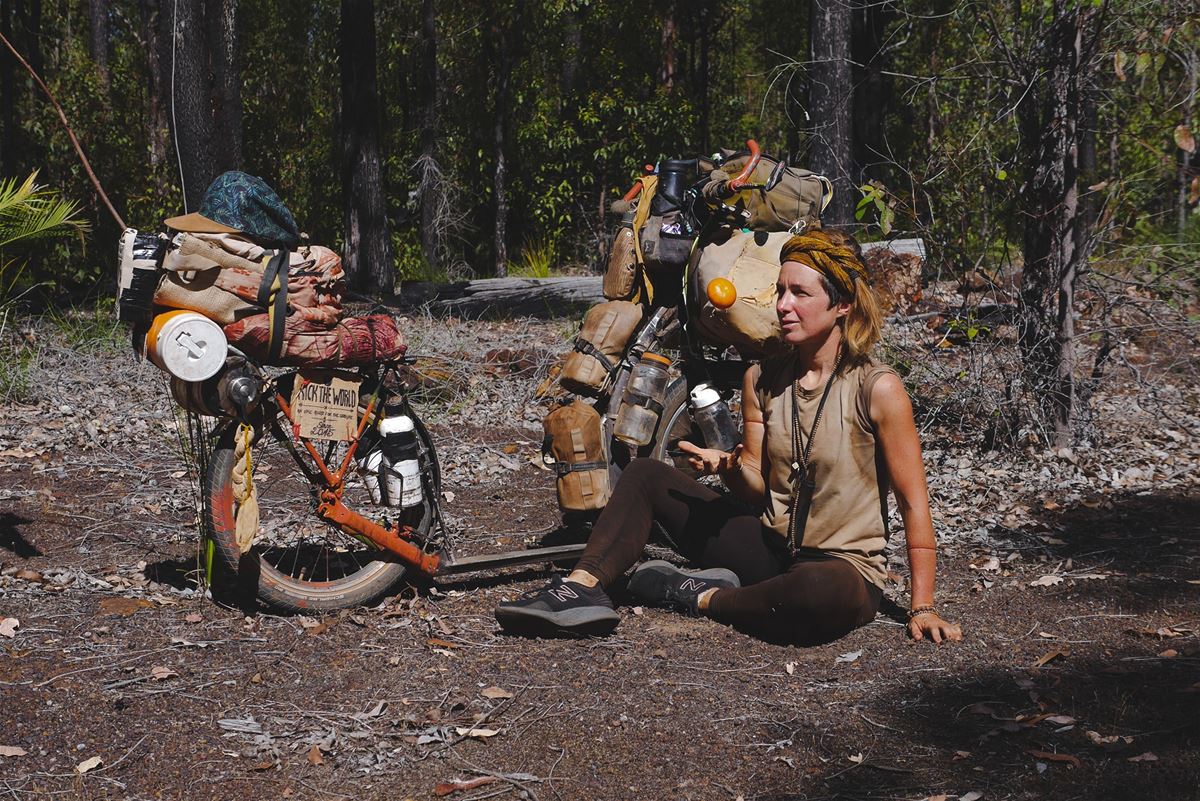 Price
The material the frame and handlebars are made of and the quality of components influence the price of a scooter the most. For more details, see the technical parameters of the individual models.
To make the purchase of a scooter easier, we have prepared a configurator for you, which will guide you through the selection. You can find it on the homepage of the product part of our website.