Tired dog, good dog
|

Vendula Kosíková

Have you got a dog that likes to move – but your usual walk is not enough to vent its energy? Do you find walking your pet boring or monotonous? Harness your dog to a scooter! At the end of the day you'll both have fun and it might even turn into a new, absorbing hobby, as happened to Mr & Mrs Cipro.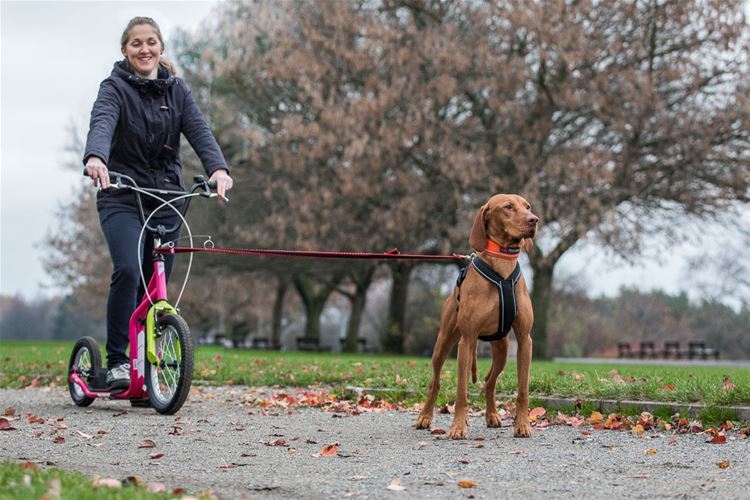 "I'm fascinated by the performance of dogs in harness. I admire their hidden power, speed and endurance. I also like mushing because I can do some workouts myself while taking my dog out," explains the experienced musher Simon Cipro.
For more than 9 years he and his wife Karolina have participate in various dog sports, such as mushing, skijoring, where a dog pulls man on skis and canicross, which is running with a dog.
They have 5 European Sledge Dogs at home for domestic and overseas racing. And because they know the ropes, we asked them how to start with dog-scootering, or "mushing", and the basic start-up kit. 
The size of dog does not matter
Mushing is suitable for all breeds regardless their size - from Pekinese, through the King Charles Spaniels, Border Collies, Hungarian Hounds, Golden Retrievers and up to the large breeds such as German Shepherds and Rhodesian Ridgebacks.
"Every dog needs some activity; very few are genuine couch potatoes. Harnessing is a natural form of movement. Not only do they get stronger but they also get tired faster than when you let them run freely," smiles Simon.
"Neither the size of your dog nor the breed matters. What matters is whether it loves to move. Then it is just about adjusting the speed," adds Karolina.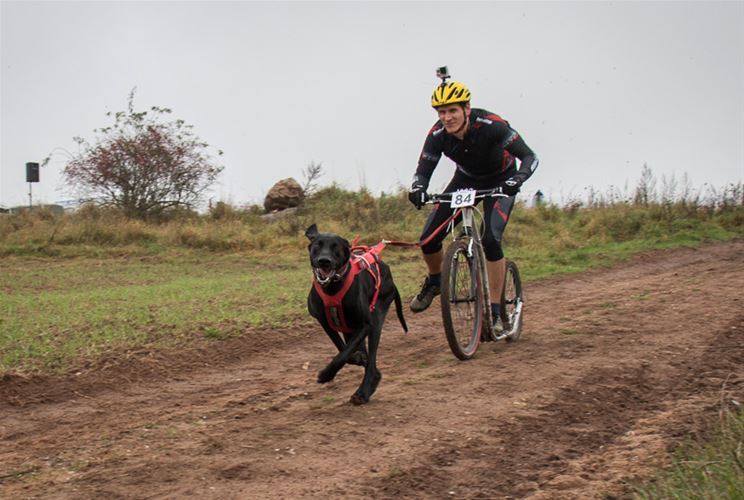 How to start
Start no earlier that your dog's first birthday
Start with short distances and gradually increase them
Reward the dog often with praise and treats
From time to time change the route as too much repetition can get boring for the dog
Never push the dog. No dog has ever pulled a scooter because of coercion
Be very careful in hot weather as dogs easily overheat
On hot days, provide the dog with ample rest or even a cooling bath
Always take enough water, not only for yourself but also for your four-legged friend
"Start one step at a time. Give the dog some time to get used to it and reward every minor success. Its best if the dog connects this activity with the harness, so make a point of taking off the harness when you let him run free.
"When riding on a scooter be careful. Pay special attention not to crash into the dog as the more sensitive types of dogs could get irretrievably discouraged," warns Karolina.
"Don't have exaggerated expectations. At the beginning, harness the dog only for shorter distances. If you have a puppy, be careful not to overload it. He must first mature physically. A one year-old, medium-sized dog easily handles distances of 1.5 to 3 km. Also take heed of older dogs as in my experience they tend to indicate when they've had enough."
Mastering the basic commands, such as "Heel!" and "Stay!" will do for mushing. The dog is basically on a leash the whole time so there is no danger of him running away or bothering someone.
What to be wary of
Simon and Karolina, both qualified doctors, can also look at this sport from the health perspective. Their advice is simple. "Carefully observe the dog during the activity. Look, for example, for signs of abrasions from the harness or for an injured paw."
Paws particularly suffer from a long run on gravel or in winter from icy crystal snow and salted roads. Dog-boots offer the best protection: they should be part of every dog's survival kid. Vaseline will help on salted surfaces.
Dogs get easily overheated, particularly is summer. Therefore always have enough water, not only for yourself but also for your four-legged friend. Provide him with ample rest or even a cooling bath.
Never push the dog. No dog has ever pulled a scooter because of coercion.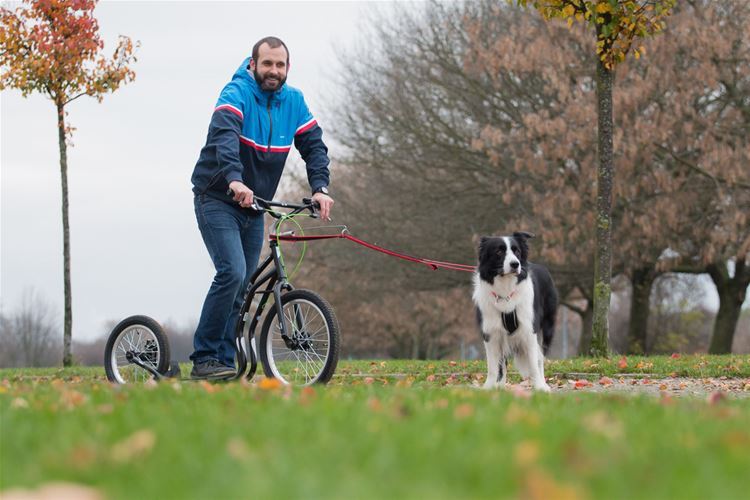 Equipment
Besides good scooters with appropriate extensions (i.e. a mushing set) you will need a harness which does not pinch or rub the coat or restrict the movement or breathing of the dog while running.
"The most suitable harness is the one in the "V" shape - similar to the horse harness. It does not cramp the windpipe and ensures the optimum distribution of traction in the shoulder joints. This so-called short harness can also be used to fasten the dog in a car," says Simon.
"Also, be careful about the material the harness is made of. For instance, fleece looks like a good choice at first glance, but it really isn't. In action it changes to a brush, which can harm the dog's coat. The best is a harness made of soft lining inside and a nylon fabric on the surface. It slides on the coat easily and it does not absorb water", advises Karolina.
The lead should be fully sprung and at least two meters long. "Not only it can effectively suspend strokes at bends or during sudden acceleration but it is more gentle than the ordinary fixed lead both to the dog's back and yours," explains Simon.
"We were looking for quality dog equipment for a long time. We had tried everything and we finally docked at a Norwegian brand, Non-stop Dogwear. We liked it so much that we have become brand representatives for the Czech Republic. We recommend the harness LINE, which is suitable for most dogs and activities; and the bungee lead," adds Karolina.
Connect with like-minded people
If you find dog sports to your taste, you can plunge in. Caroline and Simon recommend getting in touch with like-minded people and going to shared training sessions, where you can get advice on how to avoid basic mistakes. Links and tips are freely available at www.behejsepsem.cz.