Gorgeous Life on Two Wheels or the Scooter as a Way of Life
|

Redakce

Regular exercise neutralizes the negative effect that a stressful life has on our health. It is mainly the people that spend several hours daily sitting at a computer or driving who realize how important the regular exercise actually is. Fortunately, there are more and more options for those who want to do some physical activity. Scooter riding is one of the lately rediscovered sporting activities that more and more people tend to pursue.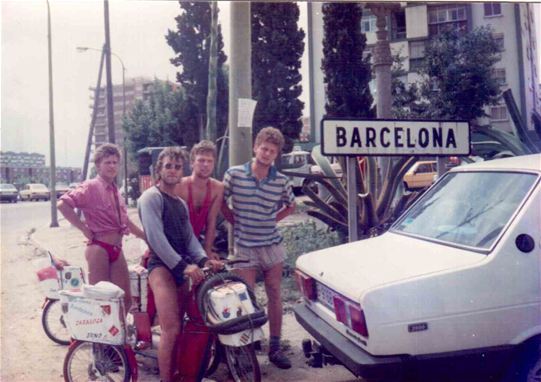 We met one such sportsman who has literally become addicted to scooter riding at the ISPO sports fair in Munich at the beginning of this year. Dušan Peterka, exhibitor and businessman from Bohemia, came to see the exhibited Yedoo models at our stand and then he started narrating about how he had travelled half the world in the 1990's.
The former PE teacher and a passionate traveller knows a lot about scooters, he had constructed several models himself, that he later tried out during his expeditions.
Right after the Velvet Revolution in 1989 when the country's borders opened, he set off on a 5,000km-long adventure throughout Europe with a group of friends for the first time. They went through many memorable experiences during their journey from Prague to Barcelona and back through Italy, Slovenia and Austria. "For example, we got eleven blowouts within one single day," remembers Dušan Peterka and adds the following: "We were rather odd at that time. We completed the entire journey with only one hundred German Marks in the pocket."
Overseas Expeditions
Next time he went by himself only; 3 months around the whole USA from Los Angeles to New York. "You can learn best about the foreign country by meeting ordinary people," the experienced globe-trotter is convinced. And Dušan has met a lot of people, since many of these spoke to him just out of curiosity. He spent even several days with some of them. He helped to repair a toilet to a female camp owner; he assisted to people who were rebuilding a car into a pick-up vehicle. Truck drivers kept an eye on him on the highway. They transmitted information about his current location and sounded their horn each time they met him. "It was tough going. The scooter and the baggage weighted 50 to 70 kg; I lost 8 kg during the journey," Dušan Peterka describes how physically demanding the expedition was.
Dušan, as a true traveller, did not spend much time at home. He rode on his scooter through Canada, wearing shoes that he had been given by the son of the famous Czech founder of the shoe company, Tomáš Bata, adding other 5 thousand kilometres on his speedometer.
Round the Islands
At the turn of the years 1996 and 1997 Dušan Peterka rode around the two New Zealand islands. However, this time he was accompanied by his wife and a five-year-old daughter who joined him on the scooter ride from time to time. "I have been carrying my daughter and the younger son on the scooter since they were babies; I am able to ride a tandem with both of them."
Testing the Yedoo Scooters
Today, Dušan uses also an electric-powered scooter for transport in order to save time. Nevertheless, he cheerfully tried out our Mezeq as well. We have borrowed Dušan the Yedoo City scooter to ride through the city, since we hope that he is going to represent our team on his future journeys.