Scooter – The Perfect Mode Of Transportation For Town
|

Vendula Kosíková

"When riding a scooter, I can get to school within 6 minutes, if I walk, it would take me almost half an hour", says a high school student in Pardubice where the traffic congestion is a lot lower than in Prague and other bigger cities.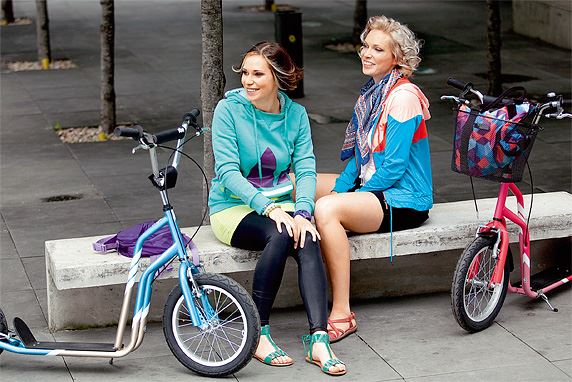 The Scooter Is The Fastest Mode Of Transportation
Eliška has been cruising the town district with a scooter for 3 years and is more than satisfied:"A Scooter is ideal for a town full of people and a number of obstacles that you may encounter while on your way, I can even ride my scooter on the sidewalk and when I need to get over a curb or avoid pedestrians or other obstacles, I can easily climb off and walk beside the scooter", explains the slim, sporty-looking student.
A Prague businessman, who is taking care of five properties in the city centre, he has also replaced his car with a scooter: "Not long ago, I was spending one third of my working day stuck in the traffic; by riding a scooter I save a lot of time and, moreover, I feel much better not only physically but also mentally", says a fortyfive year old businessman.
Saying that the scooter is the fastest means of transportation in the city was also confirmed in the city of Pilsen with a promotional race, organized by an ecological movement Děti země (The Children of the Earth). The scooter arrived from the Pilsen hospital to the main station faster than a biycle, public transport and a car. The result was communicated in the regional edition of the newspaper MF Dnes.
Scooter vs. Bike in the City
– Lower weight – easier manipulation
– Smaller size – can fit where bike cannot
– Reacts faster to obstacles in city traffic
– You can ride on the pavement
– Tolerated in public transportation
– Compact for parking, transport and stowing
– No need for special sports clothes
– Cheaper
– Safer
A Scooter Is Easier To store And More Practical Than A Bicycle
During the last few years, scooters have been improved extraordinarily. When travelling shorter distances in towns, the scooter outperforms the bicycle in a number of cathegories. When compared to a bicycle, you don´t have to jump off the scooter before a curb, a step or a group of people. Thanks to the low footboard you just slow down a little and smoothly begin walking.
The scooter is also lighter in weight and smaller in size and thanks to its narrow sides and absence of pedals, it can be squeezed into areas where a bicycle would have trouble fitting into. It is usually tolerated by drivers of public transportation. The scooter can be easily stored in the trunk of a car, an elevator and, if you don´t have a bicycle room, you may keep it on the balcony.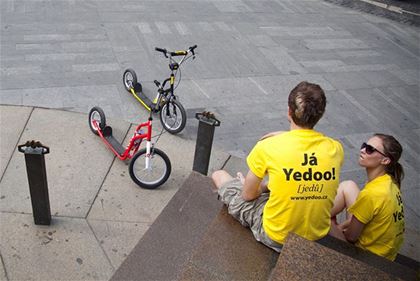 A Scooter With Inflatable Tyres Is Better For City Tranport
Scooters with bigger inflatable tyres are even better for the city, they go much faster and are better than folding scooters. A scooter with bigger inflatable wheels passes over the paving block, tram tracks or low steps much easier than a folding scooter.
Perfectly Elegant
Girls and ladies may ride their scooter wearing a skirt without any worry and male riders don´t have to be concerned about tearing the trousers or creasing their suit.
You can carry a smaller shopping bag, a notebook or an iPad in the additional handlebar basket. Mums will definitely appreciate that they can fix the child seat on the handlebar and thus have their child under control when riding.
The Child Seat For The Little Ones
There are also child seats with loading capacity up to 15kg on the market. They can be easily attached to the handlebar pole of a scooter. Kids can sit safely in a child seat between the handlebars and the parent, facing the same direction and enjoying the view. Mums and dads alike will definitely appreciate the safe and easy way of travelling with their children.
In – Bio – Eco
Low purchase price and easy maintenance is another extra bonus of the scooters, actually, you can buy three scooters for the same price for which you buy a bicycle of the same quality. Even here the general rule "the less parts, the less problems" applies. Generally, you will manage with a bike pump and pre-season service.
The scooters are simply in, bio and eco - combining child´s playfulness, healthy lifestyle and a responsible attitude towards the environment. If you would like to join the growing group of fans of this sport and fun, do not hesitate to contact us, we will be pleased to help you to choose the right scooter for you.