Yedoo Team recommends. Part I
|

Vendula Kosíková

Each of us is completely different. What connects us are the scooters. We ride them with passion, we like to develop them, produce them, improve them or at least talk about them. We have our own as well as our service ones at home, and we have each become attached to one. Which ones are they?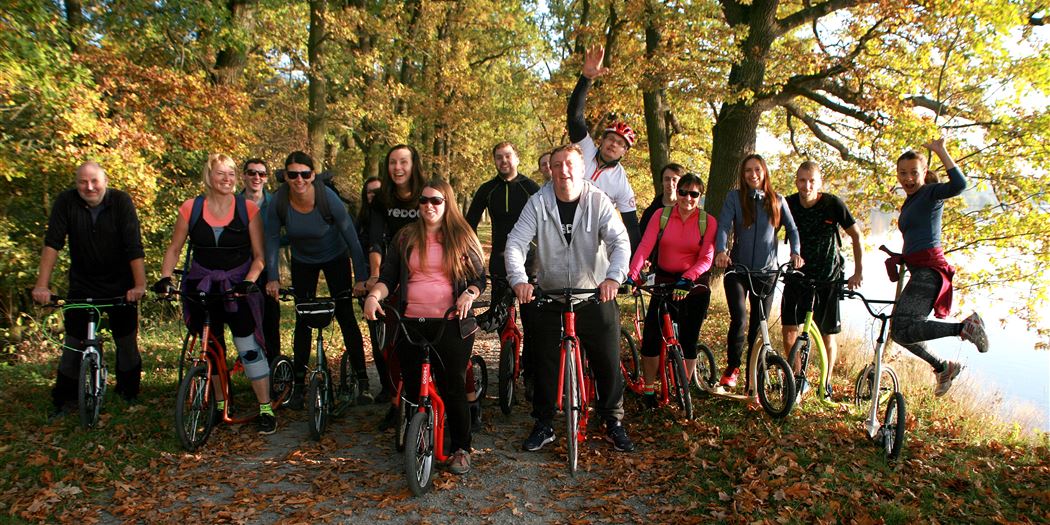 Petra
Although she is petite, she is in charge of the entire marketing department. She is not afraid of challenges, which you can tell by the number kilometres on her speedometer from travels through Scotland, France, Italy, Germany, Austria, Romania and other European countries. She is no stranger to competitions either. At the world scootering championship, which took place in Plzeň in 2014, she gained a beautiful 9th place.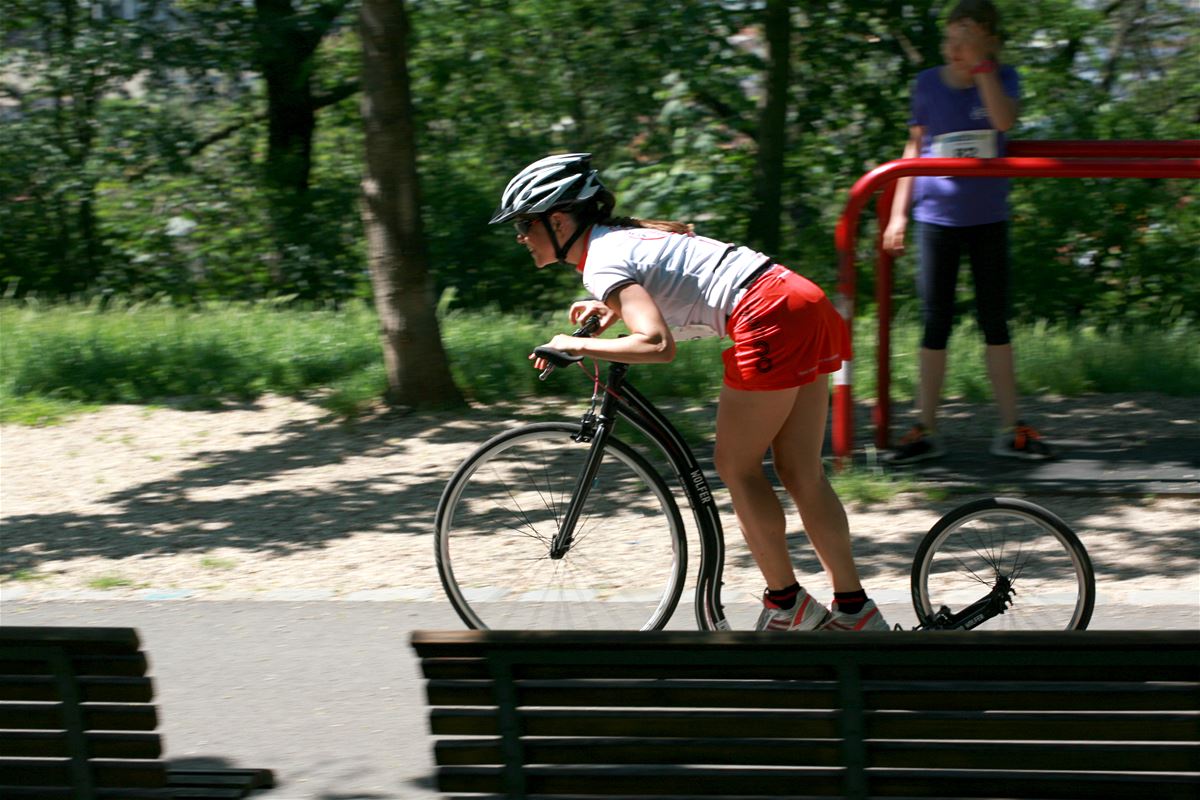 Petra likes the Wolfer. She knows all of its development versions, which she tested one by one during her several-day summer expeditions. "The Wolfer has promoted scooter riding to a completely different level. Especially on long journeys, it saved me much energy due to its low weight."
"The movement on a scooter is quite natural, even if you travel more than 60 kilometres a day, the muscles have enough time to regenerate overnight and in the morning you feel fresh again."
I remember one of the first trips on the Wolfer, when my friend and I casually covered nearly 100 kilometres. Neither of us felt any pain and we were not tired the next day either. That is what I like about scootering, one does not get any part of the body sore or overburdened, as one would for example on a bicycle. The slower pace, during which I can admire the landscape or hold a conversation, suits me, too.
A scooter will also free you from carrying a backpack on you back, nor do you need to bring any great food supplies, because a scooter will get you to the next supply point much sooner than if you travelled on foot."
During her scootering excursions across Europe, Petra experienced various adventures. Mainly the Scottish weather has toughened her up. She knows since then that if she has a dry, warm place to stay overnight, she can easily cover 60 km a day, she can handle rainy weather and will overcome any difficulties.
Kuba
"I have no favourite model, I love them all as my children, says Jakub, head of development at Yedoo, his eyes shining. Kuba still has that little boy in him, for whom the world is a place full of wonders."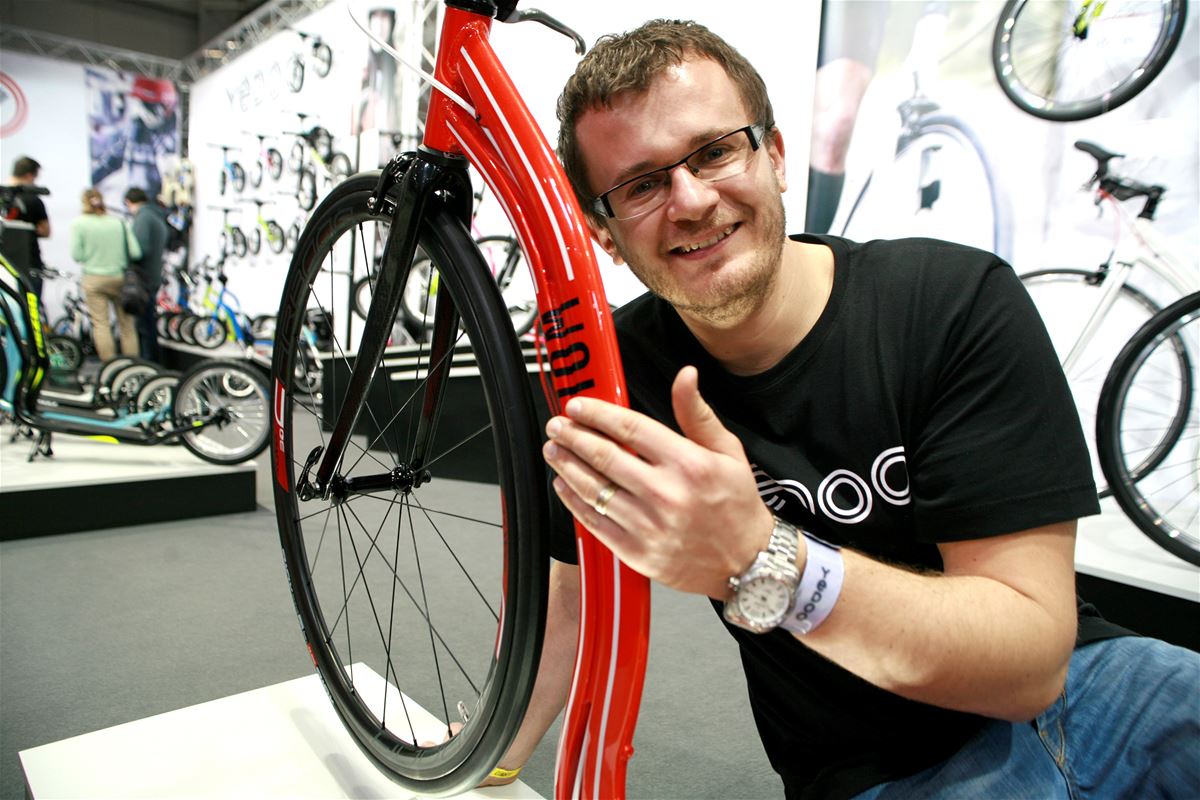 "You cannot do development from the office, I involve colleagues, family, but also friends and acquaintances in the testing. Everyone enjoys it, we are together and have fun."
The most recent model lines through the eyes of Jakub Bostl
"The Yedoo Kids scooters for children are not just adult models reduced in size. We built them so as to fit children in all respects. Most of us have one to three offspring at home and we wanted them to feel good on a scooter and to be able to share our passion with us. I take my two sons to every scooter event, including competitions. I am glad we have something we can be doing together."
I am very happy about the success of the Yedoo Alloy aluminium scooters. A long road full of twists led to their final version, and the road continues. Alloy fans can look forward to further innovations, which we will present in spring.
Wolfer RS (Racing & Sport)
I am mainly looking forward to the competition model of the Yedoo Wolfer RS with 28"/28" wheels, which we are currently finalising and will present at For Bikes fair in March.
The Alloys are followed by the Yedoo Steel scooters, where we recast the best of the "alloys" into steel. They are ideal for all people, who want maximum enjoyment of the ride, despite having no ambition to compete nor any urge to go on long routes, where one would feel any excess dekagram.
He loves scooters for their playfulness and the superb crowd of people that gather around them. "This, too, makes our scooters the way they are. People keep coming to me, telling me their experience, and the wide range of opinions helps us move forward in the development.
I know from my own experience, for example, that you will come to appreciate low weight of a scooter after the thirtieth or fiftieth kilometre, or during competitions, when you will start running out of strength. Those, who do not have such ambitions, prefer other parametres, such as storability or greater comfort. It is hard to satisfy all, but we currently have enough models for everyone to be able to choose.  
Even though I like to go to competitions, I am not a truly competitive type. Explosive sprints, short tracks as a "criterion" and relay races are fun for me, but with long tracks, I count every kilometre. I most enjoy the party of people around the scooters and rides with friends, with whom we have fun along the way. I organise a ride around Žežice for neighbours and acquaintances every year. I enjoy coming up with the route and testing it, and the entire commotion around it. The number of participants keeps growing every year, last year there were nearly seventy of us."
Irena
"I do not know how to dance, yoga is no fun for me, sometimes I go running, but the scooter became close to my heart in childhood already, when I was coursing around through the housing estate, where we lived, on my yellow scooter. It was the best thing my parent gave me."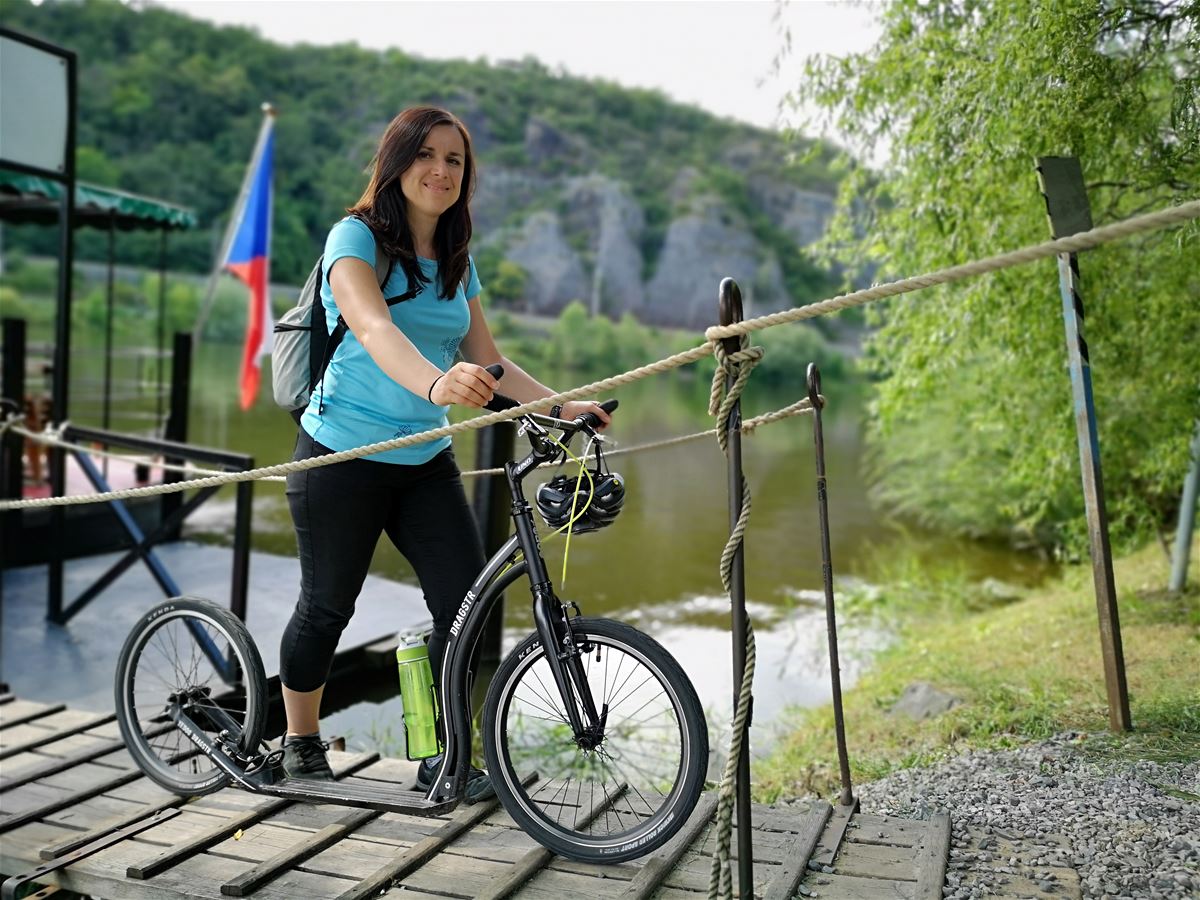 Irena got her second, adult scooter from her husband for their fourth anniversary. It was the Yedoo City and came right on time. "At that time, on maternity leave, I was slowly turning into a sluggard. Aerobics and pilates, which were popular at the time, were something I had to force myself to do, which is why I never stuck with them for a long time.
The scooter, on the other hand, helped me regain the lost joy of movement as well as fitness. I gradually came to enjoy other activities as well and returned to swimming and running. On the scooter, I experience the feeling of childhood lightheartedness. I literally rejoice in every push-off.
I also have my current job due to the Yedoo City. Once I had 'the City', I began to follow Yedoo Facebook site and when the ad was published that they are looking for someone to join the team, I applied for the selection procedure."
"The scooter helped me regain the lost joy of movement as well as fitness."
Irena, whose enthusiasm for scootering transferred to her entire family and many friends, is now in charge of communication with clients on Facebook and on Instagram, among other things, and she is currently a proud owner of the Wolfer, Trexx and Dragstr, which she rides to work for most of the year – 10 km there and ten back.
"The Dragstr is an excellent universal scooter, agile and easy to store for the city, and fast enough for longer trips as well. Due to the easy adjustment of handlebar height, our entire family rides it."
Jirka
Jirka, who is in charge of trade, knows all scooters to the finest detail. He will answer any question for you and will infallibly find a match for your taste. Due to his calm quiet voice, we have nicknamed him the prompter, but you can rely on his advice one hundred percent.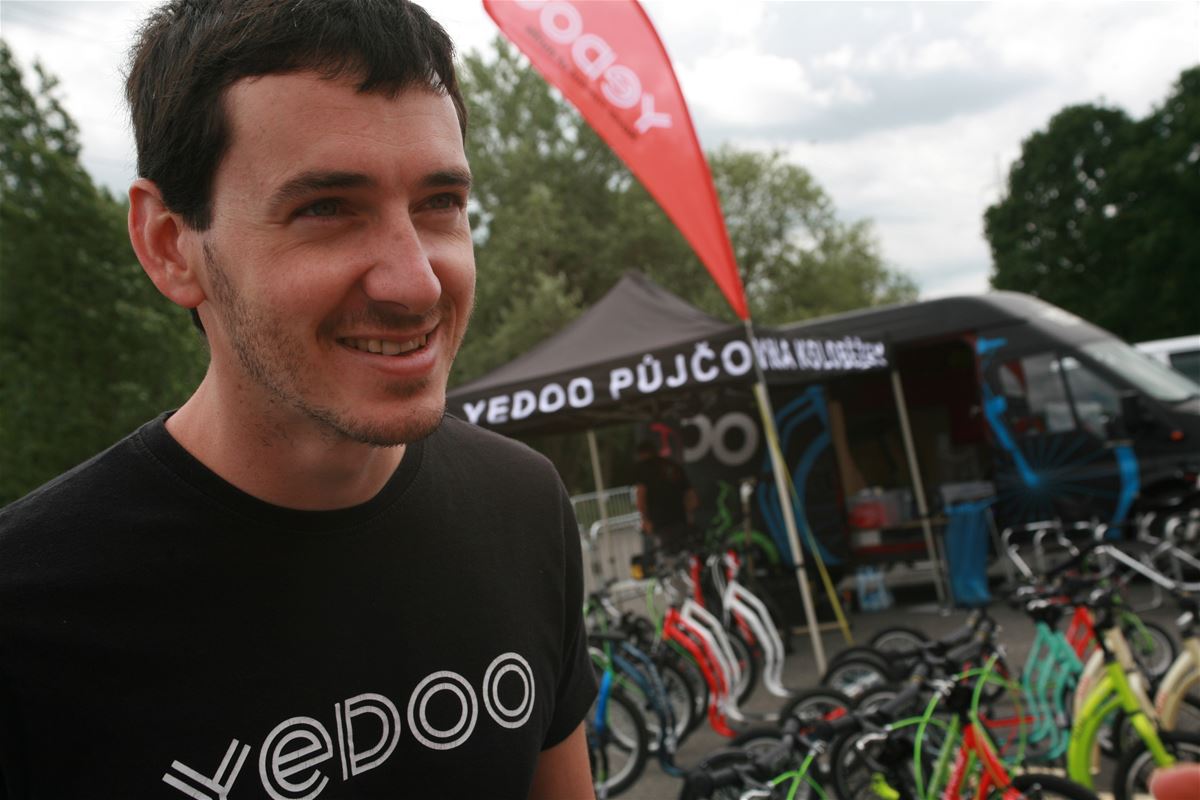 Jirka has been working at the company since his student years, when he helped at fairs and exhibitions as a temporary worker. He was later in charge of our first e-shop, and from there, he has gradually moved on to contact with the clients and trade, which he continues to develop successfully.
"Riding a scooter is a natural movement and after you have learnt the correct technique, your body will not hurt even if you ride 100 kilometres without any great preparation - as we did, when we completed one of the stages of the 100th Giro d'Italia on a scooter."
He prefers to goof off on a scooter rather than ride it, therefore the light aluminium Yedoo Rodstr with 20"/16", with which he can jump over roots on forest paths and over curbs in the city, suits him best.
"With the Rodster, you get the furthest in the world with one push-off, and every push-off turns into joy on it. It is light, fits everywhere, and you can handle even longer routes on it just fine. Its straight long footboard enables me to shift my foot as I need to at any moment - for a jump or for riding.
I am not obsessive about doing many kilometres, nor am I a fan of riding for exercise. When riding a scooter, it is the road I like, every bump, pothole or any other roughness are suitable for overcoming limits, physical or technical alike.
As a father I enjoy riding with my three-and-a-half-year-old son Jiřík as well, whom I bring with me in a child seat placed on the front handlebar. It is superb, we have our heads close to one another and talk all the way. Jiřík looks ahead and rings the bell to greet passers-by. The ride is safe, I can switch from running to walking at any time, and if I am considerate, no one minds that I ride on the pavement!"
Tereza
Tereza likes it, when there is something happening. At Yedoo, she organizes events, gives fresh information to clients about what's new via newsletters and helps our foreign dealers with marketing. Although she is only 155 cm tall, she has taken to riding the large aluminium Yedoo Trexx with 26"/20" wheels.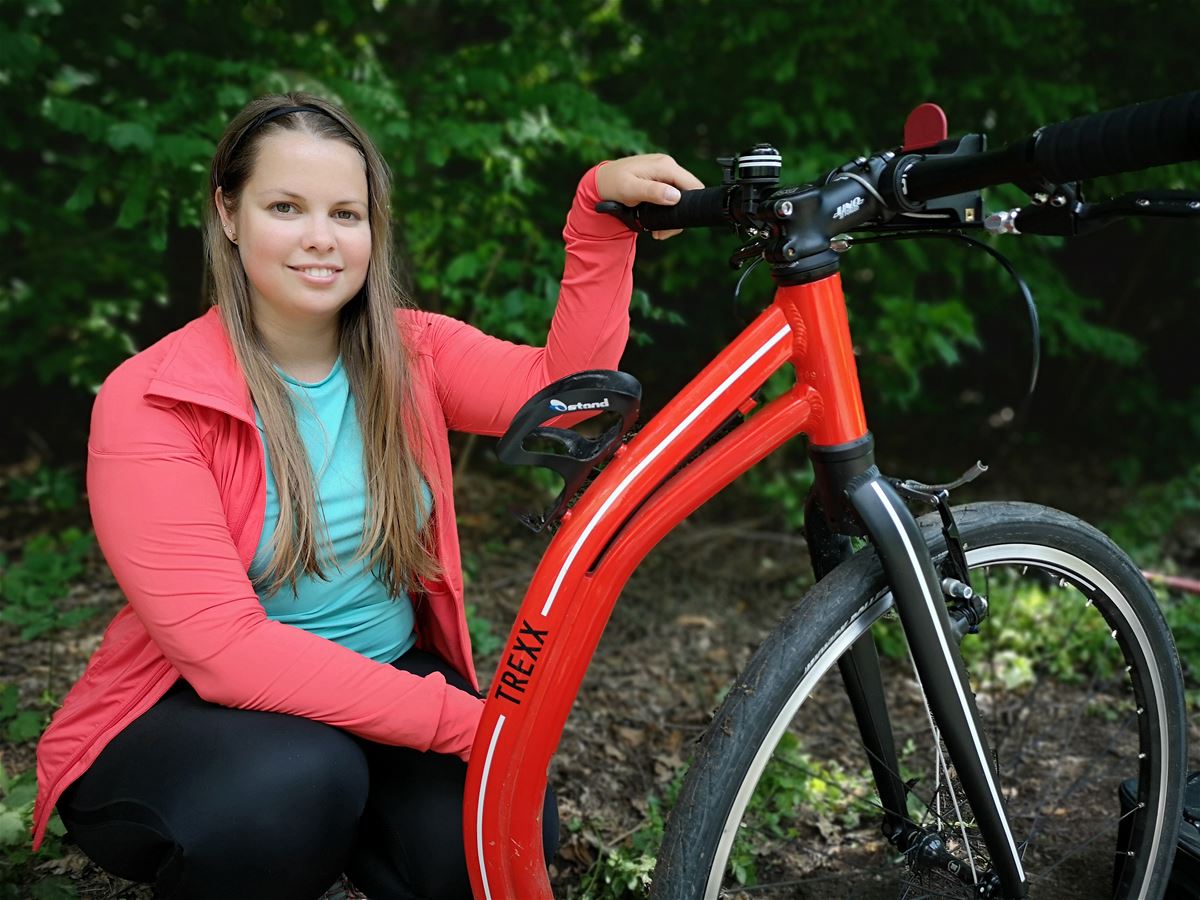 "I am pleasantly tired from riding a scooter, but not exhausted as I used to be after biking." Besides, on the Trexx I manage to keep up with cyclists, unless they rush too much."
"I do not know why, but I used to view biking as a little nightmare. Perhaps because I had only "rushers" around me, who raced on with a fixed stare. With the scooter, I discovered a new, more entertaining activity. I like to admire the surrounding landscape and a scooter is ideal for it. I am pleasantly tired from riding, but not exhausted as I used to be after biking."
On her Trexx, which she has adjusted for her height by shortening the stem and handlebar, Tereza likes to set out on trips on weekends, for example to the German Berzdorfer lake, which has beautiful bike trails around it with zero elevation. One can also enjoy bathing in the lake. It is not far from the Liberec region, where Tereza comes from.
Jakub
Jakub Nosek supervises the faultless operation of our warehouse, strategically located near Humpolec on an area of 2500 m². In addition to operation and maintenance and development of storage premises, he is also in charge of supplying goods to clients residing east of Humpolec. What he likes most about his work is its variety. "I enjoy everything, from arranging operational things to visits of dealers or perhaps painting the building, which clears your mind nicely."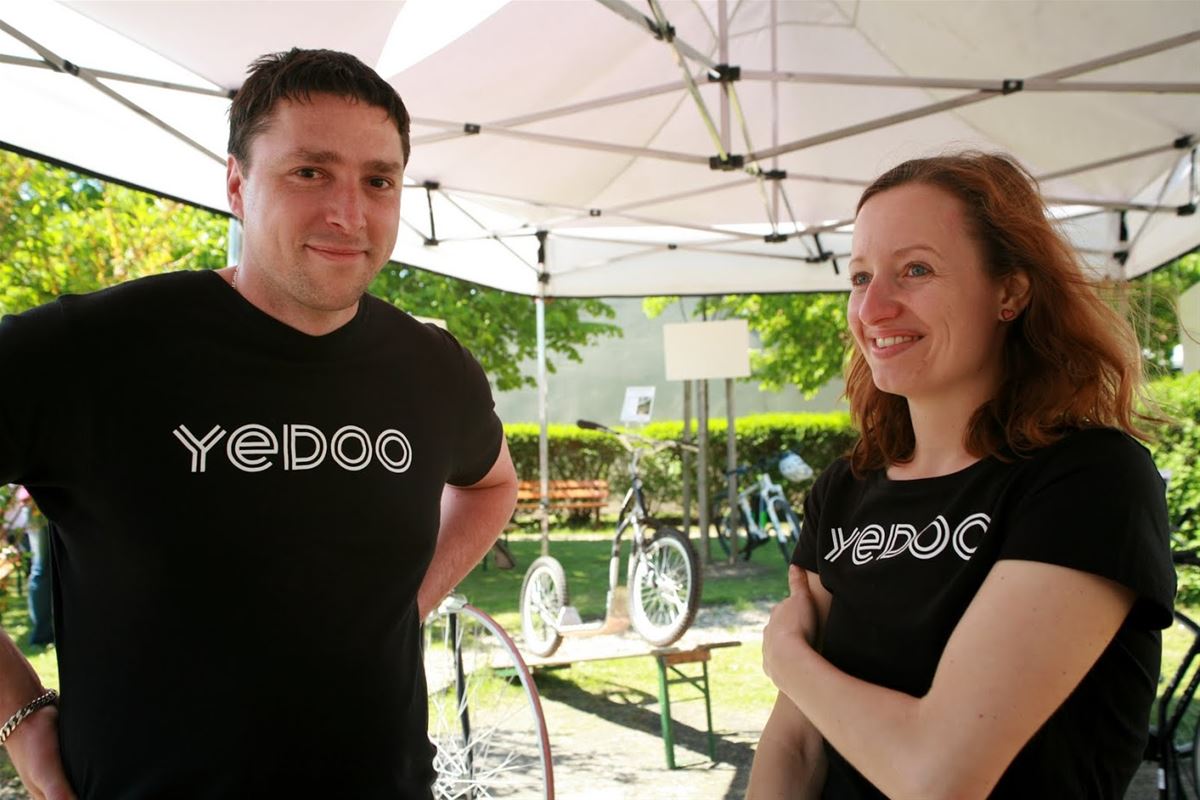 "

A scooter is ideal for outings with small children who are very demanding on attention and care." A drink, a kleenex, a shoelace that has come untied, a falling hat… With a scooter you are more flexible, you can hop off in second, and attend to the children, whether they themselves are riding a balance bike, scooter or a bike.

"
Kuba also banishes worries by fishing and by riding a scooter, preferably with a group of friends. He and his colleagues organise a ride to the village of Želiv, which is 20 km away, for their friends every August. "We regularly end the ride at a refreshment stand at Na Kocandě. Transit ready in advance awaits the scooters there, and a cooling drink awaits us, to which we apply ourselves until late at night."
Among the scooters, Kuba prefers those with 20"/16" wheels, whether it is the Mula, Mezeq, the Four, S2016 or Rodstr. "They are universal, agile, they can handle the terrain, roads and trips with kids. A scooter is superb in this respect, on a scooter you are more flexible, which is a great advantage for outings with small children who are very demanding on attention."
Martin 
You will recognize Martin by his smile and the lightness of being, which emanates from him. Despite being 197 cm tall, he has taken a liking to the agile and playful Yedoo Friday, due to its wide range of handlebar adjustability. Neither Martin nor Friday are types for long trips. They prefer to go see a nice movie together, get some good food or see friends.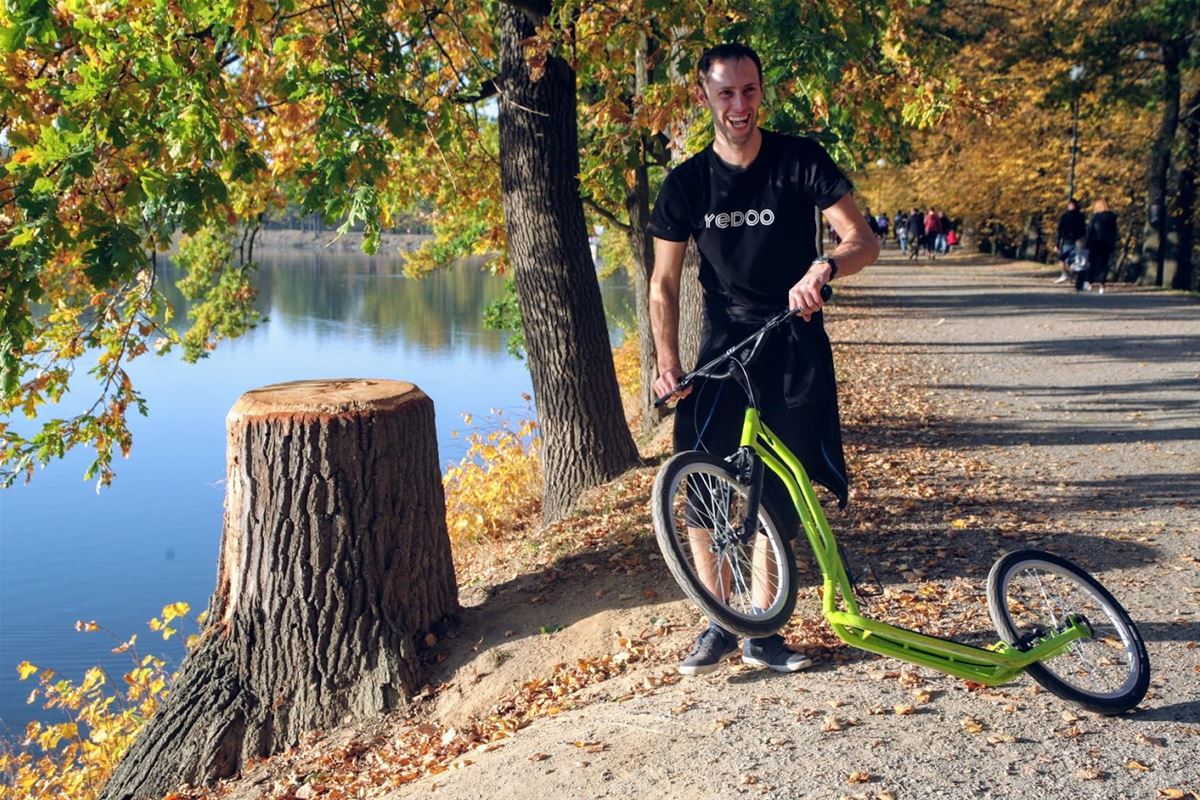 "Despite being 197 cm tall, I prefer smaller and more agile scooters, for example the Yedoo Friday, which has a wide range of handlebar adjustability."

Besides, Martin gets way enough exercise at the warehouse in Humpolec. "Stocking up goods, dispatching consignments for foreign customers, assembling and various duties related to the operation of the warehouse – these are all activities of physical nature, so after work I like to relax, for example with computer games. But do not be mistaken, I like sports, too, and enjoy spending winter holidays on skis and setting out on a scooter trip in summer."
Tomáš 
Tomáš, who is in charge of retail clients, seems to have been born for scooters. In addition to having helpful and kind demeanor, he truly understands them, too. He is able to convey the technical parameters and advantages of the individual models so comprehensibly that even a person without technical talent can understand them. That is perhaps why we receive so many emails with thanks praising not only the scooters the people bought, but Tomáš as well.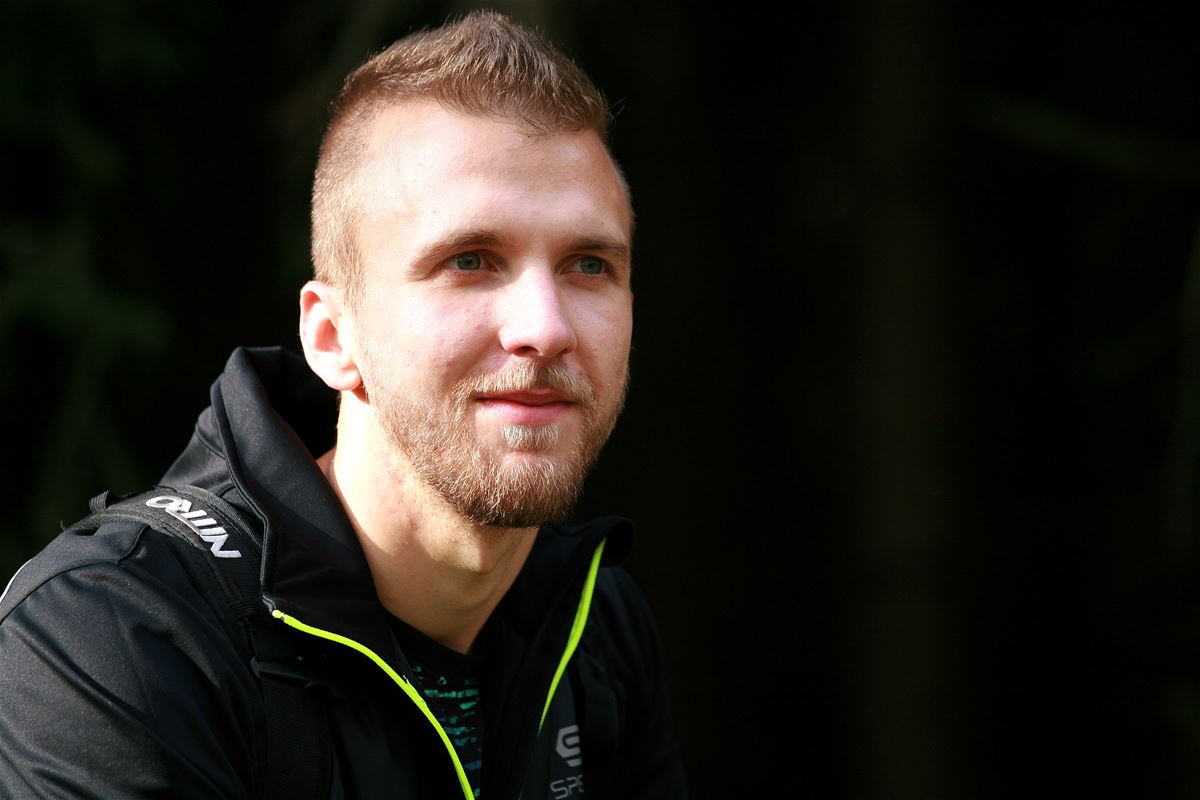 "I like scooters, because a good scooter does not cost as much as a bike of the same quality. Besides, with a scooter, I can get to stretch my entire body and give the dog a good walk. I have a Swiss shepherd, for whom 15 kilometres are no distance."
"A good scooter does not cost as much as a bike of the same quality."
In addition to "fierce" dogs, Tomáš also likes "brisk" scooters. "I like the large and fast ones from the Alloy line, which transfer all of the energy you put into them at push-off into movement forward. I have come to like the new Yedoo Steel scooters, though, too, especially the S2620 model, which is ideal for mushing. I like its design built on a truss construction very much, its quality components and metallic colours in autumnal tones.
Vendula
She has photographing in her genes, but when she was twenty-five and a numerologist predicted she would make a living by writing, she could not believe her ears. "How, if I do not even write postcards from holidays, keep a diary, not to mention writing for someone else." But man proposes, God disposes.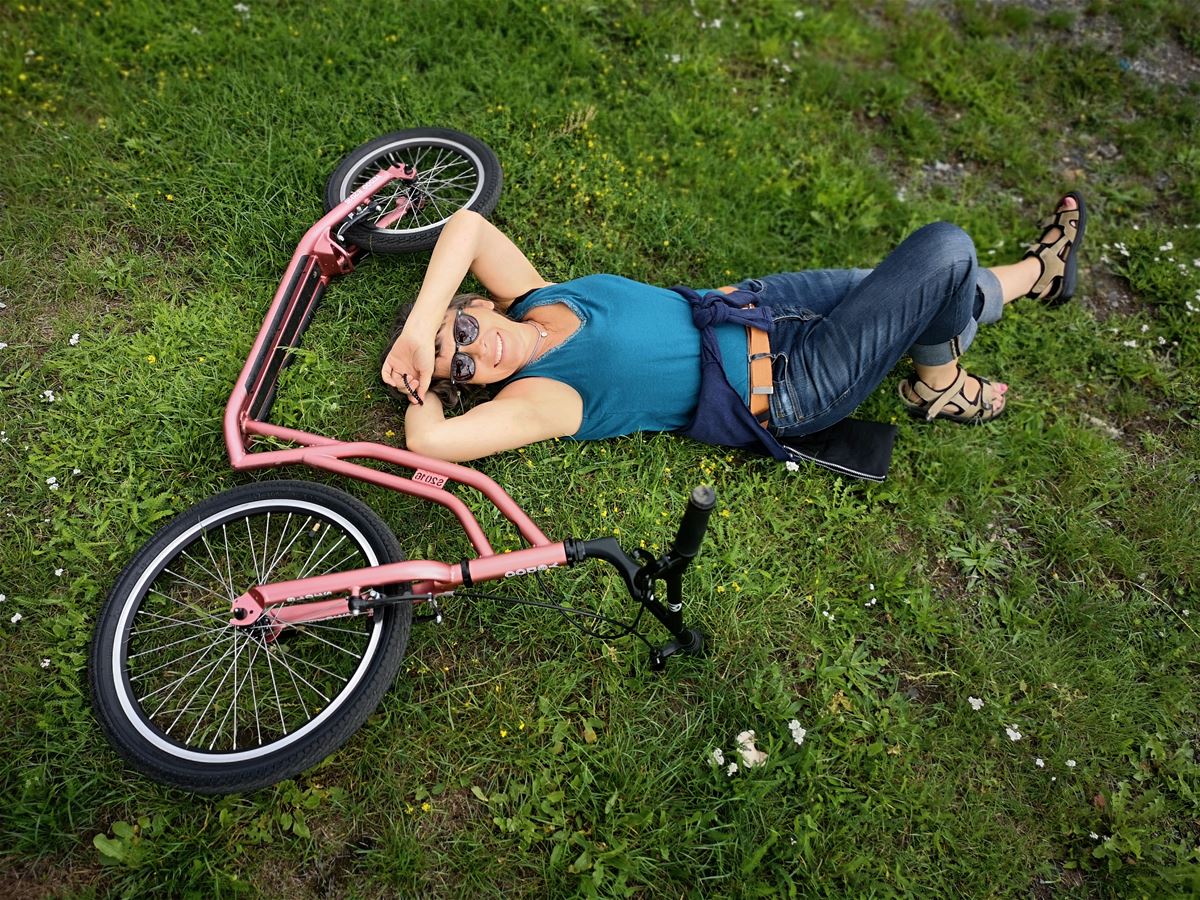 Vendula got to writing at Radio Free Europe, where she worked at the communication department. She has been writing for Yedoo for several years now, not only in the blog, but articles on social networks or assembling instructions, for example. She also makes photo reports from scootering events and rides a scooter - mainly around town.
"Now here, now there! Every time I am late, and that is rather often, I hop on a scooter. It has saved me many a time! The new Steel S2016 is the best. It has timeless design and provides maximum comfort. Besides, it is made for unambitious riders like me, who are satisfied with knowing there is excessive horsepower under the hood. This is a kind of Ford Thunderbird, those who have tried it will understand!"