New Balance Bikes. Thinking of Children, We Made OOPS
|

Vendula Kosíková

When you are young, your life is full of surprises. So is the design of our new balance bike line called OOPS, full of kids´ wonder and excitement. The new models available in fresh colors and surprising color combinations bring a double OO in the line´s name – two widespread pupils or two thick tires that pass through each puddle on the way.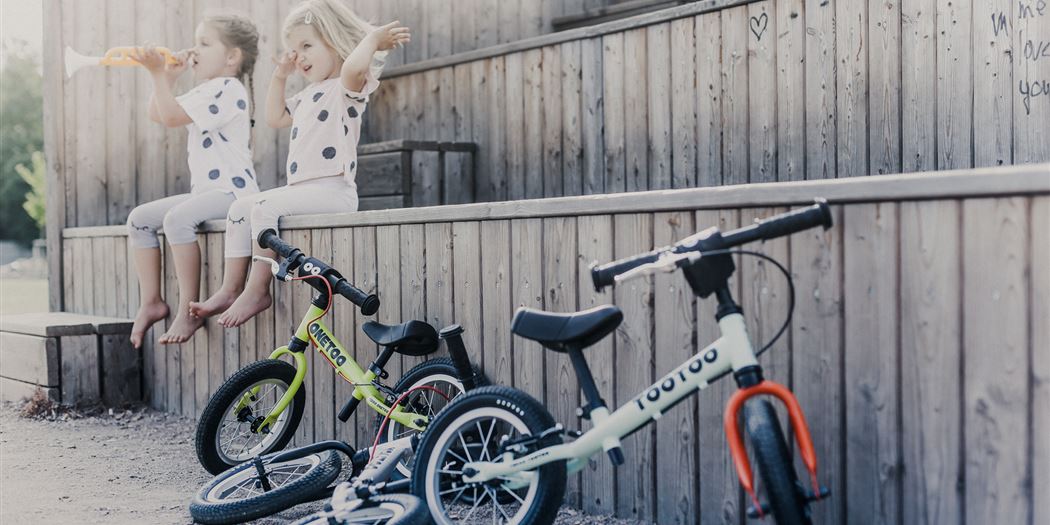 Searching for balance
We use the name OOPS to express your kids´ cute astonishment, surprise at a sudden speed, or even the uncertainty of little explorers who leave the stability of three- and four-wheeled vehicles and experience the first excitement of riding on two wheels.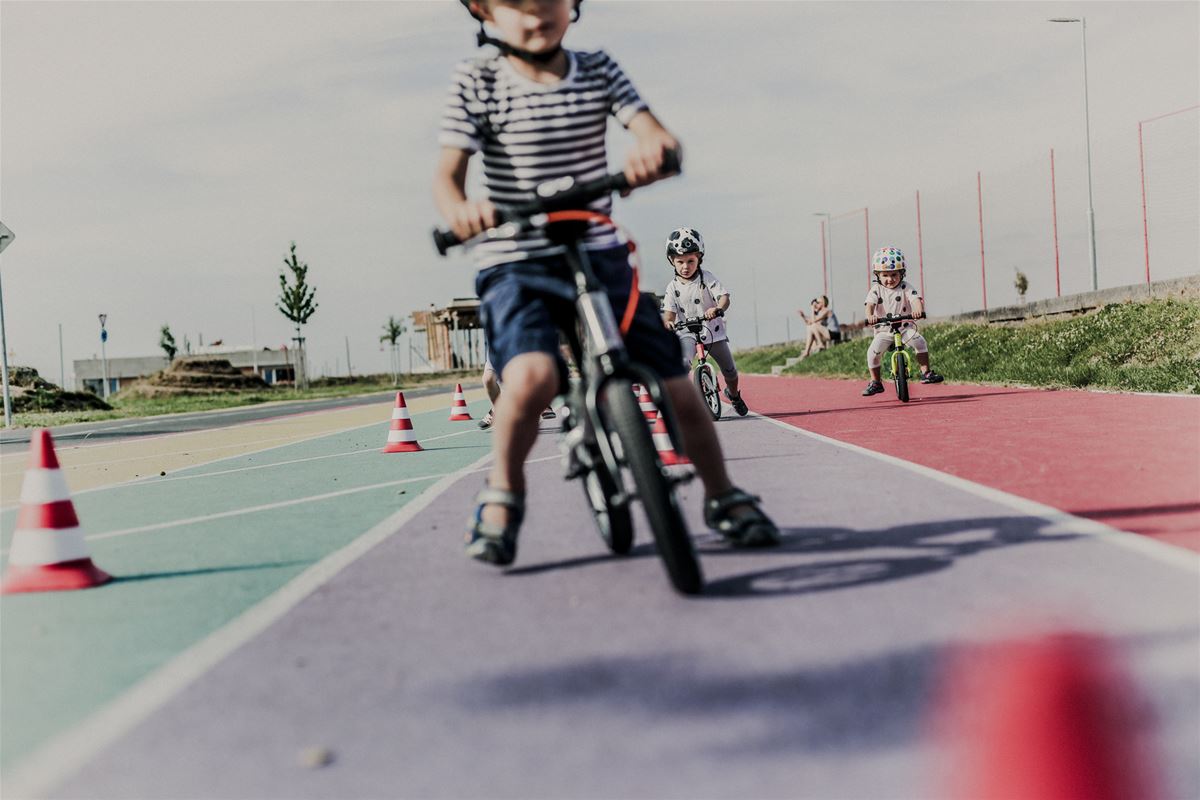 Tailor-made for children
To make the transition to a greater speed and independence easier (both for children and parents) and increased riding safety, we have engaged all our imagination, craft and years of experience with developmental and parenting.
Children have a lot of fun with their balance bike and effortlessly overcome even greater distances. They learn to maintain balance intuitively, without even noticing it. They get oriented in space, strengthen  their muscles and develop their motor skills in a playful way and without any persuasion.
We paid attention to every detail. For example, the grips have widened and reinforced ends so that the kid's hand doesn´t slip out of the handlebar, either during a ride or in case of fall. Does your kid sometimes throw his/her balance bike to the ground? Never mind, our grips, thanks to their reinforcement, can withstand such treatment without any harm.
The saddle was shaped especially for the purpose of a balance bike. Though narrower than a regular bicycle saddle, it remained comfortable but it doesn´t prevent free legs movement during the push off.
We test the safety of our products at reputable testing institutes in compliance with European standards. The Yedoo balance bikes comply with the relevant EU standards (ČSN EN 71-1, ČSN EN 71-3) and have obtained certificates of quality and safety from the leading Czech Testing Institute (Engineering Test Institute, pp.). The safety and quality certificate for each model can be found on our website.
We´re sure to know that children are unstable in their activities and that the care and transport of the bike is left to you, the adult. That's why we've done our best to make it as light as possible. The YooToo is equipped, in addition to its aluminum frame, with aluminum handlebars, sleeves and rims. Aluminum handlebars, sleeves and rims can be also found on TooToo.
We have fitted the seat post into the frame at a specific angle in order to increase the space between the saddle and the handlebars while raising them. Thus the little rider has plenty of space and comfort even though he had already grown out of his shoes, trousers and T-shirt.
YooToo saddle height adjustment is also increased by the two-position rear fork. This model can accompany your children from their first steps (18 months) until they grow up and get a scooter or a 16 " bike.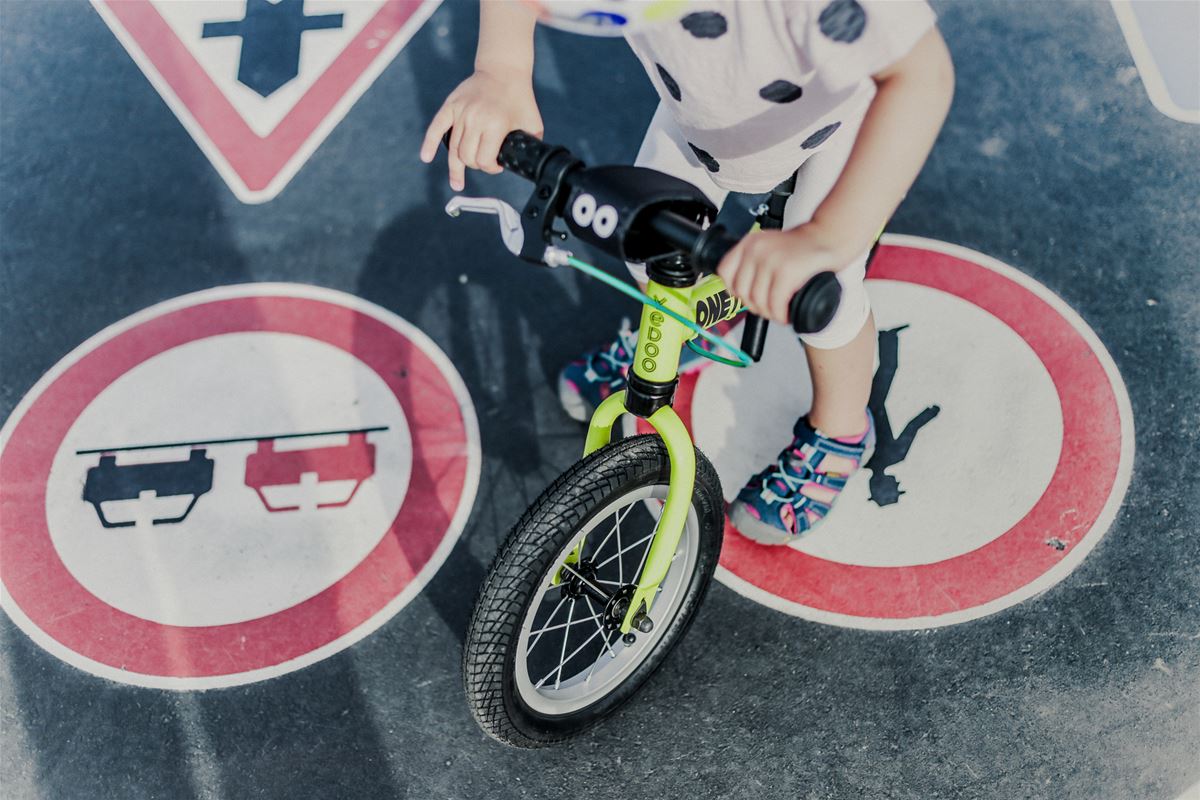 Both YooToo and TooToo have been fitted with a bearing wheel headset, which is characterised by its smooth running, long lifespan and allows the installation of handlebar backstops. These hold handlebar within a safe turning angle. Thus the front wheel doesn´t get into such a position that would suddenly block the ride and cause the bike to slip, or in a worse case cause a collision of the handlebar and rider's belly.
We have paid great attention to the brake cable guide so that it wouldn´t protrude or bend unwillingly at any place, and so that the brake could perform its function flawlessly.
Reflective elements and a children V-brake, with an all-aluminum junior lever, which is lightweight and corresponds to the size of the small hands, will contribute to higher safety. The child can easily reach it and its easy operation will allow an effective and timely stop in any kind of weather.
In a nutshell, your children can explore the world safely and freely with such a perfectly equipped balance bike.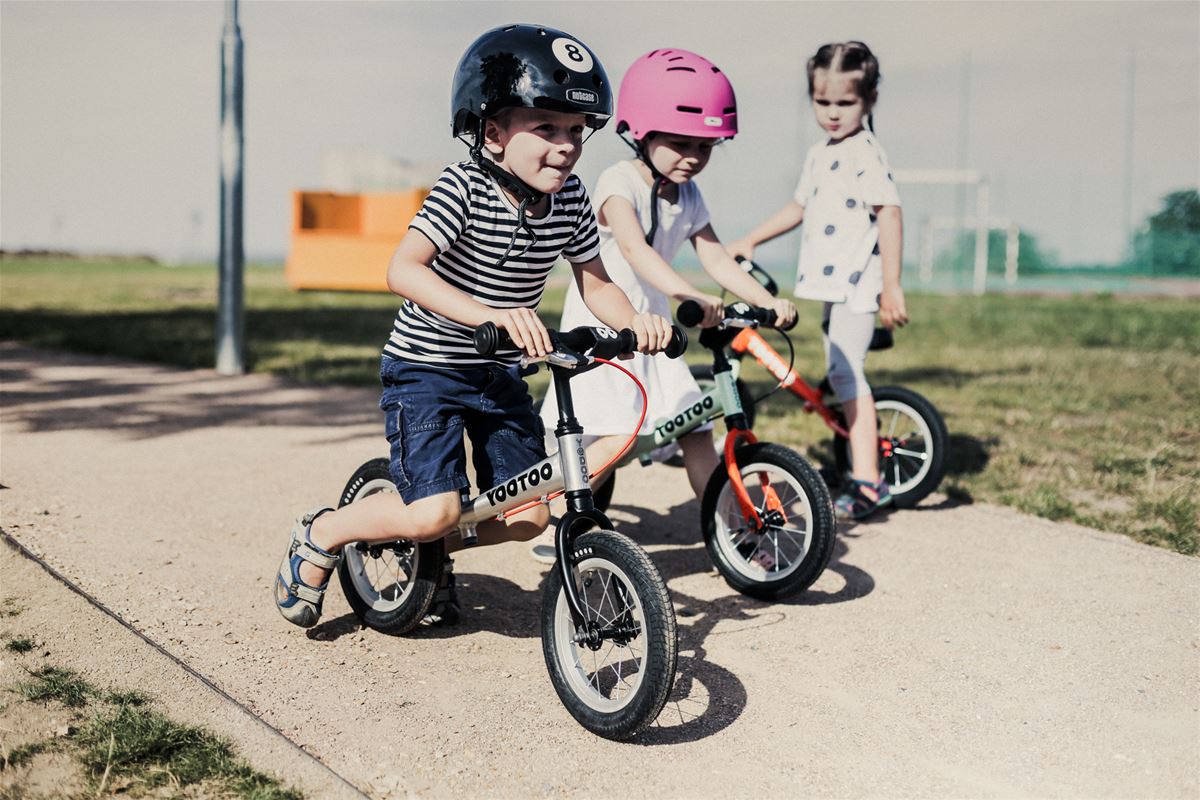 Yedoo YooToo
Balance Bike Yedoo YooToo is loved by all - children and parents. As the only one in the OOPS line, it has an aluminum frame and a two-position rear fork that allows even greater seat height range. That´s why kids can´t grow out of YooToo that fast!
The height of the YooToo saddle begins at 29 cm, so it´s suitable for children from 18 months.
The aluminum frame and aluminum handlebars reduce the weight of thisw balance bike to just 3.4 kg! Aluminum is also durable and resistant to any stress. The oval shape of the frame makes grabbing and carrying easier.
Yedoo YooToo
Seat height 29 - 43 cm / 11.4 - 16.9 in
Handlebar height 51-56 cm/20 - 22 in
Weight 3.4 kg
Frame: Aluminium with two-position rear fork
Handlebar: Aluminium
Headset: Bearing with steering limiters
Brake levers: TEKTRO 
The color-varnished front fork and colorful bowden cables add playfulness to the balance bike, the polished aluminum of the frame, in turn, highlights the sophisticated design details. Which of the six color variations of balance bike Yedoo YooToo do you prefer?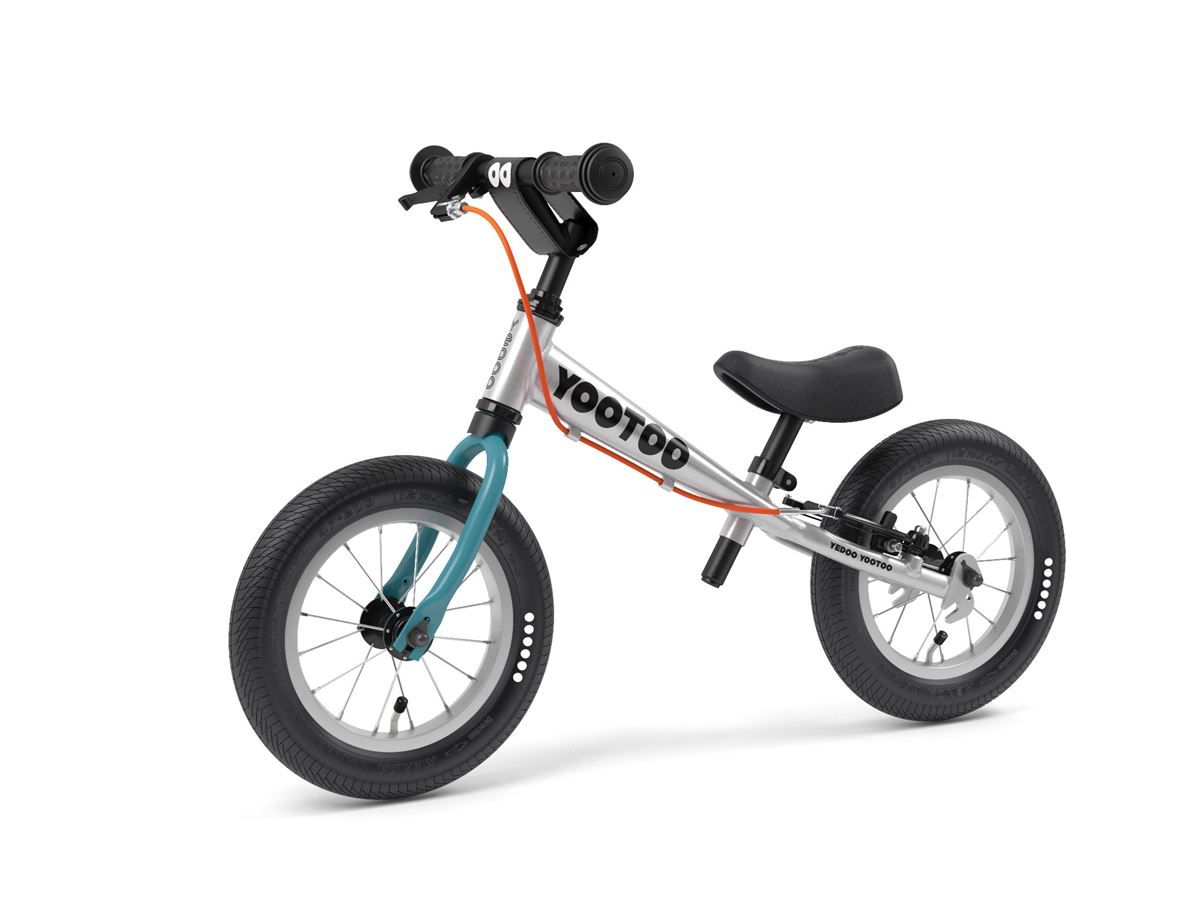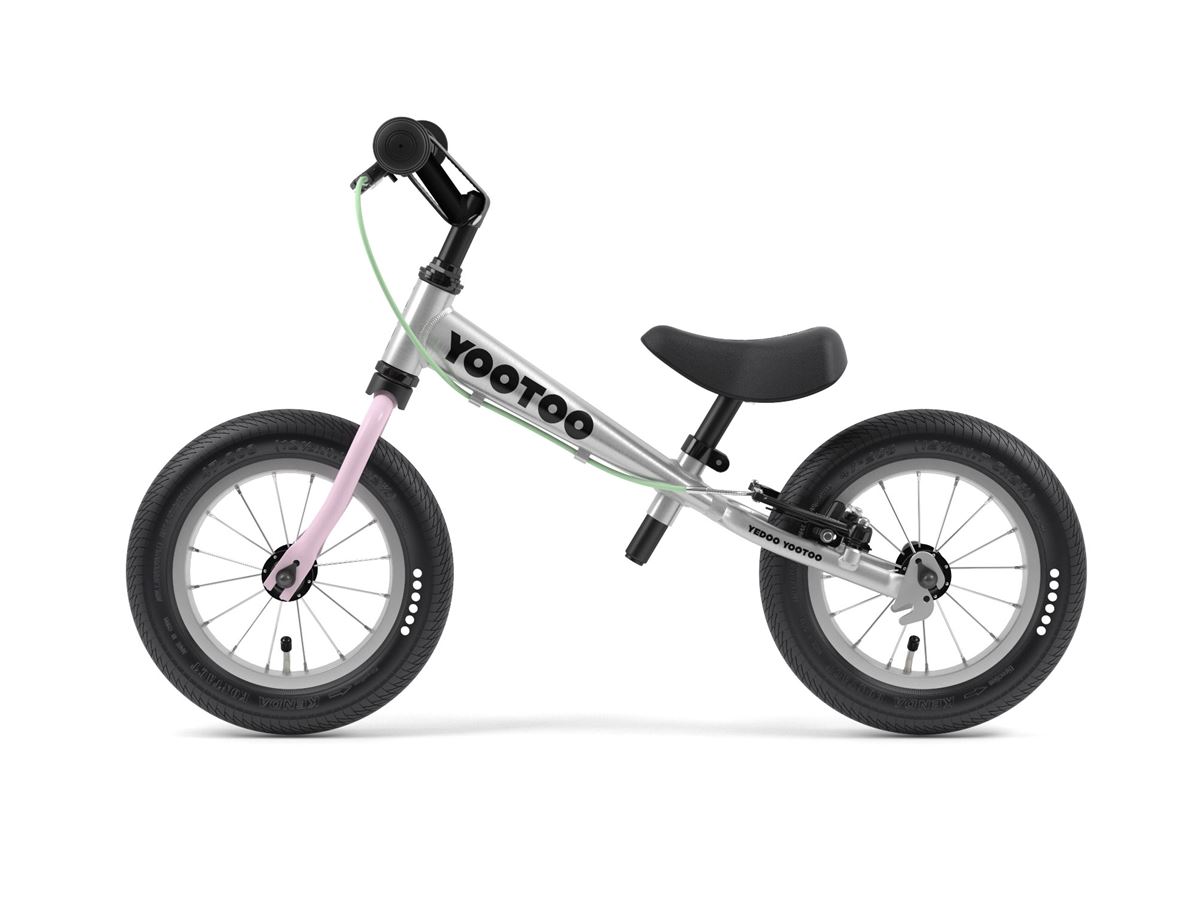 Yedoo TooToo
Yedoo TooToo
Seat height: 29 - 43 cm / 11.4 - 16.9 in
Handlebar height: 51-56 cm/20-22 in
Weight: 3.7 kg
Frame: Hi-ten steel
Handlebar: Hi-ten steel
Headset: Bearing with steering limiters
Brake levers: TEKTRO 
Functionality and design are as important for us as racing is for young riders. Racing and sweets. Would you like to have lime, cotton candy, red orange or mint?
Yes, balance bike Yedoo TooToo is the most colourful of the OOPS balance bike line, but like YooToo, it is light, fast, safe and easy to use. Although it has a steel frame, thanks to its lightweight components (handlebars, sleeves and rims) we´ve managed to reduce its weight to just 3.7 kg.
The seat height adjustment range is slightly lower than for YooToo, due to the absence of a two-position rear fork, but the range of 30-41 cm ensures that children will also be able to enjoy it for several years.
Like YooToo, TooToo boasts premium features such as grips with extended and reinforced ends, the bearing wheel headset with integrated backstops, reflective elements on tires and on the protective handlebar cover, as well as V-brake with junior lever.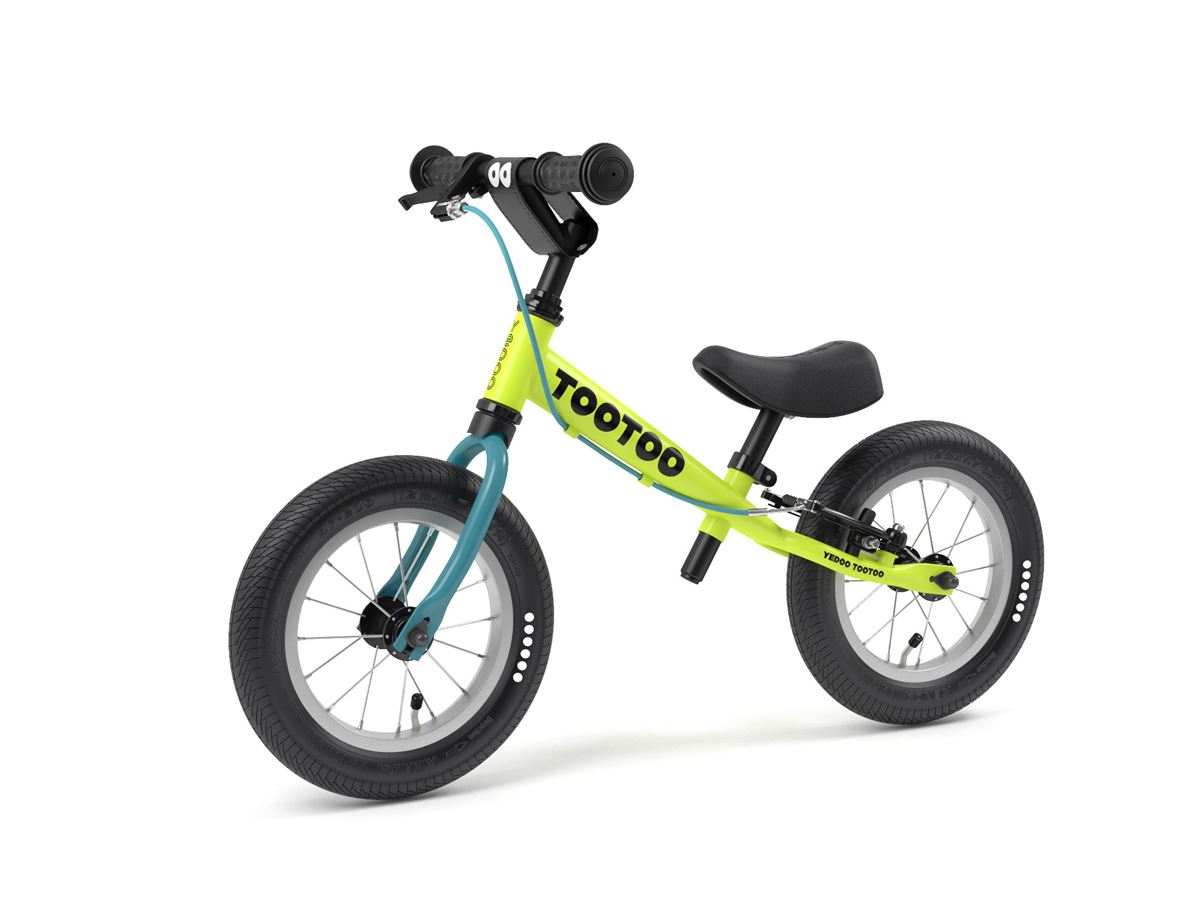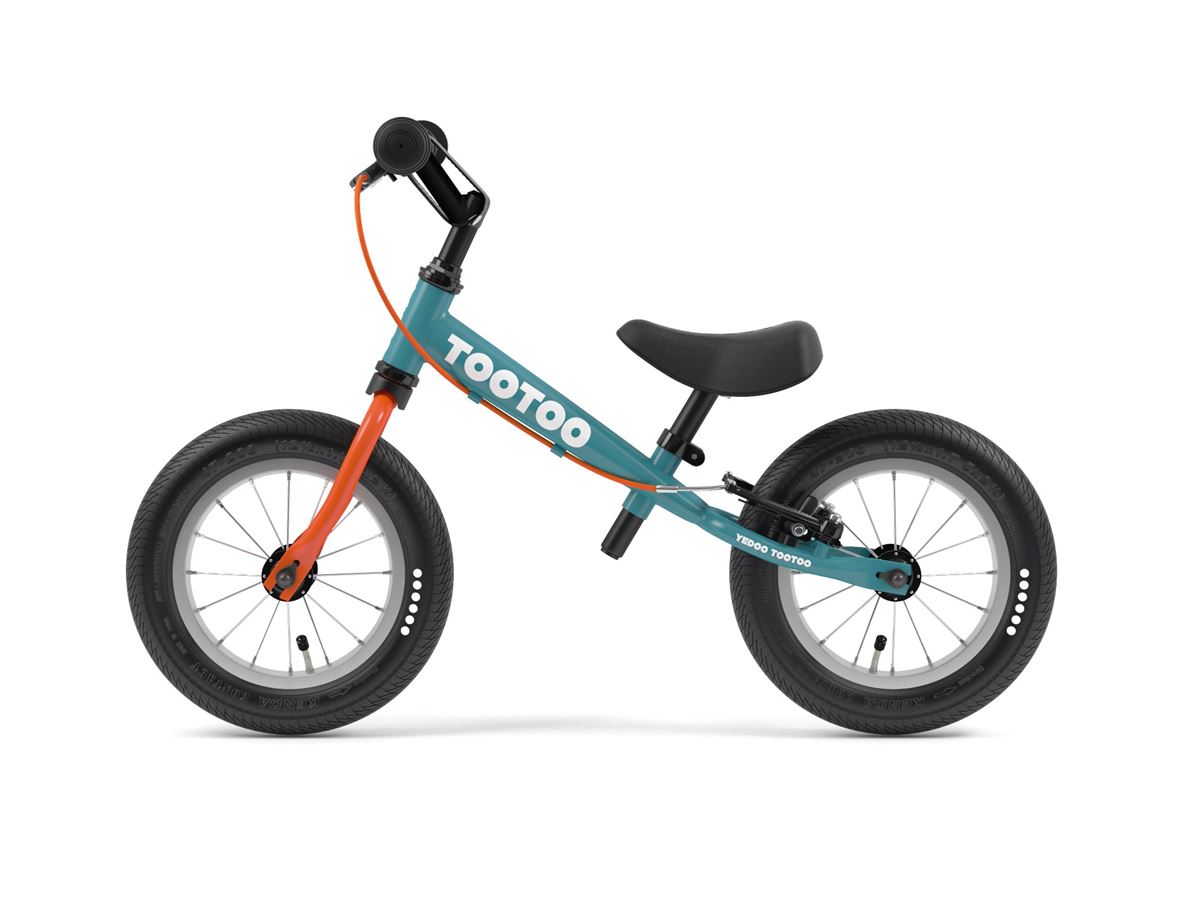 Yedoo OneToo
Yedoo OneToo
Seat height: 30 - 41 cm / 11.8 - 16.1 in
Handlebar height: 55-62 cm/21,65 - 24,4 in
Weight: 3.8 kg
Frame: Hi-ten steel
Handlebar: Hi-ten steel
Headset: PVC without steering limiters
Brake levers: SPARKLE 
This bike, even with basic equipment, can do miracles. It will teach your children to keep balance, orient themselves outdoors and estimate the distance. Without noticing they overcome longer distances, strengthen their muscles and develop motor skills. All happens in a playful way, without convincing and with minimal financial investment.
As we always do, we have also thought about OneToo's rider comfort and safety. Balance Bike Yedoo OneToo features extended grip ends, a reflective print over handlebar protection and an ergonomically shaped saddle. With the total weight of 3.8 kg, OneToo is still one of the lightest balance bikes in its class.
The design of the OneToo model is based on the playfulness of the color contrast of the frame and the bowden cable. Why to make so much fuss when it's so easy to be joyful!
Colour version of balance bike Yedoo OneToo