Yedoo Rental. Try out our products before you purchase them
|

Redakce

If you would like to experience the unique sensation of riding a scooter, pushbike or children's bike, but yet you are not sure whether you want to purchase them, we have a solution for you. Use a special offer in Yedoo and borrow any machine for the weekend and take a ride even with the whole family!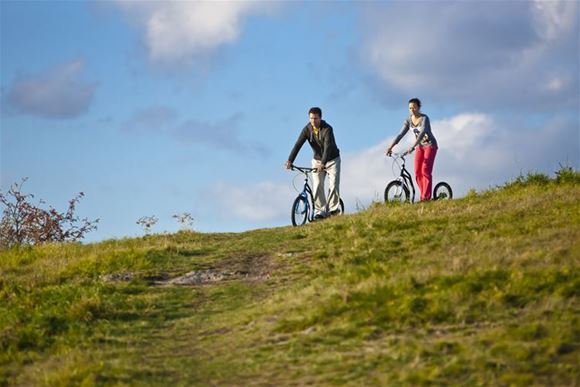 What are the advantages of a Rental
You can borrow any machine for every family member!

- in case of buying a Yedoo scooter / pushbike/ children's bike immediately after returning borrowed equipment you pay no rental fee!
- possibility of choosing any Yedoo product
- possibility of renting equipment for the whole family
- borrowed machines are always in perfect condition

In our specialized store you get extra help with selecting machines, we recommend bike routes, and offer additional equipment.
And what are the renting conditions?
- submit your identity card for entering data and contact
- deposit a refundable fee
How to choose?
Visit the Products section or contact our specialist Jakub Bílek
Tel.: 251 552 217
Mob.: 737 279 226
Deposits
New Yedoo Alloy Collection Scooters:
Friday, Rodstr, Dragstr - 3000 CZK
Trexx, Wolfer - 4000 CZK
New Yedoo Collection Scooters:
Mezeq New, New City, New Ox - 2000 CZK
Children´s scooters and pushbikes:
Single price for all models - 1000 CZK
The price for renting
How to order?
E-mail jakubbilek@intrea.cz
LEAST 2 DAYS BEFORE
Yedoo Alloy Collection - 150 CZK / day - 300 CZK / weekend
Other Yedoo models - 50 CZK / day - 100 CZK / weekend (Fri-Mon)
We Also offer
Lending tuned-up machines and accessories for connoisseurs
Rent a scooter car carrier Thule
The price for renting - only 100 CZK / weekend
Deposit - 500 CZK.
Note: The carrier cannot be rented separately, only together with scooters.
You can rent a quality car scooter carrier Thule and go for a big family outing. In addition we also offer other accessories necessary for safe and relaxing ride (helmets, locks, lights etc.).
Tuning Up
The actual machines can also get a perfect tune-up before lending. The prices of the most common treatments are listed below:
EXCHANGE of tires for better brand Schwalbe Big Apple + 100 CZK (excellent handling characteristics and low rolling resistance, you know the difference after the first bounce)
fenders + 100 CZK (Suitable for changeable weather conditions)