Yedoo Alloy Scooters Tests
|

Vendula Kosíková

Do you know how to choose a scooter? Do you need more information? Would an indedpendent evaluation by someone who has already tested our scooters be useful?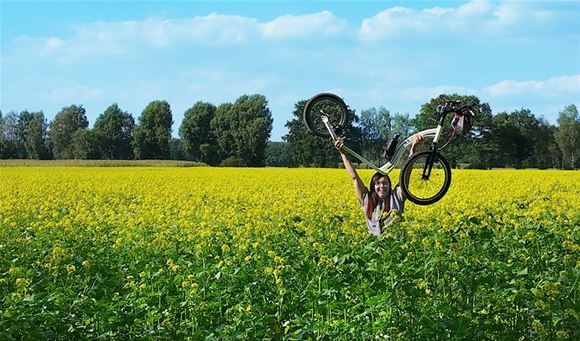 I love my Rodster
Since its launch Yedoo Alloy scooters have been gathering recognition from professionals as well as the public. Gabi Krüger used Facebook to send us a photo with her Rodster in a field of rape with the following message: "Hi there. I love my Rodstr. What's about the stand? I miss him so much. I don't want to lay "him" in the dirt."
Editor´s PS: Stands for Yedoo Alloy models are on stock. Check out your seller.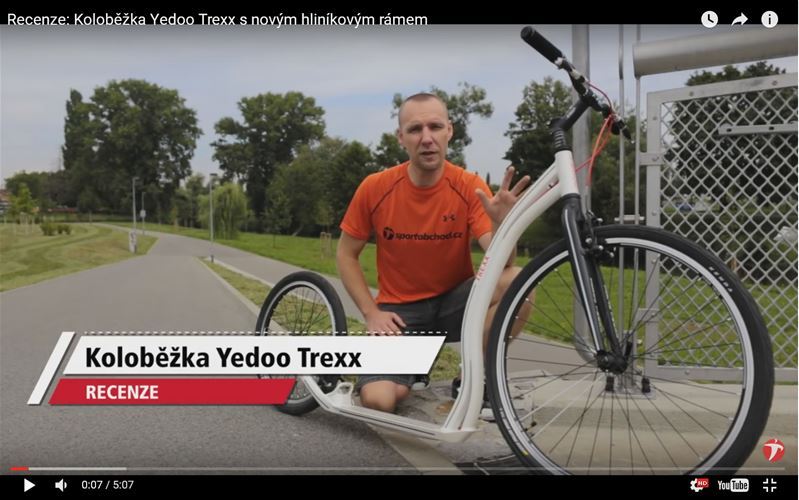 Yedoo Trexx - lightweight tank on two wheels
The leading vendor of sporting goods Sport Obchod, which takes particular care in thorough examination of products offered, has tested a Yedoo Trexx scooter. SuperSporťák (SuperSportsman) cannot speak highly enough of it in the video (on YouTube), from which we have gathered some of SuperSporťák´s comments:
"We´ve been waiting for the scooters (Yedoo) for a very long time, but it was worth it. It is one of the biggest and most pleasurable surprises of this season.
It can be ridden by big guys, too, it is incredibly stiff, it holds even when jumping over potholes. It allows aggressive cornering, and you can count on the fact that the frame does not twist. Its design features result in speed, vibrancy and skill.
The energy that you put into the push-off is not swallowed by a springing frame, instead, all of it is transformed into forward movement , just a couple of energetic push-offs and in a moment you reach full speed. Even at high speeds it keeps track excellently.
I have to commend Yedoo uncritically, because I got used to the scooter immediately and it is a machine that really is fun.
For those who are not impressed by the 'three tube' Yedoo scooters, this new line with a completely new construction is a compelling reason for you to change your mind and at least try them out, because the ride is absolutely fantastic."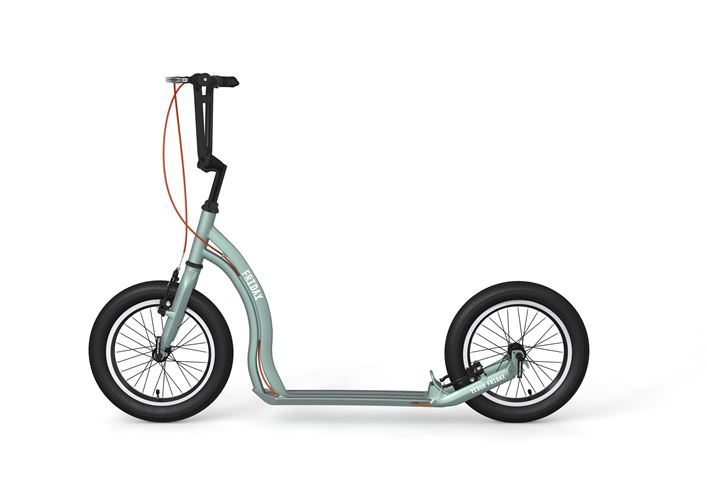 Yedoo Friday alias Pátek
Peter Lindner, the author of Priblizovadla.cz portal, has focused on the smallest model of the Yedoo Alloy range. His enthusiasm for "Pátek", a nickname given by him to the scooter, was so great that he announced the Yedoo brand to be Jumper 2016. He says in his rationale, inter alia: "Yedoo showed highly innovative direction in construction and did not allow itself to be outdone even in design."
Lindner´s detailed test can be found here, but if you don´t have time to go through almost 10 000 characters in Czech, we bring you a summary of his final ratings:
"The Yedoo Friday scooter is great fun to ride, which, at least I hope, will creqte ripples in the pond of small machines with two 16 inch wheels. It is lightweight, tough, smart, and great to ride. Yes, component mounting is not perfect (high handlebars, threaded headset), but I cannot but praise it as a whole. I can recommend Yedoo Friday with a clear conscience. "
Editor´s PS: The headset has one big advantage over an A-head one - you can easily adjust the height of the handlebars with it. So it can be ridden by more family members and you can easily load it into your car.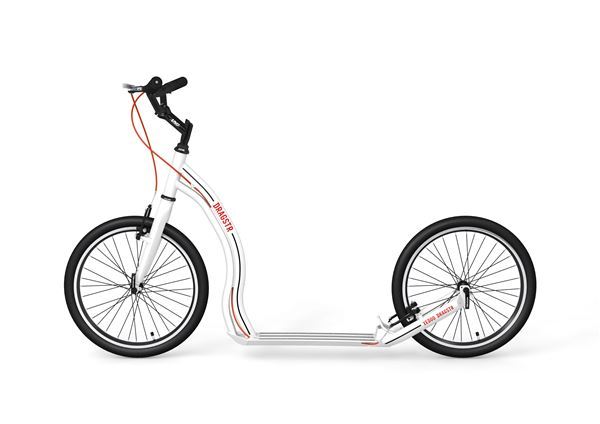 Yedoo Dragstr - When a woman steps on the gas
The Yedoo Dragstr model has been tested by the author of the blog "Scooter and Me" Šárka Pavličová who loves to use scooters not just as means of transport but also regularly as a fitness tool. She changed the name Dragstr to Dragsterine and took it all around the city and in the countryside. At the end of the test, which can be found here, Šárka writes:
"I´ve finally been enjoying every ride on Dragstr. The scooter rides well, we came to understand each other immediately after the first push-off. During our rides, I was giving it hard time chasing it from hill to hill, on highways and byways. The scooter tasted asphalt, cinder, field and forest paths, gravel and crossing a creek ... And even, twice we traveled together by tram. It rides fast, it is agile, easy to maneuver, able to manage a sports training as well as a 50 km hike, this I have to appreciate about this scooter, too. It is "compact" and easy to store at home and to travel with in a tram, too. During the two weeks spent together we became a team – I felt very reluctant to return it. The only thing I regret a little is that it has a masculine name. Although it rides like a dream, a female name would be more fitting for it. So I was - at least confidentially between us - calling it Dragsterine!"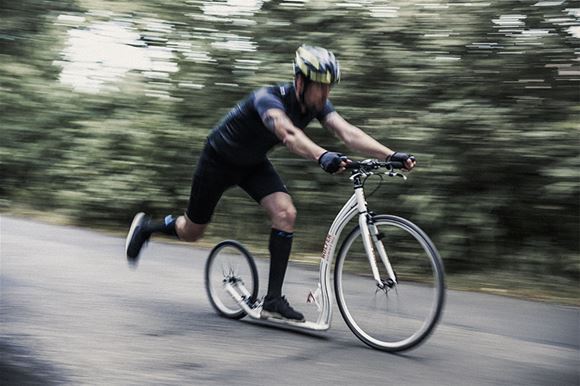 Yedoo Alloy - Alloy moved to Humpolec
How KoloběžkovyPortal.cz sees the Yedoo Alloy scooter line, you can read in the article Hliník moved to Humpolec. (Humpolec is a Czech town, where the Yedoo warehouse is located.)

The guys running this server successfully conquered the Tour de France on scooters years ago and this year they are preparing for Giro d'Italia. They go into battle equipped with a Kickbike Race Max 20 machine and a Yedoo Wolfer scooter. "No carbonyl, seaters, ultraseaters etc. We remain faithful to aluminum. We need a lightweight and rigid machine, which both scooters meet without exception. Each of us can adjust the scooter cockpit in terms of ride comfort, or make other adjustments, so that the machines fully suit him. Each tiny inconvenience is mercilessly punished by a three-week stage race. "

More about the event can be found on the Yedoo blog in the article Giro Attracts Scooter Riders. Will they manage?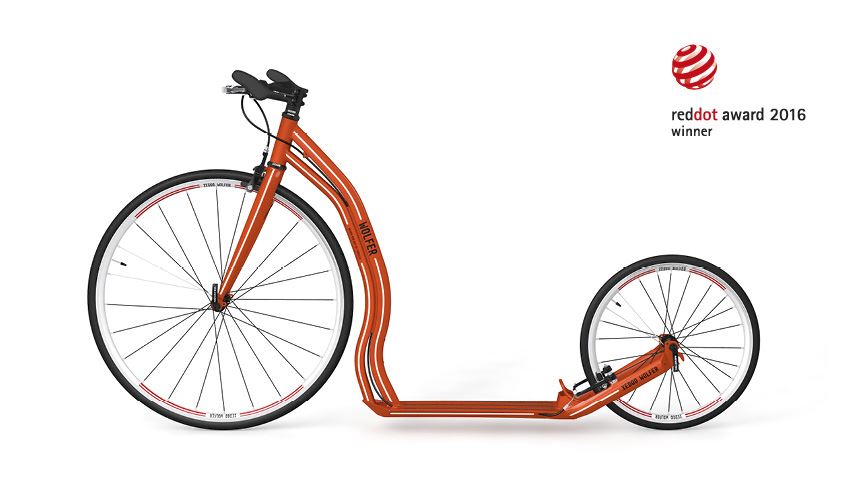 Oscar Winner for design
Within the framework of Red Dot Award 2016, Yedoo Wolfer Scooters were also judged by 41 independent experts specializing in design, who gave it the famous red dot. More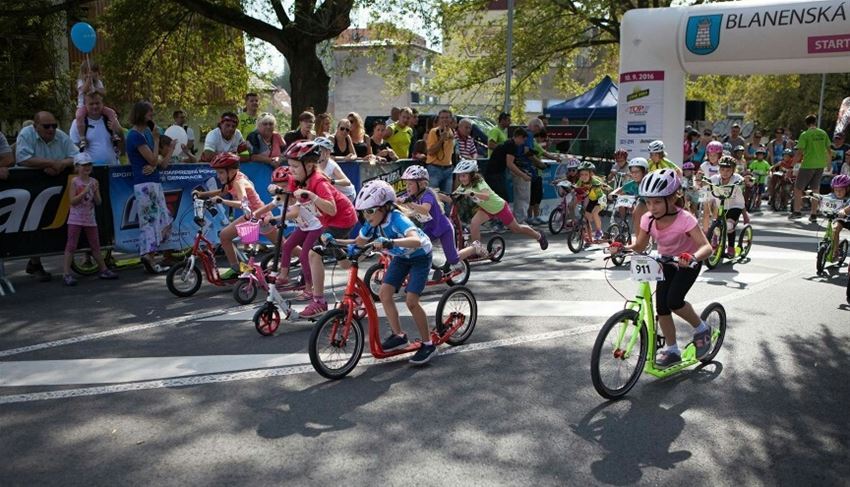 With Yedoo Alloy to greater kids´ self-esteem
A happy father and scooter rider, Pavel Huber wrote us after his daughters unexpectedly scored in several races:
"The girls have been riding with me a lot, but they´re not the winning types. The sovereignty both of them were showing from start to finish, you should definitely look for in the machines on which they rode the race. Both scooters (10 year old Natalie rides on Dragster and 7 year old Páťa on Friday) aroused other parents´ interest and, to say the truth thanks to them, I might have even become a celebrity :-). On the way from the parking lot, where I was getting all our scooters ready, to the registration spot (about 1 kilometer) I was stopped six times by parents, saying, 'Hey, you're the dad of those Yedoos, can we have a look, please?'
One dad even came to Blansko just to be able to "sniff" Drugstr personally and see it in action. After Natálka´s surprising victory he laughed hilariously and accompanied his laughter with the words: ´Tomorrow I am buyin´ Dragstr´. And the next day he confirmed the purchase:-). "
Editor´s PS: Pavel Huber had the scooters adjusted to his daughters´ size at our place. We changed the handlebars, grips, adjusted the levers and so on. However, now we are working on an all-aluminum child's scooter, which should appear on the market later this year.
Yedoo Scooter Ambassador in U.S.
The American actor and comedian Holland MacFallister, who became Yedoo Scooter Ambassador in U.S. last year, wrote us after experiencing Yedoo Alloy scooters :
"I had very high expectations and I am glad to say that they were fulfilled. Yedoo Alloy scooters are not only beautiful, but also incredibly easy to ride. On the show, I was enjoying the sight of people who were trying Yedoo scooters for the first time ever. I said they´d be back with a smile on their faces, and it always happened. I know these scooters will bring many people a lot of luck. Congratulations to your company - especially to brilliant engineers and designers and also to fantastic Lucie Agudelo, who represented Yedoo at Interbike Fair in Las Vegas. I am glad that my name is associated with such high-quality products. "