I Want a Granchild or a Scooter for My 60th Birthday
|

Zdenka Pecková

When you meet her in the street, you wouldn´t probably say that she has recently been sixty. She walks fast and energetically and you may probably not catch up with her. She always prefers stairs to an elevator or escalator and if you accidentally went on a trip to the mountains with her, don´t be looking forward to a sightseeing pace. Even now, thirty-two years after the end of her career, she can´t deny feeling her racing spirit inside of her.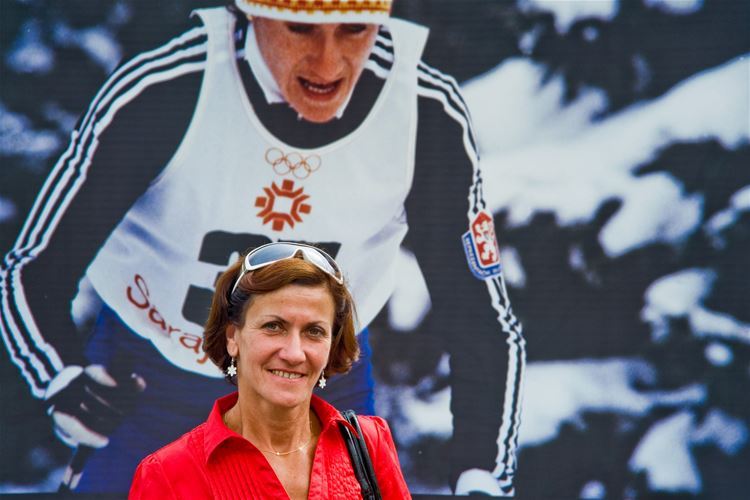 Even now thirty-two years after the end of her career, she can´t deny feeling her racing spirit inside of her. The former cross country skier and three Olympic medals winner, Květa Jeriová-Pecková had somewhat unusual wish for her sixtieth birthday this year. When asked, what would you like to get most, she answered firmly: "I want a grandchild. Or a scooter." This year she´s got just a scooter, but she´s definitely not been disappointed.
"I missed a scooter in my childhood. Maybe to enjoy it later to my heart´s content. In that time only young children´s scooters were available. Their hard rubber wheels bounced and rattled, and if you drove into a hole in the road, it was a trap. The scooter usually got stuck in it, it stopped right away and you fell over the handlebars," she recalls scooter models from the 50s and 60s.
Scooter as Part of Summer Ski Preparations
When Květa Jeriová began to compete in cross country skiing and she got into the Czech national team, the scooter became an integral part of the summer training. This was mainly the training of rapid and accurate push off. "Standing upright on a scooter also allowed easier breathing than crouching on a bike. At the same time it was a very simple movement and one figured out quickly when to push off and how to spread the weight," the cross-country skier names the benefits of such training complement. They were far from the recent ones, however. "It was an amateur equivalent of those scooters that have become so popular now. They had large inflatable wheels, there was a primitive tread brake on the footboard, a narrow, padded seat over the top of the rear wheel. That made the whole equipment. They were made by smart enthusiasts and individual components were hunted for in all sorts of ways. In our Republic just a few such scooters were driven - so they were very rare."
The scooter has become a welcome distraction in ski practice. "The scooter was a great tool. Normally we rode ninety minutes to two hours. Mileage did not make a difference. In a hilly terrain it accumulated very slowly, but on the plane and in the downhill the scooter was not much slower than the bike. I preferred it to roller skis. Therefore, I regretted that we included it into our practice only once a week."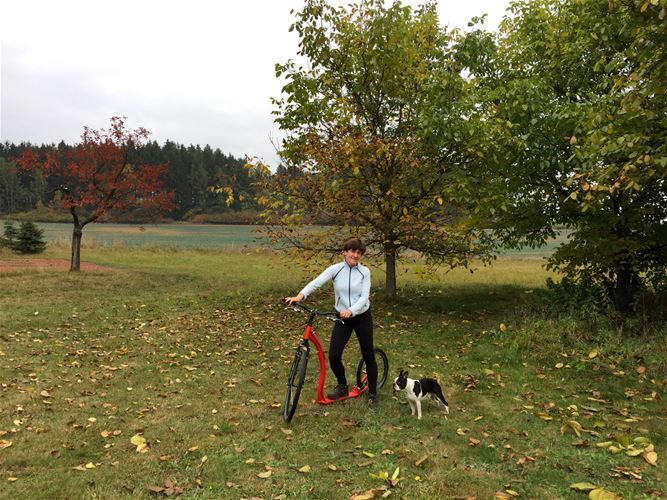 Riding scooter with a handbag

Training on scooters has one big advantage over wheel skis - it can be used as quick means of transport. "It served us well mainly in summer. There was no need to put on our sports outfits, we rode scooters in skirts with our purses hung on the handlebars. In case of emergency two persons could ride it - one propelled it and the other was sitting on the back seat holding the front one. It was not comfortable and certainly not very safe, but sometimes we inquired what these gadgets managed this way. Of course, the police did not like it. It was necessary to be very careful not to get caught." Besides the police, they were in danger of getting their clothes entangled into the rear wheel or falling off while colleagues from the national team were giving them a ride on their way back from shopping.
After finishing her career she had to say good-bye to her scooter and pass it over to her successor, albeit grudgingly. "I would have preferred to keep it and use it instead of a bike, but there was no way."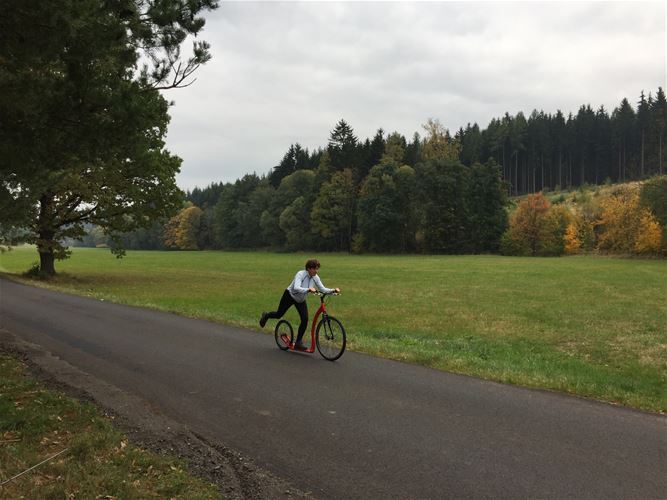 To Studenec to See her Friend and Back to the Old Pathways
For many years she could do without it, and when scooters began to appear in shops a few years ago she decided it was finally time to get one again. "I am no longer a skier who would have to train push offs. Still, I began to peek at scooters again. For the simplicity, playfulness and maybe also for those ancient ski memories. Sometimes I had a ride on some and got back into the old times. My daughter has recently purchased a beautiful road narrow-rimmed one. It rides almost by itself on a smooth rode. That would make practice a lot easier."

"Today the scooters are for sale in variety of sizes and designs. They are much more sophisticated, having two brakes, more sophisticated gear and they are certainly safer. But none of them is equipped with a seat," Květa Jeriová-Pecková complains. "From the first moment I wished for the one that resembled our "ski" model most, it rides well on the road and can handle a lighter terrain as well. Fortunately, my family has resolved the choice for me and has bought it for my birthday."
The choice was Yedoo TREXX. The fact that it meets all wishes and demands of the former White Track Queen is evident in the frequency of its use and future plans for neighborhood scooter trips. "Last weekend I went to Studenec to see my friend that I have not seen for 44 years. To avoid a busy road I took a shortcut through a meadow, just as I used to do in the old times. I look forward to riding even farther, to being able to ride through familiar pathways which I used to run once. I look forward to reminding myself of the time when darkness was darker and snow whiter."