Yedoo Alloy Scooters in Detail
|

Vendula Kosíková

Yedoo scooters have traveled a long way during its existence. The success of the Yedoo Alloy line is the fruit of the many hours of development effort, mileage and time that we´ve spent listening to all of you, active scooter riders. As a result, we´ve managed to build machines that are unique in many ways.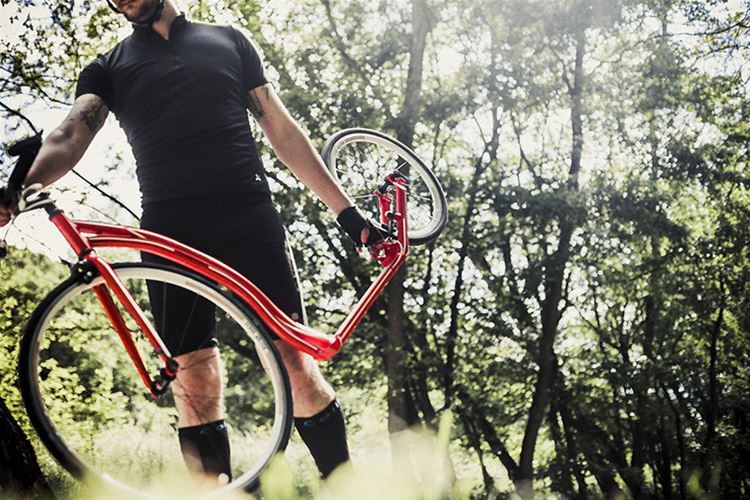 The Yedoo Alloy line, which includes Yedoo Wolfer, Yedoo Trexx and related smaller models Dragstr, Rodstr and Friday, has several design elements that have never appeared in the world of cycling yet. Let's take a closer look at Yedoo Alloy.
Frames as light as a feather
"The energy that you put into the push-off is not swallowed by a springing frame, but its maximum is transformed into the forward movement... even at high speeds the scooter keeps track excellently." Supersporťák, Sportobchod
The base of the Yedoo Alloy full aluminum frame consists of extruded multi-chamber profiles that withstand vertical and lateral stress well. The frame is lightweight, perfectly solid and very durable thanks to its profiling.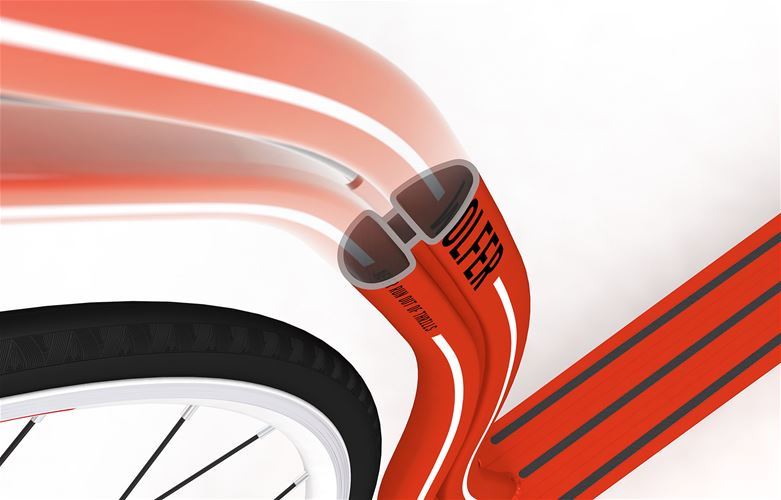 Unique bracing
In its most stressed parts we have cut the main profile, opened it up and attached it to other parts of the frame with multilevel welds. This reinforcement (at the head tube and the footboard), brought optimum solidity, which prevents the frame from springing and at the same time absorbs vibrations.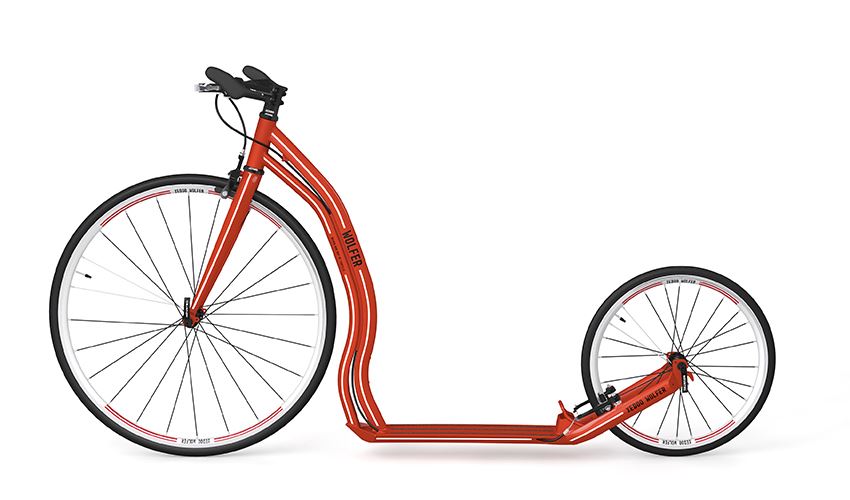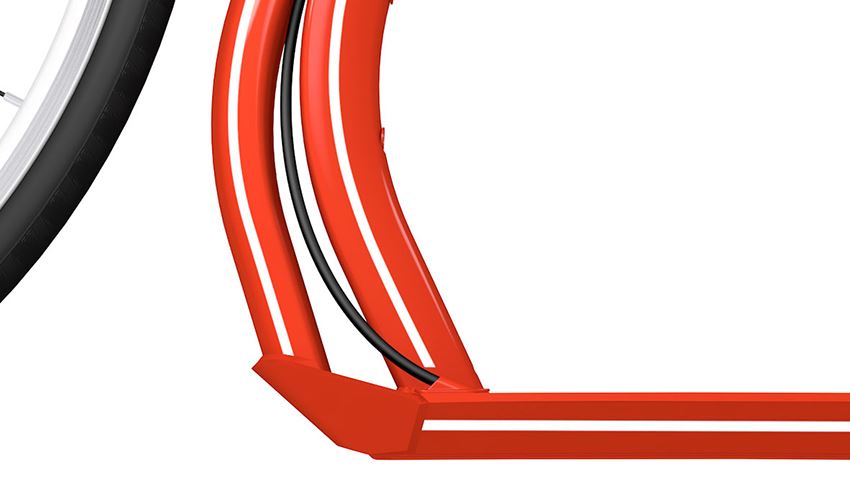 Tuned in footboard
Lie down into the cornering
The footboard has an original design as well. It has a trapezoidal profile with tilted sides enables the scooter to bank safely when cornering.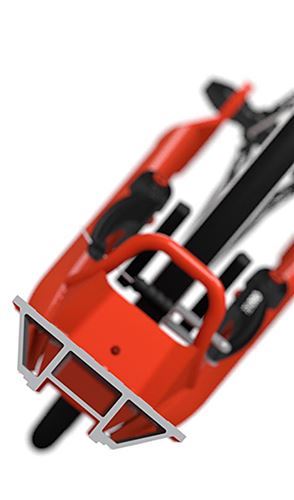 The reinforced front of the footboard contributes to safe driving and its protection.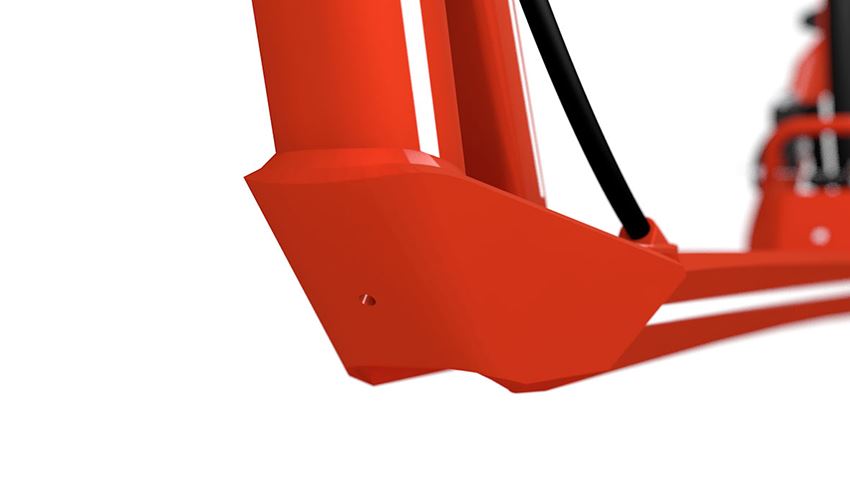 We slapped some cuffs on the footboard
The total height of the footboard - only 27 mm (including 3 mm of sanding, see explanation below *), means a minimum footboard height for a rider while keeping sufficient distance from the ground. Both parameters can still be customized using a dual-position rear fork.
For example, the step height in Wolfer in the basic (lower) setup is 6.2 cm. After deducting the thickness of the footplate we get to a clear height of 3.5 cm which is an ideal setting for smooth tarmac, where you don´t have to overcome uneven terrain and put only a minimal load on your standing leg.
Settling the wheel into the lower fork position raises the step height up to 8.2 cm and ground clearance to 5.5 cm. With that you can already go well beyond the racetrack. PS: Just keep in mind that in changing the position of the rear wheel you will need to adjust the settings of the rear brakes and fenders.
Setting the footboard slightly higher in front (approximately by 0.5 cm) also helps to overcome uneven terrain.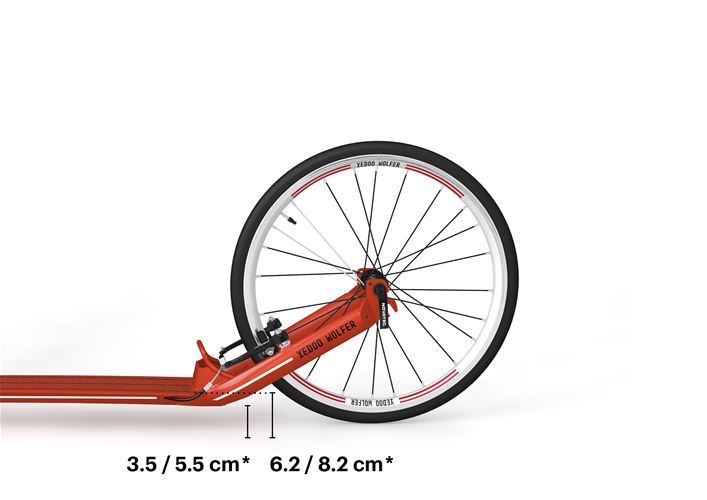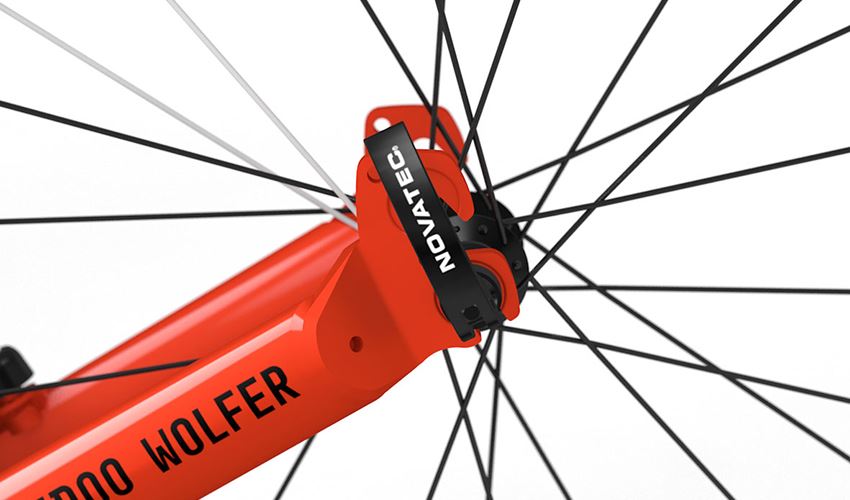 Just a strike
The chassis shape helps to assist a smooth ride, having *three millimeters of extra material added for abrasion. Added material minimizes the contact area with the ground helping the scooter to not stop when striking a bump. You can go striking without worries, as abrading 0.5 mm of this three-stage footboard takes roughly 8000 km.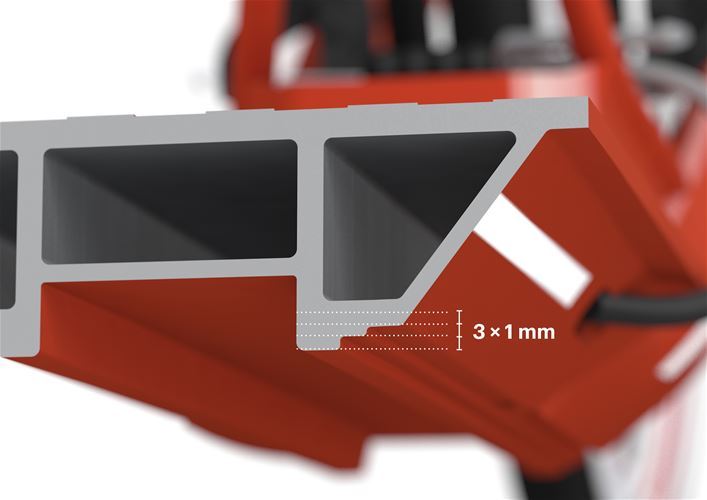 Seven degrees of slip resistance
From your comments: "I had the opportunity to test a footboard with three strips and I was very surprised how "smooth" the tread is and how easily I can skip, my foot slips, but stays rooted in place. I know it seems almost unbelievable, but it's just so. I had the opportunity to try it out even in the rain and I can confirm that the foot perfectly holds on the scooter and the change of the stepping foot by moving the tip or the heel of the shoe is excellent. If the rider alternates the legs by hopping, he will be pleasantly surprised how the foot sits where it belongs." Václav Mikšík
Three nonslip strips make the surface of the footboard rougher. A footboard can´t be too slippery! A smooth exchange of your legs also depends on the material of the soles of your shoes!. Other factors such as driving style, rider´s weight etc. come into play as well. Therefore, the package includes additional 4 nonslip strips, with which you can tune the footboard surface to your needs.
Make sure the footboard surface is perfectly degreased before using the strips. When applying them take special care to press them firmly onto the surface and wipe out any air bubbles. Nonslip strips applied this way will last a long time.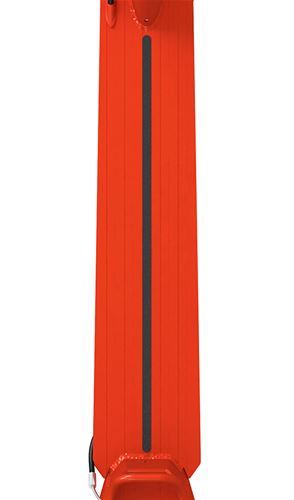 (Don´t) scratch your head over the head composition
Yedoo Wolfer and Trexx have a quality aluminum A-head (non-threaded) headset with industrial bearings. Smaller models Dragstr, Rodstr and Friday are equipped with a threaded headset.
Each has it's own advantage. The A-head is more suited to sports models where there is no need to change the height of the handlebars.It can be adjusted to some extent by using spacer rings, turning the stem or cutting the fork tube. Conversely, the threaded headset allows a quick adjustment of the handlebar height - simply use an allen key and that´s it. This is useful if the scooter rides more family members or if you need to put it into the car or store it at home.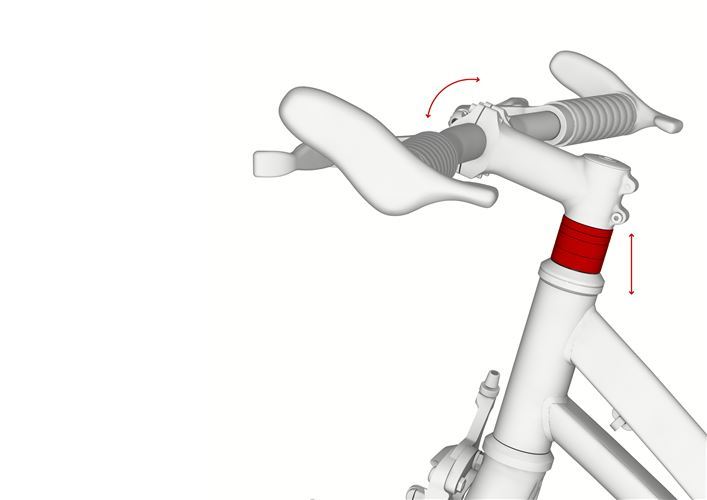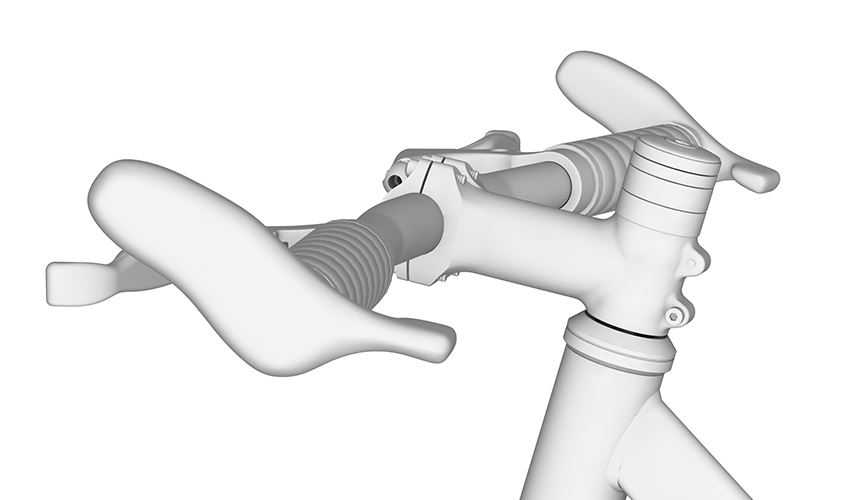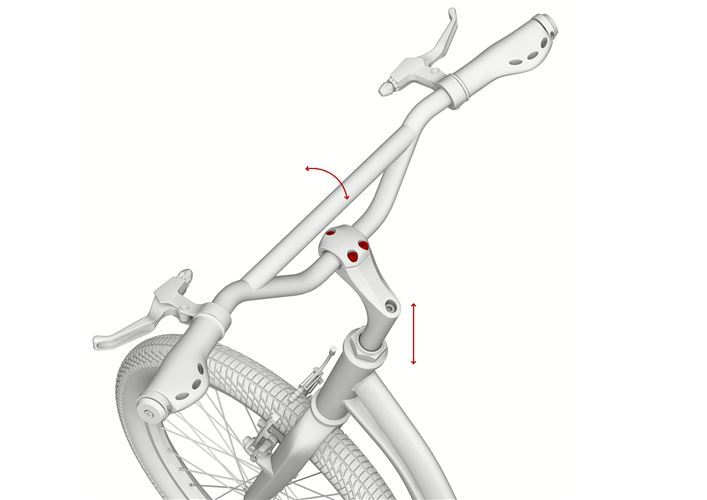 The stem makes the space fitting to the rider
Selecting a stem for A-head headset models is not only important in terms of setting the handlebar height, but also in regard to his driving style. A taller and more easy rider may use a rather taller and longer stem.
Conversely, rather a shorter and lower stem will suit an aggressive rider shorter in stature. Therefore the stem, which we have chosen for mass-produced models Yedoo Wolfer and Trexx may not suit everyone. So, if you're serious about kickbiking, contact us or an experienced Yedoo dealer in your area. They will help you to set up your stem or advise which one would be appropriate for you.
You can enlarge the rider´s space in scooters with threaded headset by tilting the handlebars or exchanging the stem for a more fitting one.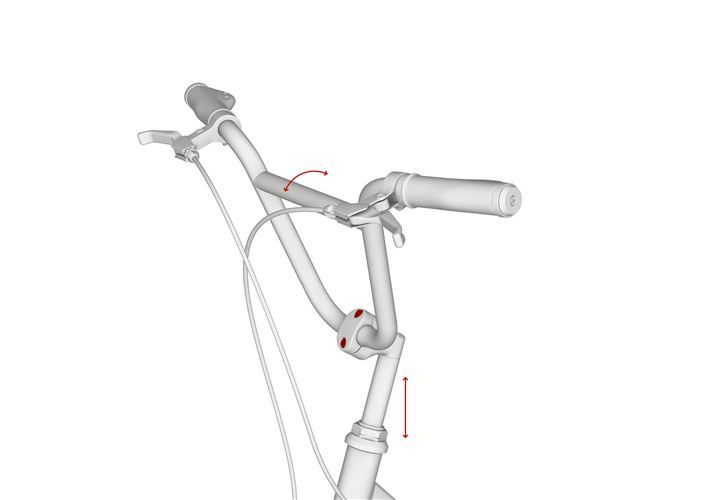 Facing hurdles with a practical dropout
Where the footboard is attached to the rear fork, the multi-level welds are stabilized with a stop dropout which has also a practical use - when riding over potholes, you can lean your boot against it and gently lift the scooter. Dropout is also useful for parking, turning, etc. You can also use it while carrying the scooter.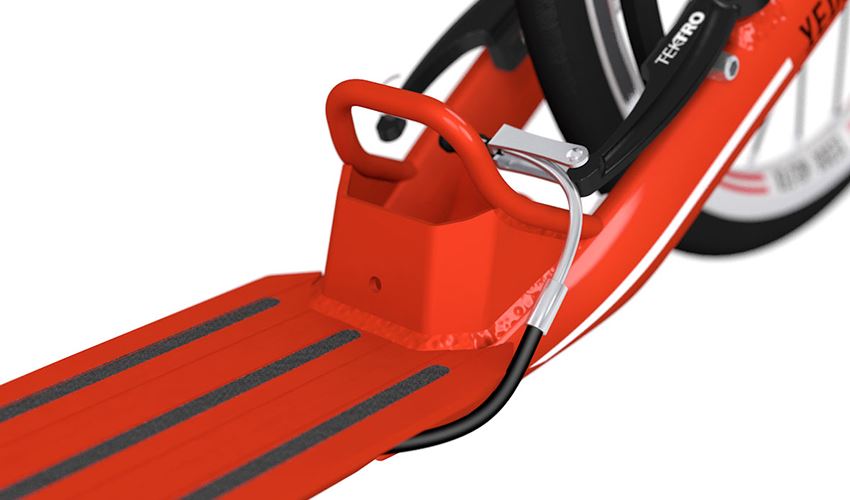 Beating bruises with narrow hubs
The narrow aluminum hubs with a width of 74 mm, especially produced for Yedoo by NOVATEC, allowed us to narrow the rear fork so that we minimize the risk of ankle injuries during push offs. Also special low headed screws (which can be fitted instead of quick release ones), are offered for the models Trexx, Dragstr, Rodstr and Friday.
From your comments: "Wheels and their rolling motion are excellent, I drove along a beautiful asphalt road (even worse – a muddy one) and Trexx just whizzes and purrs like a kitten. When I lie down on the stem I can hear and feel the uneven terrain (which I do not mind, I don´t want to have soft shells and I love to speed), I mean that even the uneven tarrain won´t make such quality wheels and spokes unbalanced. "Václav Mikšík
For convenience, however, all basic scooters are fitted with quick release screws. To dismantle the wheels you do not need any tools.
Moreover, we planted NOVATEC hubs with dustproof and waterproof industrial bearings, the wheels will spin and stop almost by themselves, without being stopped by dirt or mud.
For scooters Wolfer and Trexx with the 28 "and 26" front wheels 100 mm hubs are used for the sake of stability and compatibility.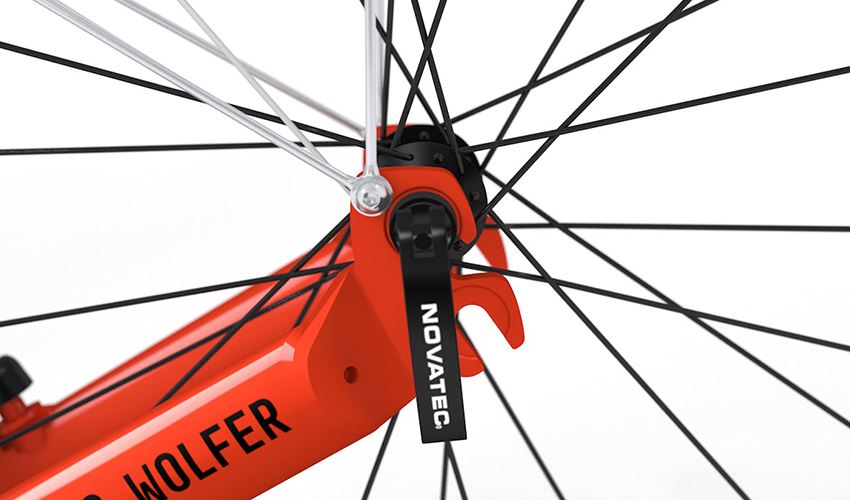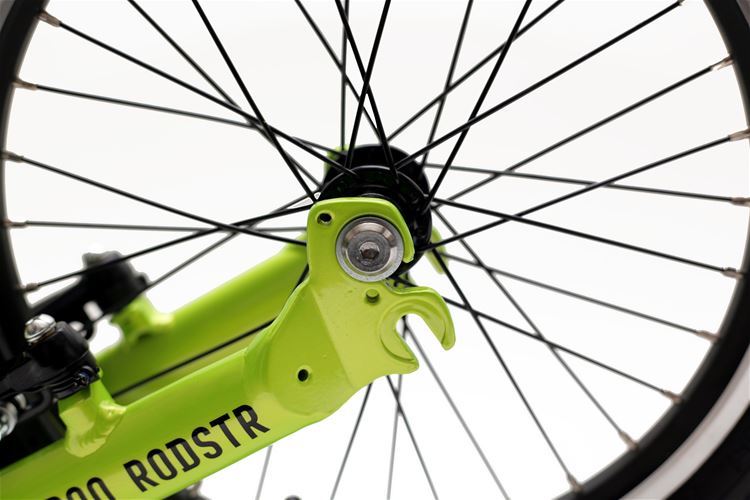 Tyres which won´t get flat any time soon
The models Yedoo Wolfer and Yedoo Trexx are designed for longer distances and are equipped with Kenda tyres, which have a special anti-puncture Kevlar layer. With that, your tyres won´t get flat any time soon.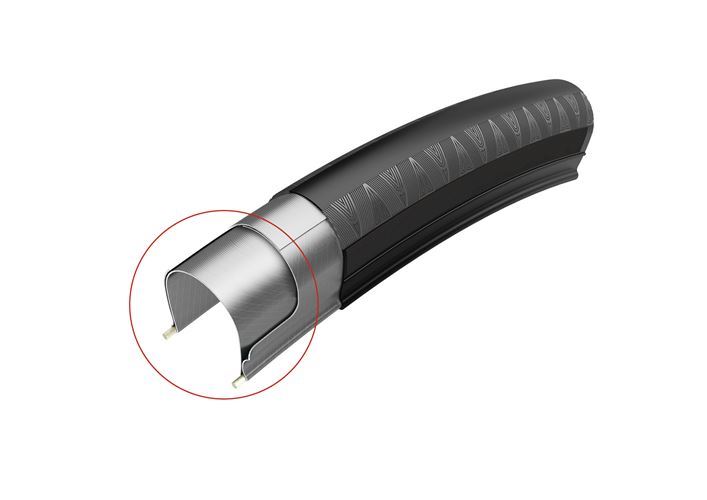 We are serious about security and comfort
All models have high quality brakes. Wolfer is fitted with Caliper front brakes for improved aerodynamics. Wolfer and Trexx have Tektro brake levers with a rubber insert, therefore they are not only functional but also pleasing to touch. Soft grips (Velo) and bar ends (Promax) on Yedoo Wolfer guarantee that your hands will not get tired even during long journeys.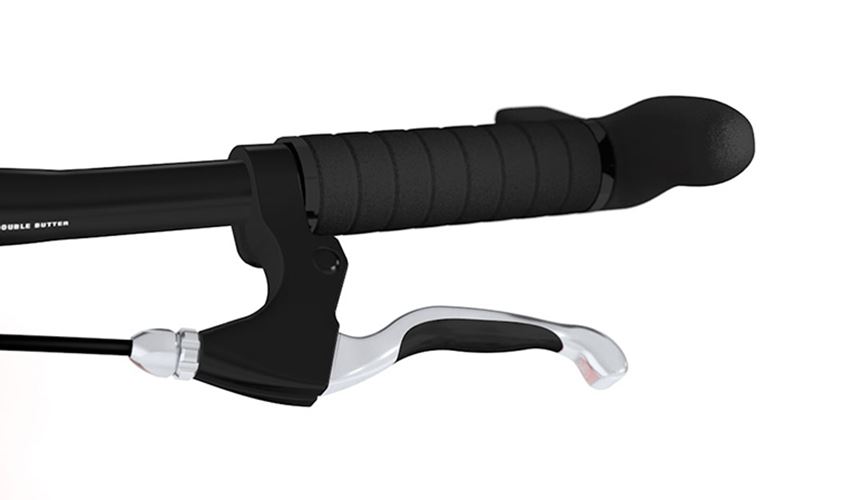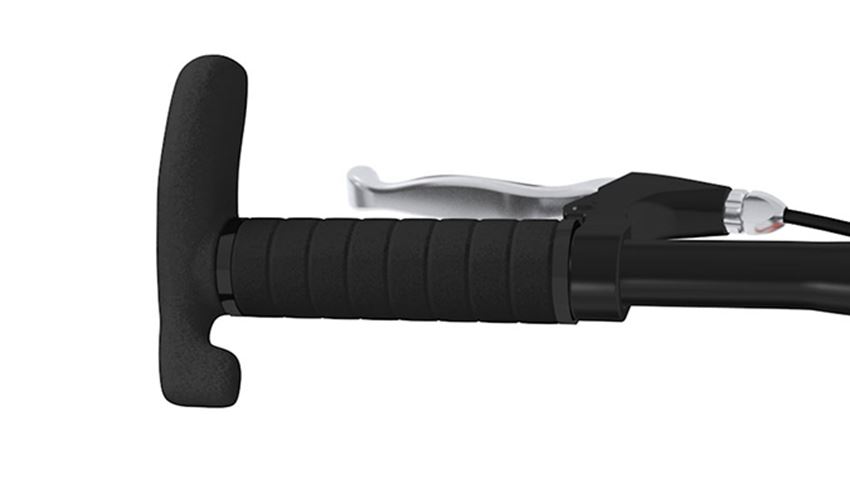 Practical little details
Alloy scooters are sophisticated right down to the smallest details. All models have fittings ready for a stand, fender or bottle holder. Please see your local Yedoo retailer for all accessories.
You'll be pleased with the reflective inscriptions on the frame which will increase your safety and the fact that for a basic home service you do not need more than two allen wrenches, a cross point screwdriver and a pump.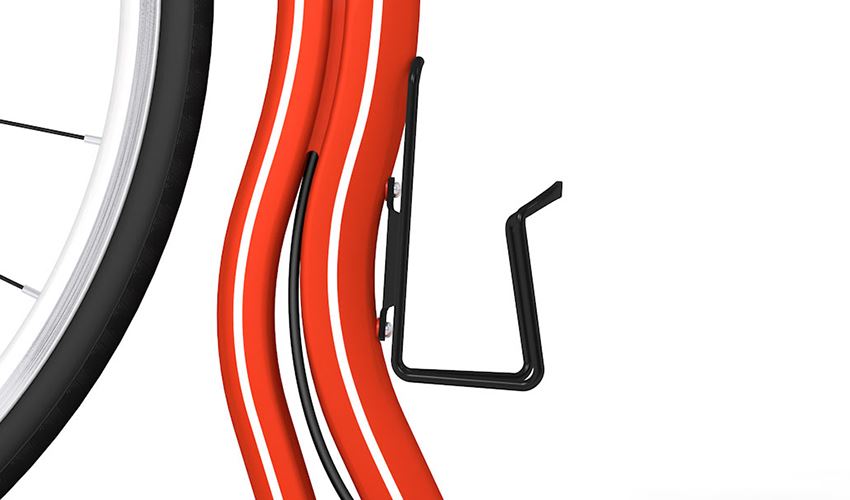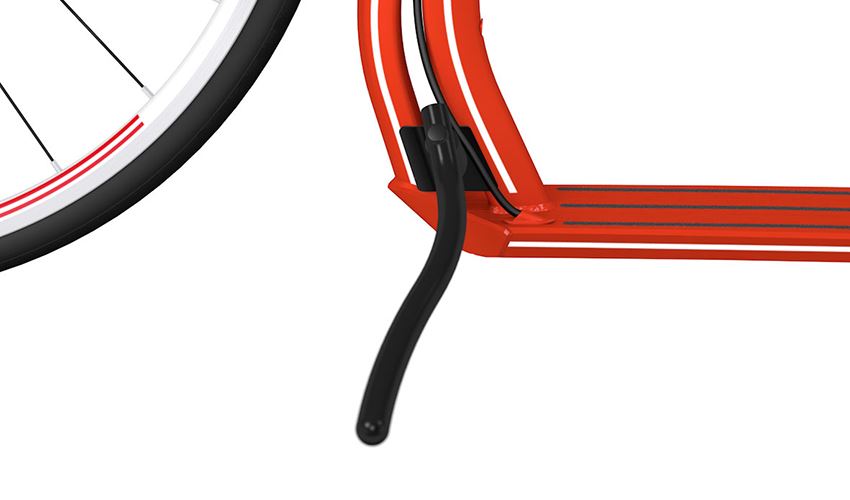 Well, now let your head go and go out for a ride!
We wish you great fun.