Trexx Disc – a new off-road scooter with disc brakes
|

Vendula Kosíková

You may see the new race special - Wolfer RS - on small roads with smooth asphalt, while Trexx equipped with disc brakes is something you are more likely to encounter in places no roads lead to. With the certainty that disc brakes give it, it will most likely be surging down hillsides or swishing through fallen leaves in remote beechwoods.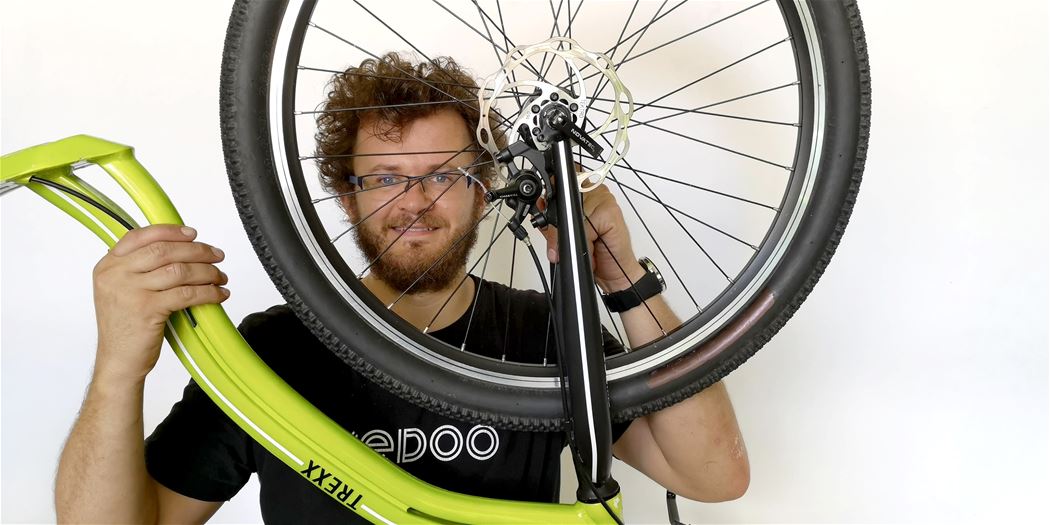 The Trexx Disc scooter will no doubt attract motorbike lovers or mushers, who will turn it into their own "enduro" propelled by themselves, or dog-powered.
Advantages of disc brakes
Advantages and pitfalls of disc brakes 
+ quick onset of the brake effect
+ smooth transfer of braking power
+ excellent functioning in any weather – wet, muddy or snowy
+ when braking, it is not the rims but the discs that heat up (Therefore you do not need to reduce pressure in the tyres before going downhill to prevent them from exploding from the heat of the rims.)
–
greater weight
–
susceptibility to side impact
– they are easily misaligned
–
they require professional mounting an adjusting
higher price
Constructors have chosen the well-tested Tektro MD-M300 Aries disc brakes for this machine for tough riders. Their quality has already been proven by the scootering evergreen and off-road scooter Yedoo Mezeq.
Disc brakes have a quick onset of the brake effect, which is useful during breakneck downhill rides and in quickly changing terrain. These brakes maintain their high efficiency in any weather - wet, muddy or snowy. They will not be influenced by wet or crinkly rims, same as in the case of classic V-brakes.
Their disadvantage is greater weight and susceptibility to side impact, which requires greater protection especially when the scooter is transported. They are also more demanding to assemble and adjust, so we recommend that you leave their mounting or the entire assembly of the scooter to us – the manufacturers, your dealers or a reliable bicycle service shop.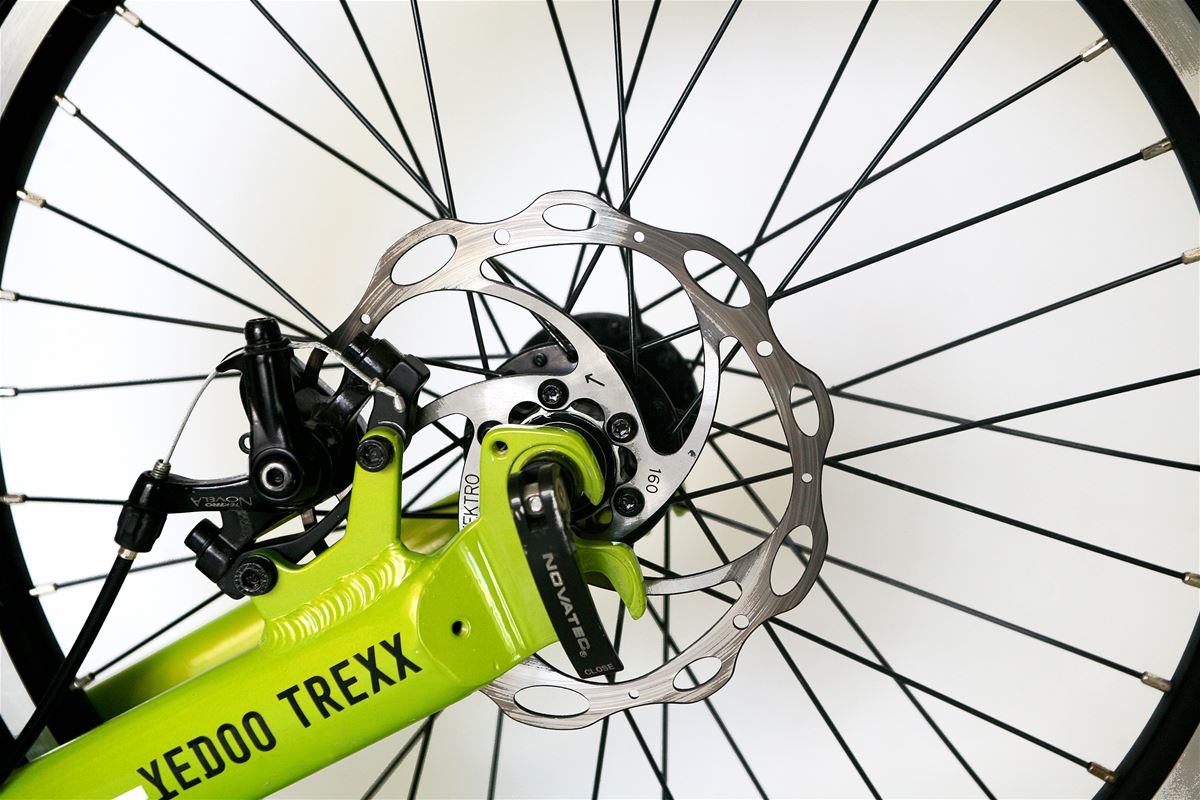 Firmer and wider footboard
It differs from its elder brother - the Yedoo Trexx trekking scooter – by having the already mentioned brake, as well as especially reinforced and prolonged structure, a sturdier footboard, off-road tyres, and of course it differs by the specific use of the scooter, which corresponds to the choice of components. 
Changing the footrest height
Changing the footrest height of the Yedoo Trexx Disc scooter requires changing the brake caliper adapter and brake disc to a larger one. It is not only for this reason that we recommend not changing the height of the step, even in the basic setting, because in most terrains.
The 10 mm wider footboard will provide the rider with a safe stance during adrenalin downhill rides, in singletrails as well as when mushing. Due to a change in the inner reinforcement, the footboard could remain thin despite longer structure - and the scooter has thus maintained high ride height with very pleasant low tread height (ride height - 55 mm, tread height - 82 mm)*.
*Due to the double drop-out, ride height can be raised further by approximately 20 mm. Attention, though: A change of footboard is not all that easy with this model - it requires exchanging the adapter of the brake caliper and the brake disc for larger ones. Besides, even in the basic setup, the ride height is sufficient for more terrains and raising the tread height would burden the supporting leg unnecessarily.
The slight tilt (slight lifting) of the footboard at the front, so it will slide more smoothly over bumps, will also help the scooter handle bumps better. For greater safety, the footboard is also reinforced at the front and looks like an ice-breaker.
To ensure you do not slip off the footboard even in miserable weather, its surface is furnished with three anti-slip tapes.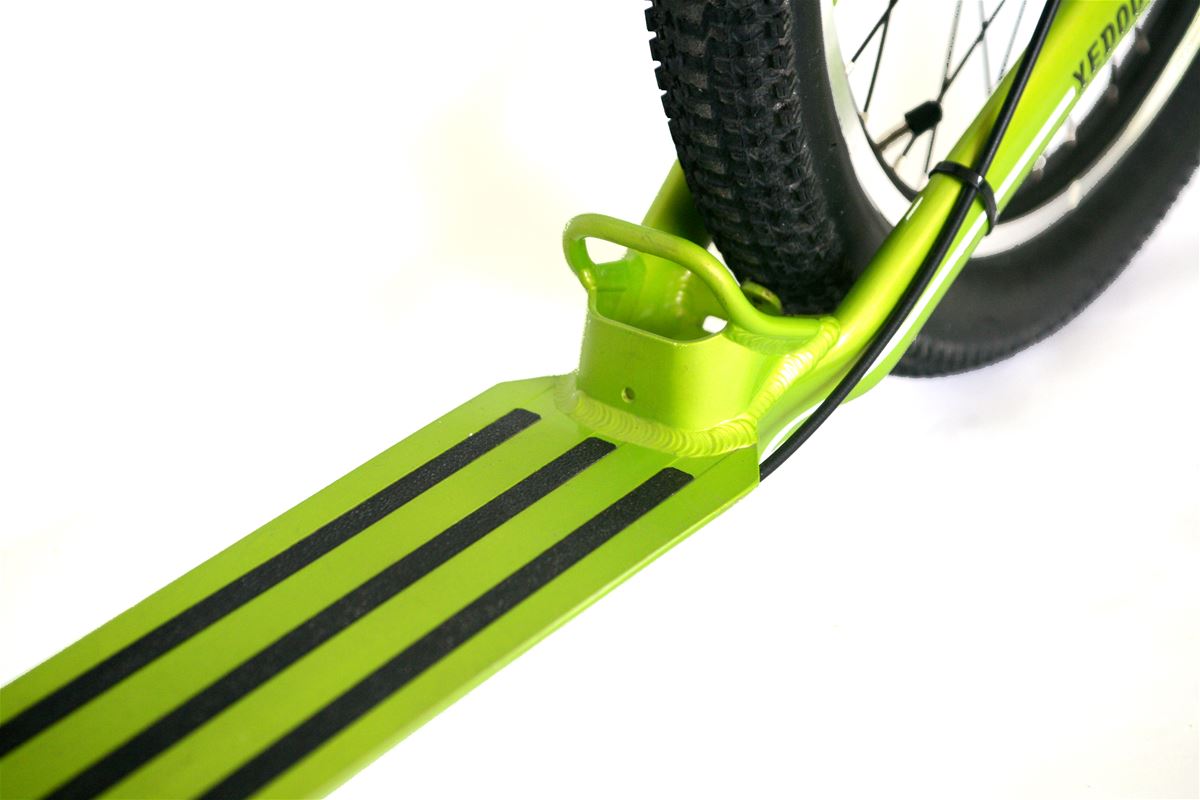 High off-road tyres that "iron out" bumps
The popular Kenda Small Block Eight tyres endure truly a lot, they have a fast pattern and excellent grip in curves. They are made of two rubber mixtures – the softer pattern ensures adhesion and harder durability and speed. The tyres adjust to bumps well, reduce rebounds (from stones, roots …) while also functioning as springing. 
When the off-road is no longer fun for you, which we cannot imagine, though, you can re-shoe your scooter into trekking tyres and transform the purely off-road machine into a pleasant travel scooter with disc brakes.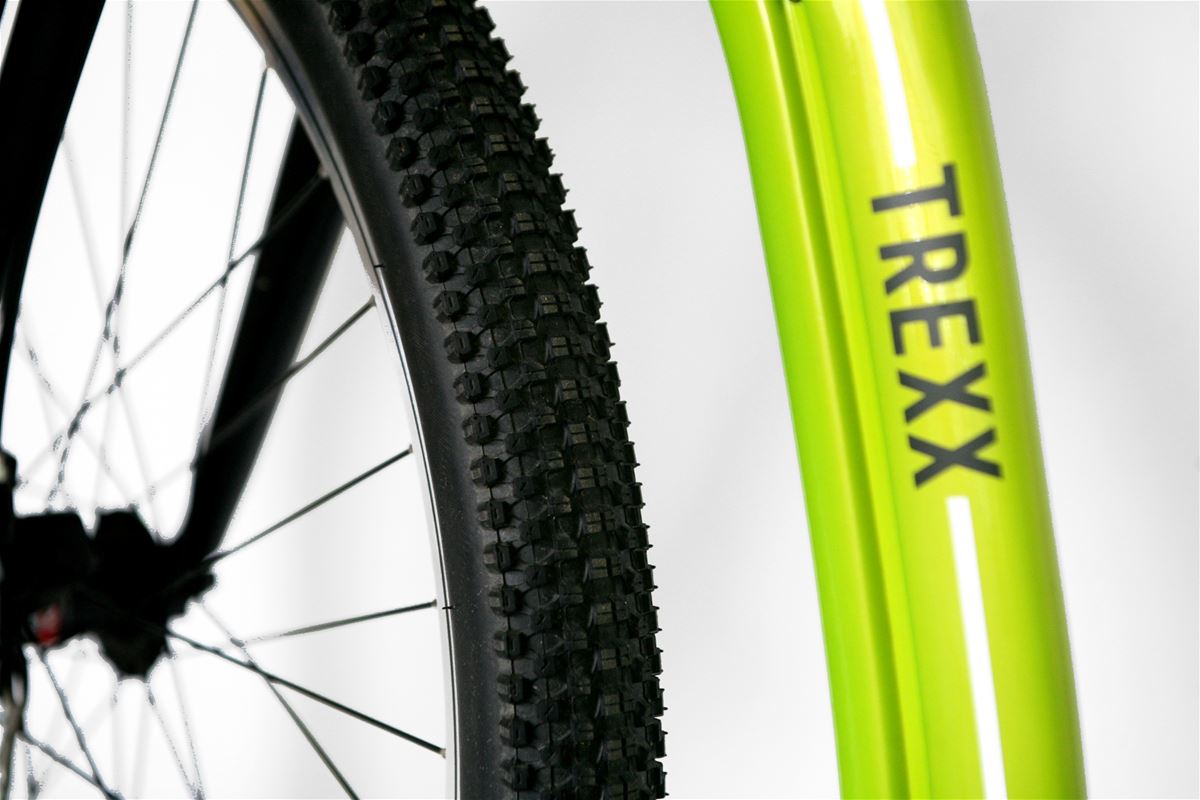 Stem and other components
A higher steering column, shorter stem and wider and more rigid "oversize" handlebar back up the more upright posture, which riding off road and in hilly terrain requires, giving the rider a feeling of stability.
The wider semi-integrated headset characterised by optimum solidity also enables better control over the ride and over steering the scooter.
The handlebar is mounted with grips with anti-slip raster pattern and double-sided fixation against oversteer. The grips not only absorb vibrations well, but they are also easy to wash.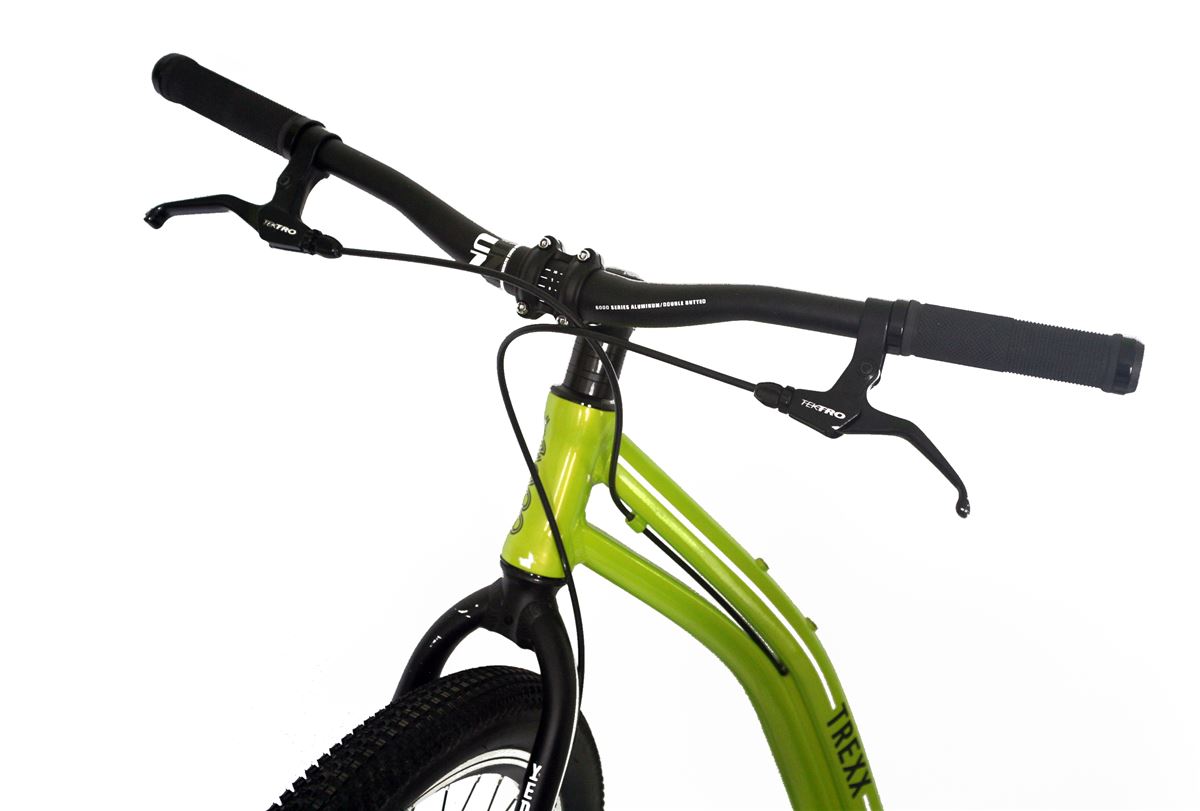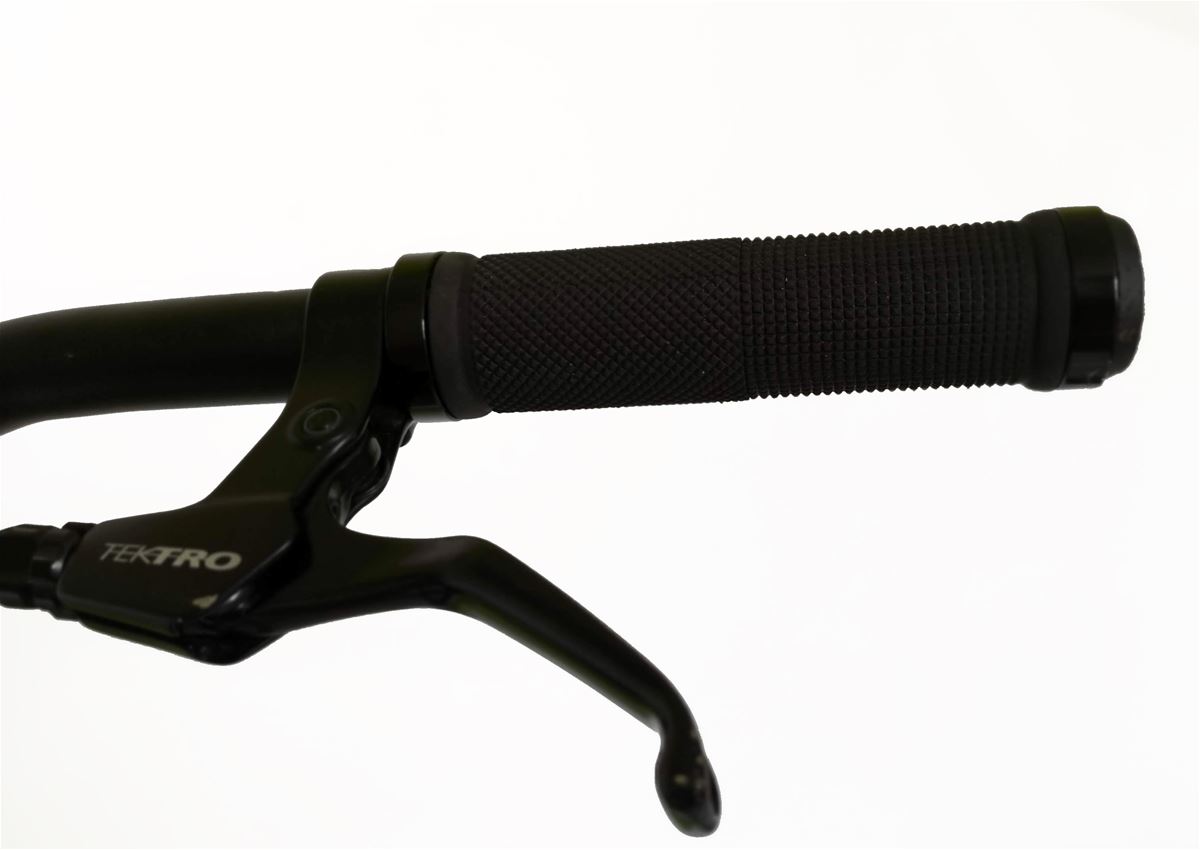 Available at the end of the summer
Riding the Trexx with disc brakes, which will appear in shops at the end of the summer same as Wolfer RS, will flood your bloodstream with a lot of adrenalin and release many a positive emotion. Order it today already, at info@yedoo.eu, so you can fully enjoy the Indian summer.
We currently have it in black and green, and you can also reserve a separate frame. Two more colours will arrive in autumn (blue and red). You will never run out of thrills with Yedoo.