Šumava on Scooters I. From Modrava to Železná Ruda
|

Vendula Kosíková

,

Petra Koblížková

Šumava is popular among scooterers. Races and meetings are organised there regularly. People are attracted not only by the beauty of Šumava nature, but also by hundreds of well-marked routes, smooth asphalt, mysterious secluded places, plains that are easy to look over, hairpin bends, climbs, descents as well as pleasant little taverns.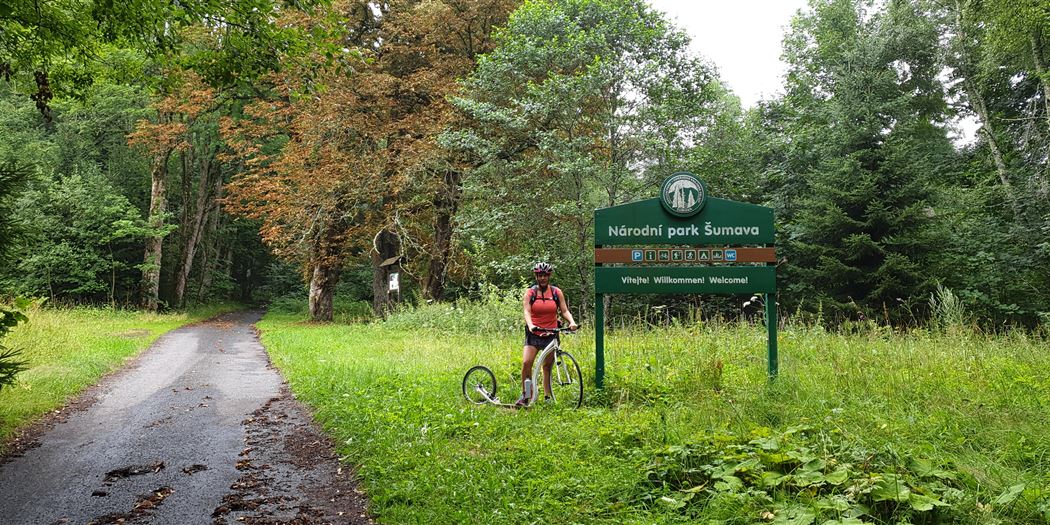 On the way from Modrava to Železná Ruda you will ride along a bubbling brook, mountain meadows, deep forests and the peatbogs that are characteristic for Šumava. Monumental vistas will open before you, and you will also have the option of visiting one of the vanished villages in Šumava.
Modrava → Železná Ruda in Brief
OUR TIP:
Plan this as a two-day trip, stay in Železná ruda overnight and return the next day via the same/or a different route. Scooterers, who are very fit, might manage both journeys in one day, but the total vertical distance of up to 2,000 metres is really considerable.
Transport
You can get to Modrava comfortably by car, busses or the Green Line. If you want to save on parking fees (CZK 250/day) and the overnight stay in Železná Ruda - go in the opposite direction - from Železná Ruda to Modrava, where you can stay overnight in an emergency shed. You can get to Železná Ruda comfortably by train as well as by busses. An alternative route is described in the article Šumava on Scooters II.
For more advanced riders, individuals as well as groups
You will cover 38 km
It will take you an entire day, or a half, if you are quick
Hilly landscape
Elevation by 800 vertical metres
Descent by 970 vertical metres
Mainly asphalt surface, gravel in some places
Parking – paid parking lot CZK 250 per day   
Public transport – busses and special Green lines
Route Map
(You can also go vice versa from Železná Ruda ti Modrava, you can find a description of the journey in the other direction in Excursion Tips)
Modrava → Tříjezerní slať
Modrava is surrounded by deep forests and bottomless peatbogs, and will be the last populated area you will see for a long time. We therefore recommend that you refresh yourself well before you set out. The next option will be 16 km further, in Prášily.
In Penzion Modrý, you can have coffee with home-made/traditional pastry, and you can also buy something to take with you in a small shop. We had soup and dumpling filled with smoked meat at the Lyer brewery and both meals were excellent, so we did not regret higher expense.
The Lyer brewery is also a good starting point - from there, you will take a road winding along the brook, Roklanský potok, towards the peatbog, Tříjezerní slať. After x km and a short climb, you will reach it. This is one of three peatbogs accessible on the Czech side of Šumava and it is definitely worth seeing, if only due to the great number of colourful dragonflies fluttering around it, for example. A 250-metre-long educational trail leads to it from the road.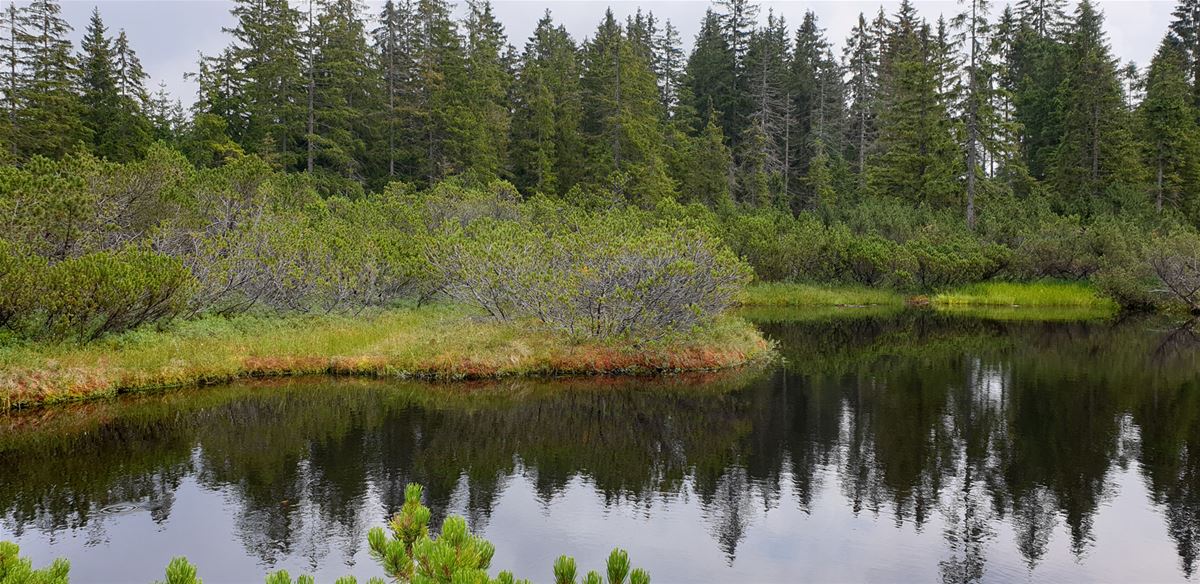 Tříjezerní slať →
 

Prášily

You will turn left behind the peatbog, go downhill up to a road divide at the former secluded dwelling called Javoří Pila, and there you will turn right. The straight asphalt road will soon begin to climb in a prolonged slope.

But nothing lasts forever, the climb will soon change into a nice descent, rather steep in some places. Ride slowly, though, so you do not miss the beautiful views of the valley, which will open up here and there between the trees.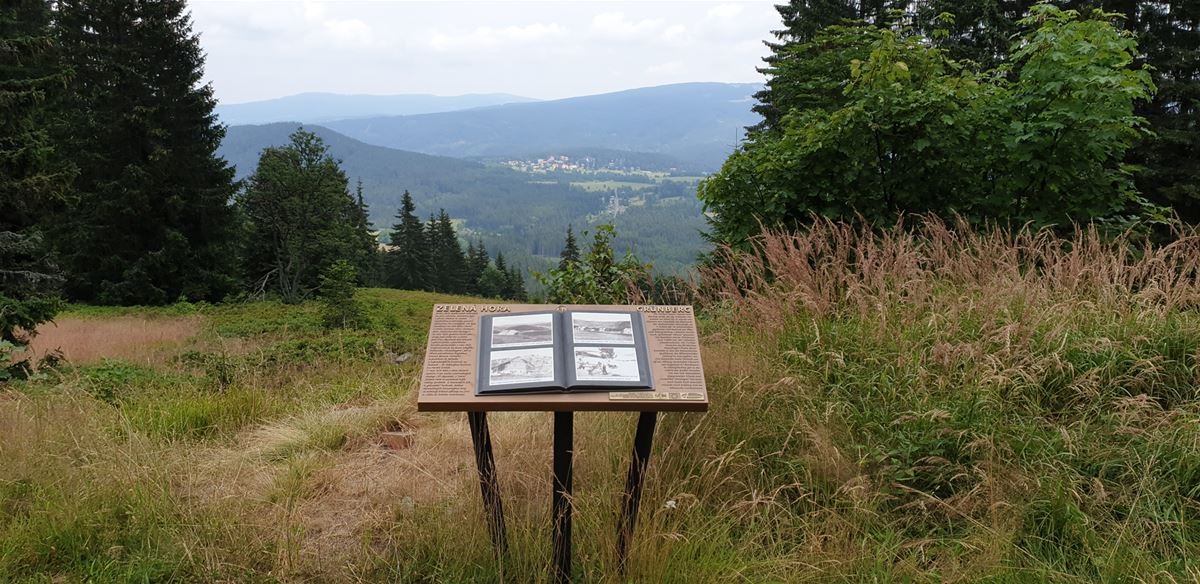 Down in the valley, turn left to a gravel path that will lead you to Prášily - a municipality once closed for the public. Luckily, everything is different now - Prášily has become a centre of summer as well as winter tourist traffic, where you can find pleasant little pubs, a sweet shop as well as a grocery store. It is open daily except on weekends from 7 a.m. to 6 p.m.
We recommend to you to stop at Hostinec U Michala for excellent blueberry dumplings, or across the road at the Pampeliška sweet shop, where they have great coffee and various home-made desserts made by confectioners from Šumava. After the kilometres you have covered, you certainly will have deserved a little sugar, and the energy gain will be useful for exploring what has been left of the Šumava municipality of Hůrka.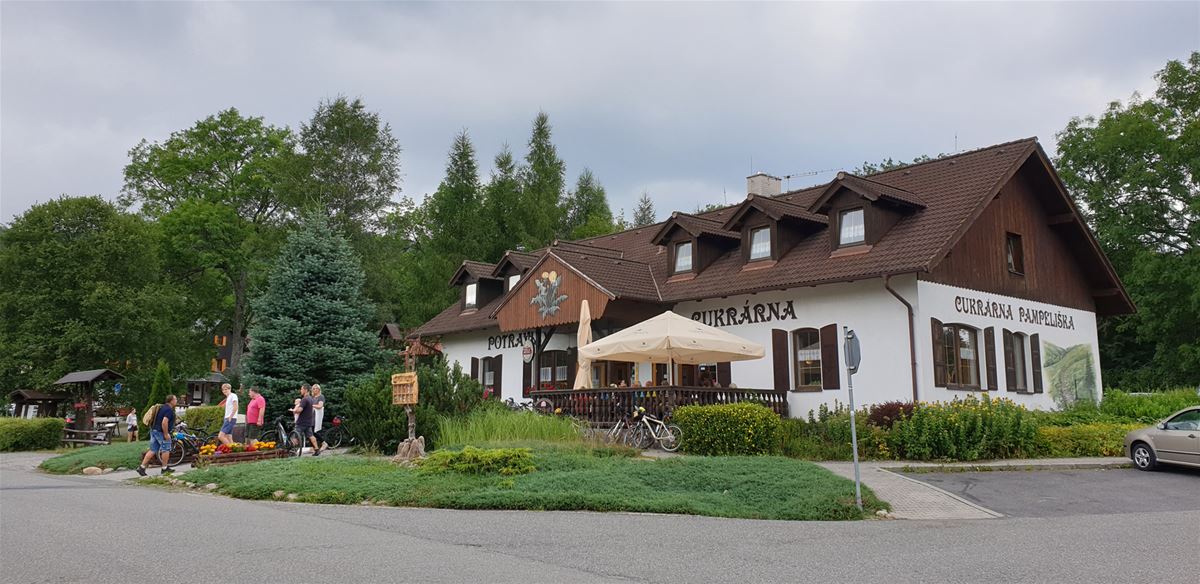 Prášily 
→ 

Hůrka

Continue downhill from Pampeliška, you will pass a campsite and behind it take the first turn left. After approximately two kilometres of a flat stretch, the last climb will come. It is rather long, but along the way, you can be diverted by the view of a meadow with unexploded ordnance. Behind the meadow, turn left to the former village of Hůrka, from which only the cemetery chapel remains. Emil Kintzl speaks beautifully about this vanished settlement in the programme Zmizelá Šumava.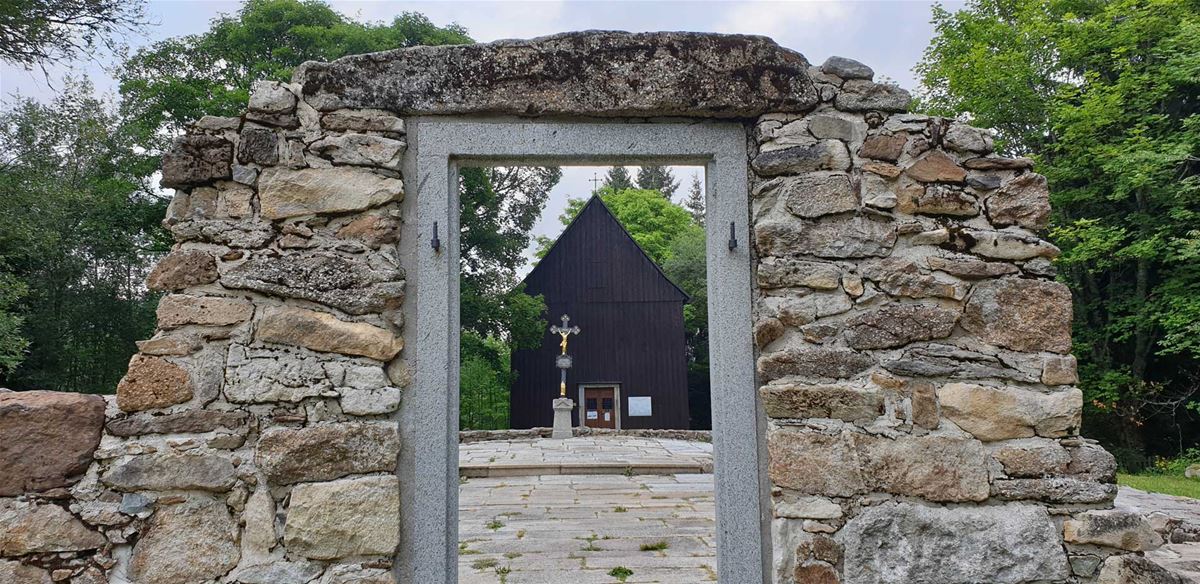 Hůrka 
→ 

Železná Ruda

Behind Hůrka, you will continue around the emergency overnight camp site a little further uphill. Once you will have gotten over the peak, you will be free to enjoy the downhill ride on Tetřeví stezka to Železná Ruda. Before the descent, though, feast your eyes on the great vistas of Šumava nature.

And then your well-deserved rest will await you. Perhaps at the Železná Ruda car camp, which you will find on the edge of the municipality in Klatovská ulice. From the centre, it is approximately 2 ? km towards Klatovy? Stop for dinner in Osvěžovna Kandahár, right in front of the camp, the food here is excellent.