Traveling with Scooter in Public Transport Will Be More Comfortable
|

Redakce

Traveling with scooter in Prague public transport will be again a little bit easier starting tomorrow. What changes? Newly you can travel with scooter in all subway cars, always on their first and last platform, except for the one right behind the driver. For better orientation, the car doors will be marked with labels.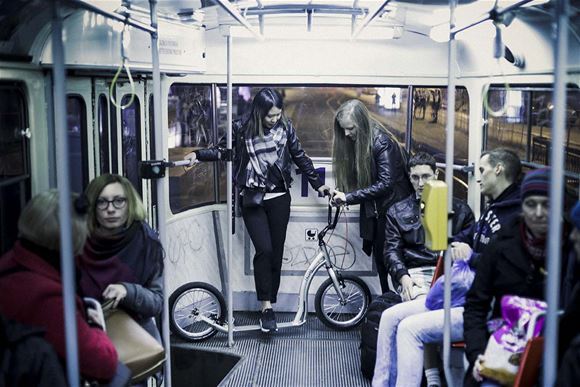 Newly added sections:
Hradčanská – Vítězné náměstí – Nádraží Podbaba
Hradčanská – Vítězné náměstí – Dejvická – (Divoká Šárka)
Palmovka – Nádraží Vysočany – Lehovec
Palmovka – Nádraží Libeň – Lehovec
Želivského – Vozovna Strašnice – Ústřední dílny DP
Želivského – Strašnická – Na Hroudě – Nádraží Hostivař
Náměstí Bratří Synků – Spořilov
Nádraží Braník – Nádraží Modřany – (Sídliště Modřany)
Overview of the existing tram lines which allow scooter transportation can be found on www.dpp.cz.
In addition to the eighteen existing sections of tram lines there are eight new ones, on which you can transport the scooters. Though the transportation is allowed only in the direction out of the city and just in the off-peak hours (i.e. Mon - Fri 14.00 - 19.00.), it is still a positive change appreciated especially by the weekend trippers.
Bike Bus
Although public transport buses do not transport scooters, from April 2 the Bike Bus going from Dobřichovice to Mníšek pod Brdy and Kytín that will facilitate you to access to attractive higher cycling tracks in the Brdy will be operating. The Bike Bus follows the train line S7. More info here.
Cycle Playtrain
On March 25 the Cycle Playtrain went along the scenic route Okořská (Prague Masaryk Station - Zlonice) again. It is adapted not only to small holidaymakers (the car is full of games and toys), but to you – the scooter riders - it carries a greater number of scooters and is equipped with a compressor for inflating tires, a universal wrench and a bike tire repair set. The train runs on weekends and public holidays.

We wish you happy spring and fresh spring trips.

The detailed information, including timetables of the Bike Bus and Cycle Playtrain can be found in a well-arranged brochure that can be downloaded in the section Useful Documents on www.dpp.cz/skolem.