To Scotland on a Yedoo Wolfer Scooter
|

Vendula Kosíková

It´s already her second holiday which the teacher Anna Šafářová spends on a scooter. Last year she went along the Elbe river from its source to the sea. This year it has been Scotland where she fled away from the tropical temperatures that prevailed over the central Europe in July. She completed both routes long over 2,500 km on prototypes of road scooter Wolfer.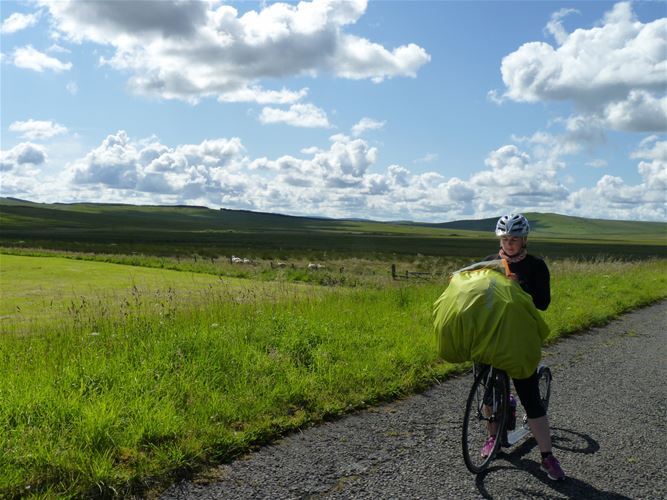 A Brave Girl
 "When we need to test something, we entrust Anna with it," says Yedoo chief designer Jakub Bostl, and he adds: "Anna is not afraid of big physical exertion, not distracted by demanding conditions, nor by rainy weather. She has the courage to make traveling alone as well. None of her friends has such a long holiday as she does."
THE ROUTE IN POINTS:
PLANNED ROUTE: Prague − Düsseldorf − Rotterdam − Harwich − Edinburgh − Aberdeen − Inverness − Glasgow - Manchester - Portsmouth − Caen − Paris − Stuttgart − Prague
A TOTAL OF 5,500 KM IN 2 MONTHS 
RIDDEN ROUTE: Prague − Düsseldorf − Rotterdam − Harwich − Edinburgh − Glasgow − Manchester
A TOTAL OF 2,500 KM IN 30 DAYS
MACHINE: A prototype of Yedoo Wolfer scooter from new aluminium Yedoo Alloy series
SPECIAL TUNING: tires Schwalbe Marathon, improved tire hubs Novatec, wheels with thicker strings
BAGGAGE: tent, feather sleeping bag, tools and clothes, first aid kit, cooking utensils, food and water – a total of ca. 25 kg
NUMBER OF RAINY DAYS: 15 of 30
ACCOMMODATION: woods, meadows, camping sites, gardens and dwellings of local hospitable people
HIGHEST TEMPERATURES: 35 – 38 °C in Bohemia and Germany
LOWEST TEMPERATURES: ca. 6 °C, morning white frost in Scotland
However, this way of traveling has its own charm and brings many unexpected situations and encounters. "Sometimes you need someone to give you advice, especially when you get oriented basically according to a map during your travel as I do," Anna says, adding: "Most people try to be helpful in many ways, offering accommodation and food, and similar things. In Arnstadt, Germany, I accepted the invitation from a lovely lady and spent night in her living room. In a Glasgow suburb we could use facilities of the local church, for a change. I also met an amazing Englishman who did not regret to spend his time, took his bike and accompanied me to a 23 km distant camp after I've just asked him for directions."
"Traveling is not just about riding a particular distance, but most of all about knowing foreign countries, people and culture. And this all you can miss when gazing at GPS screen," Anna explains.
Big Plans
Anna´s plans for this summer were spectacular – to ride from Prague to Scotland and back. But not all went the way she has imagined. She was leaving Bohemia during the highest temperatures reaching almost 40°C. In England she has suffered from persistant rain and occasional morning white frost. "I was looking forward to Netherlands' straight roads but I could not enjoy them much due to strong crosswind. I was also unpleasantly surprised by the surface of British roads, the asphalt on them was very rough and greatly slowed the ride."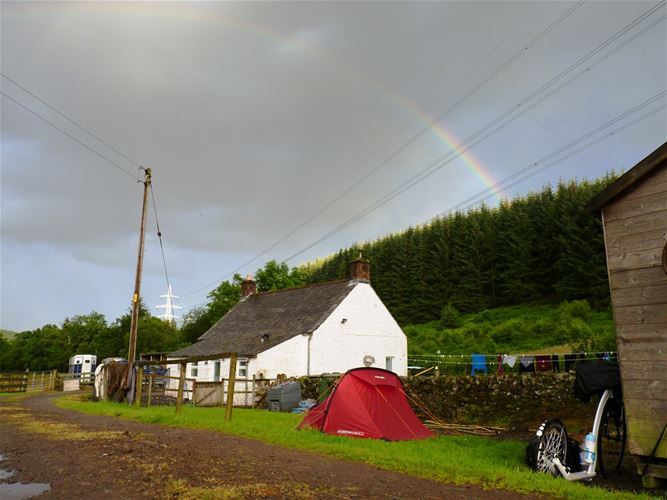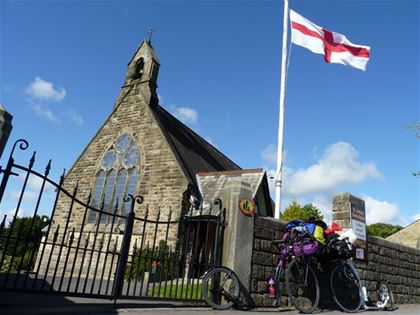 Anna Is Not Giving Up
This was not the only hardship the journey has brought to Anna. Although her friend Petra has joined her in Edinburgh, their joy of shared ride did not last longer than 500 kilometers. Near Manchester Anna has injured her ankle so much that the two girls have after a few days of rest decided to return home by bus instead.
"You never know what will come beforehand when traveling. But I will definitely finish my trip. I will start exactly at the point where I have finished it this year when riding the unbeatable Yedoo Wolfer scooter."