Red-hot Newcomer. Yedoo Steel Scooters
|

Redakce

You will take to scooters from the Steel line soon. They are designed from the heart for riders at heart, who love to ride and ride a lot, despite not aspiring to medals. Although comfort and stability are their domain, they cannot conceal common genes with the ultralight and ultrafast Yedoo Alloy scooters.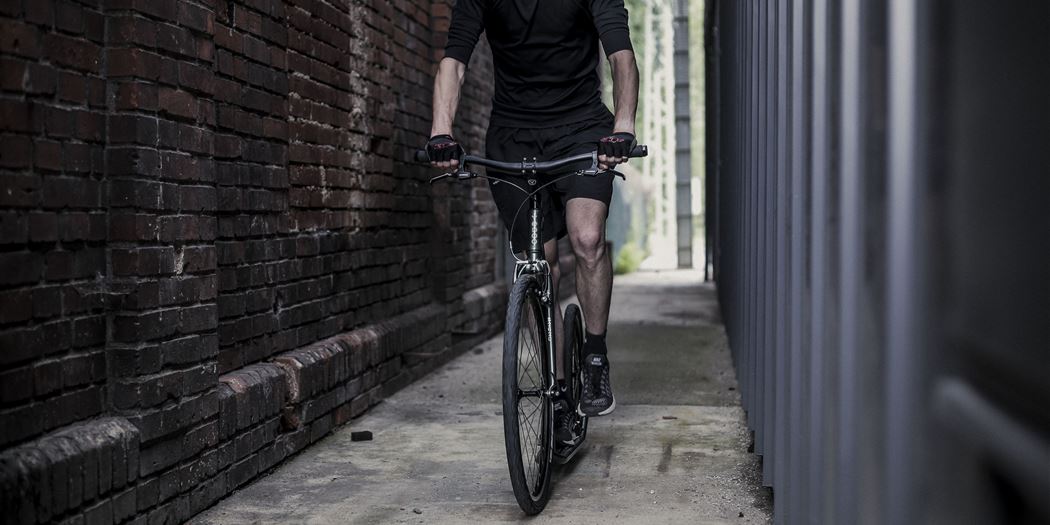 Steel frame with fine geometry
Evolution
The appearance of Yedoo Steel scooters is again due to Yedoo chief constructer Jakub Bostl, designer Jaroslav Juřica and Najbrt graphic design studio. Their aim was to build scooters with attractive design, pleasant and affordable for riders, with similar riding performance and first-class components that the Yedoo Alloy profi line has.

They invested their many years of experience, a lot of time and experimenting into harmonising the most important parameters – weight, solidity and plasticity – into an ideal proportion. And the result is worthwhile! Yedoo Steel scooters meet the requirements not only of common users, but also of the more demanding riders, who do not fear the number of kilometres, roads less travelled by or austere design that goes to the core.
As the name of the product line suggests, Steel scooters are built on a steel frame, which has several advantages due to its fine geometry. First of all it absorbs vibrations well, thus ensuring a very comfortable ride, without the scooter losing solidity. In connection with quality handlebars that the Steel models are equipped with, this means, for example, that you will not need gloves even for longer rides.
A frame with an inventive shape along with wider handlebars will give you a feeling of unusual stability, the scooter is easy to handle, intelligible and predictable. With the certainty you acquire, you can loosen up and indulge in the ride and allow the body and mind to relax in the regular rhythm of the legs pushing off.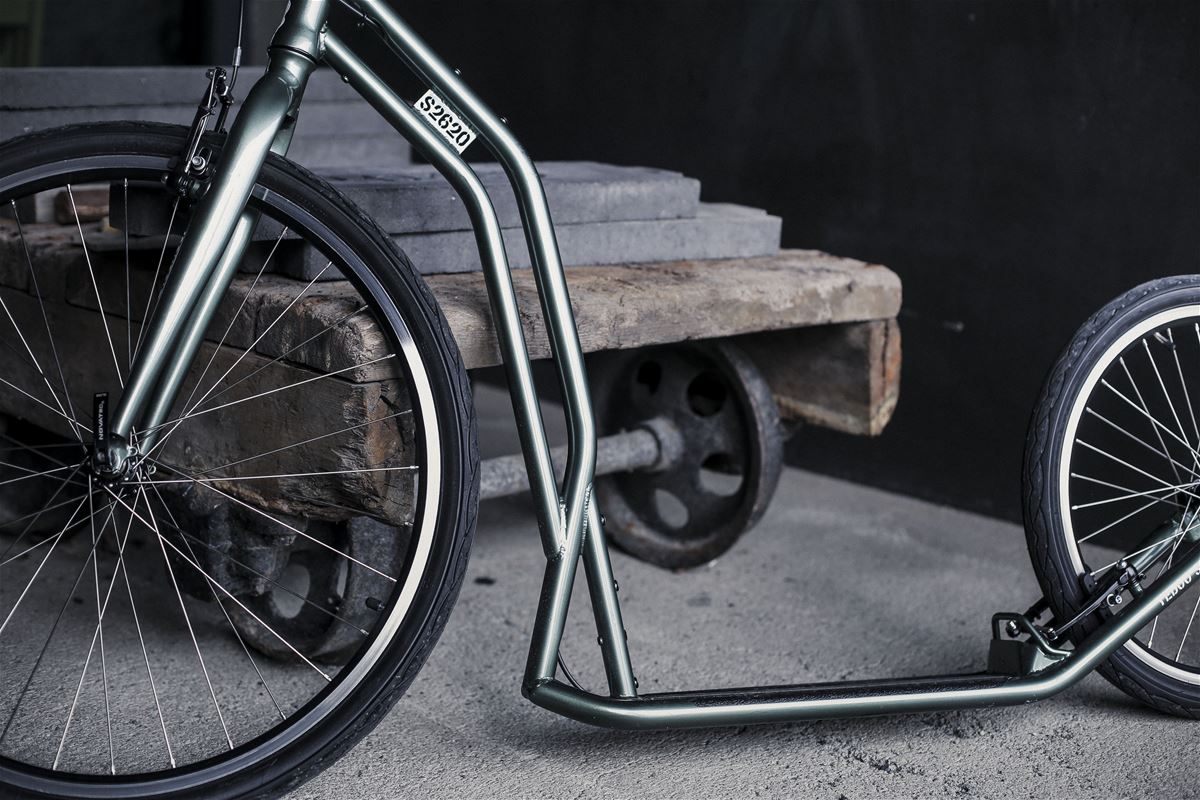 Comfortable, stable and swift
Not only are the Steels stable and comfortable, the maximum lightness of alloy components and the special truss construction have also endowed them with dynamics, endurance, skilfulness and agility, so as to be able to squeeze through narrow city lanes without any problems, to briskly avoid puddles or to boldly cross over potholes on field roads.  

They can also handle uneven ground well due to the ride height of the deck, raised slightly at the front. Due to the dual-position rear fork, it is selectable and even in the basic position, it maintains optimal figures so the ride would be as little demanding as possible and also so the frame would not drag on uneven surface.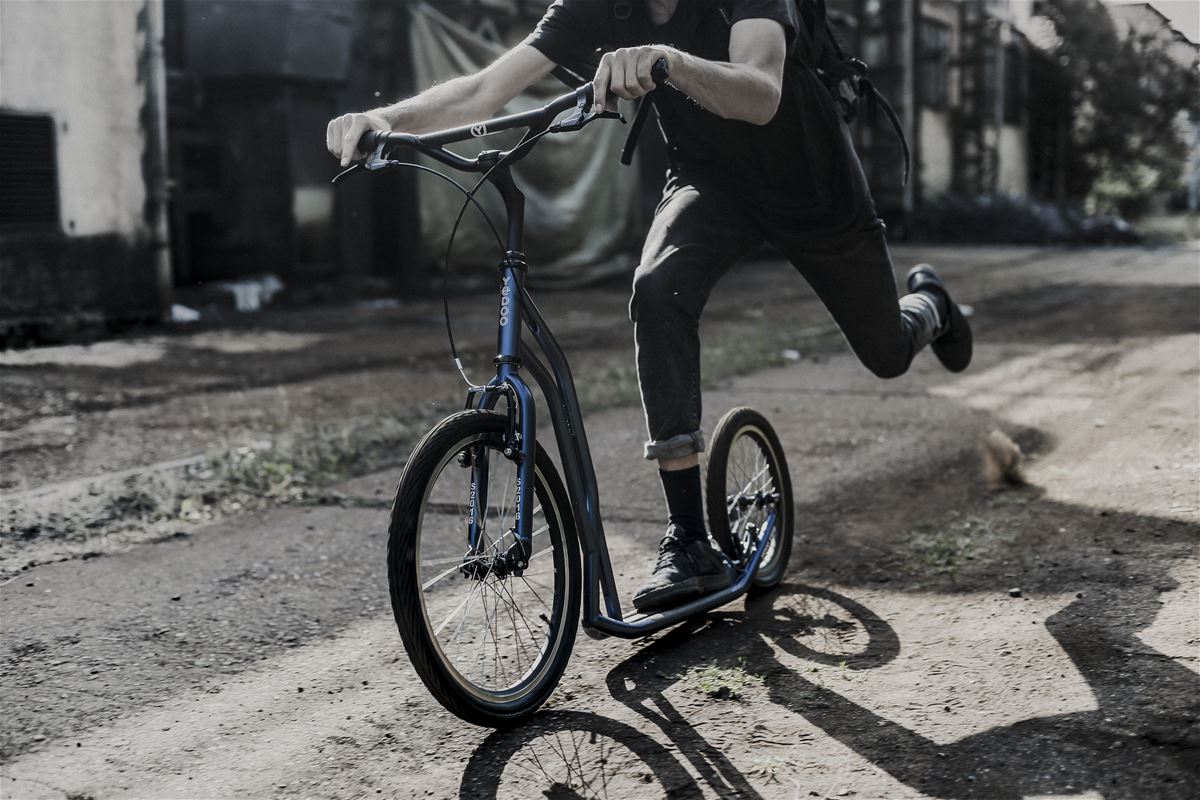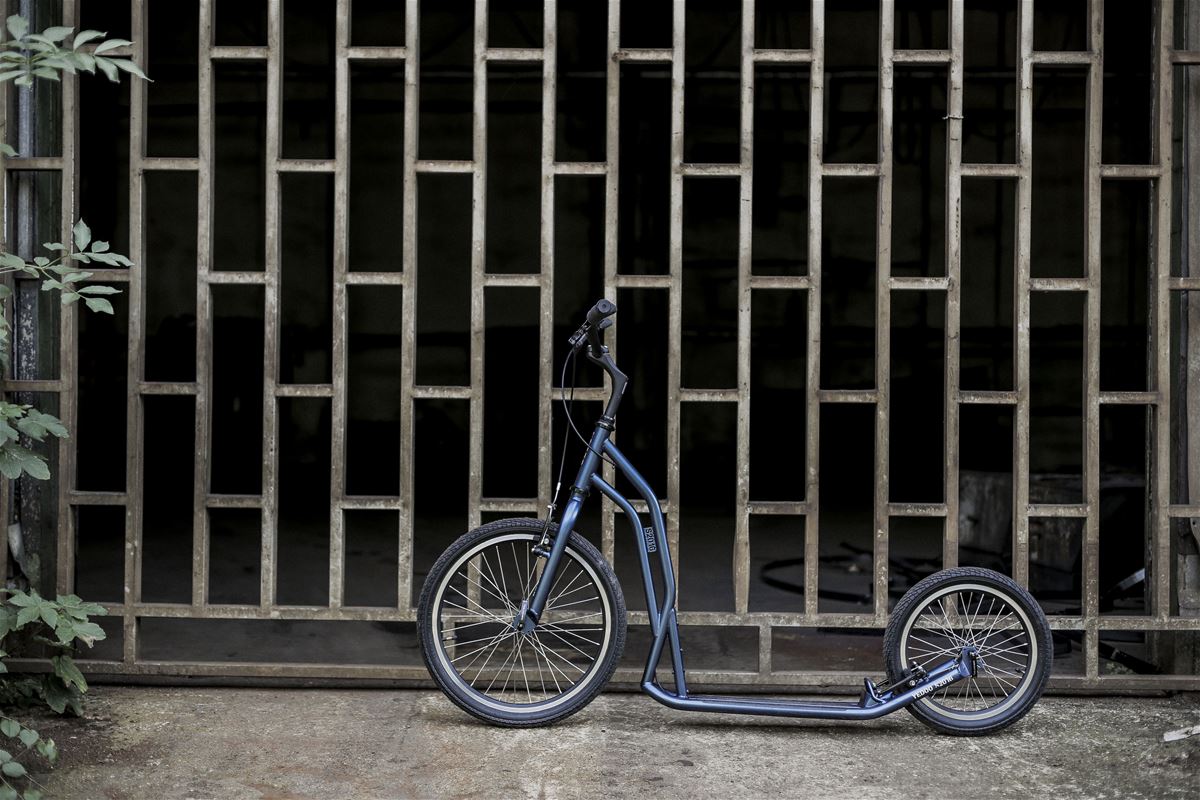 Longer footboard with anti-slip surface
A footboard with longer tread will also contribute to a comfortable ride. It includes durable anti-slip lines made of structured PVC, which can handle heady load due to thermal forming.  

The rear part of the footboard is, similarly as with the Alloy scooters, protected by a multi-purpose heel stop, which protects the rear brake while also making manipulation with the scooter easier during the ride, when you can use the heal stop to slightly lift the scooter, and also when carrying it over.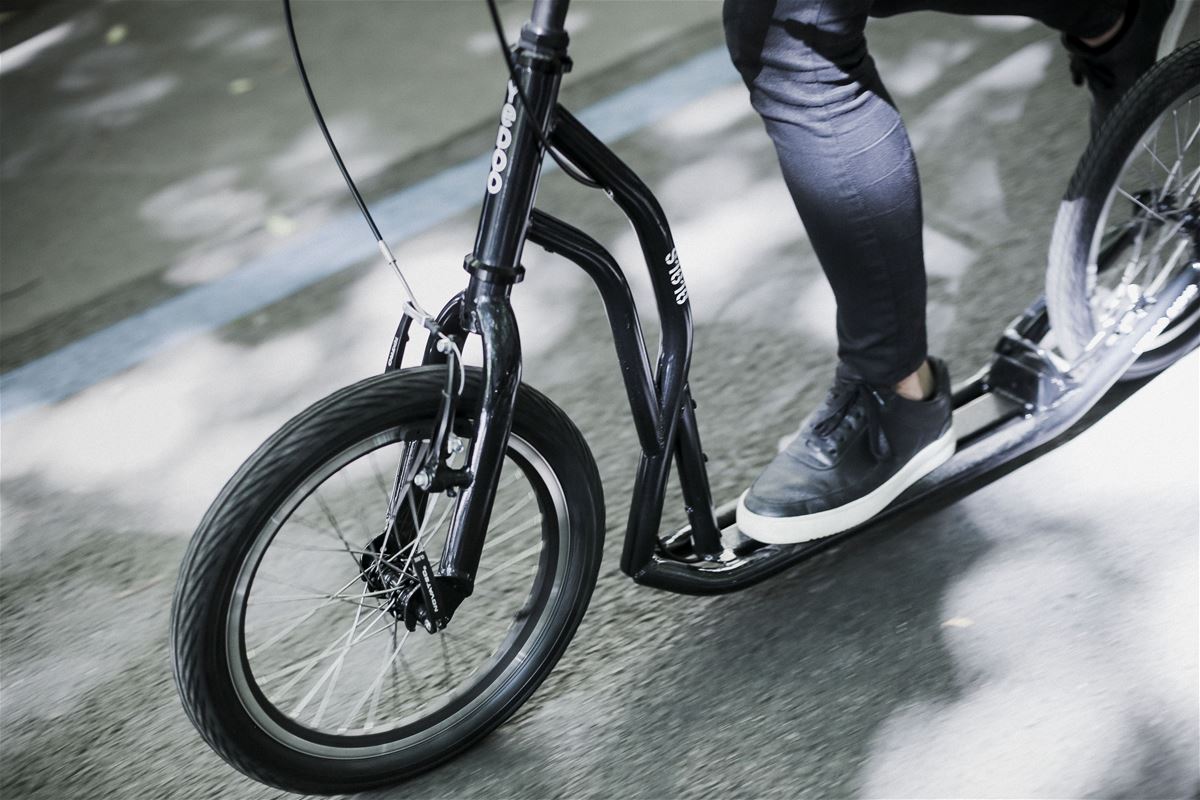 Narrow rear hubs
In order for you not to have to fear kicking yourself in the ankle even during long rides, when fatique increases and attention drops, the scooters are equipped with narrow hubs (74 mm) and prepared for low head screws, which you can use to replace the quick-release levers on the wheels.

In addition, the hubs are mounted with dustproof and watertight industrial bearings, due to which the wheels roll smoothly even in demanding weather conditions. 
Mounting without any compromise
Similarly to scooters from the Yedoo Alloy profi line, the Steels can also show off high-quality components. The wheels, for example, have two-walled aluminium rims CNC milled braking surfaces, comfortable and ergonomic handlebars with a locking rod against oversteer, quality TEKTRO alloy "V" brakes etc. Prepared for the bottle, fenders or a side stand as a matter of course.
Design expressing the nature of steel
"That, which originally was a working title of the STEEL project, more or less determined the direction the collection would take. From the beginning, it evoked two things for me. They resonantly resemble the name of the US STEALTH fighter jet and the unyielding compactness of a truss structure.
The polygonal morphology of a jet fighter and the well-tested truss system have thus eventually met a similarly attuned "military" designation and a design, with which the graphic designers perceptively followed up on the initial catalyser of the entire collection – steel." (Jaroslav Juřica)
A general truss structure is a structure constructed from firm thin elements - bars - connected to one another in joints.
With their simple design reduced to the substance of steel itself, the Yedoo Steel scooters demonstrate that you can rest on them airily and that they will support you wherever you go.

Slim truss construction and metallic colours are a perfect match for the austere name of the line as well as the individual models. Watch out! Steel will stealthily get under your skin!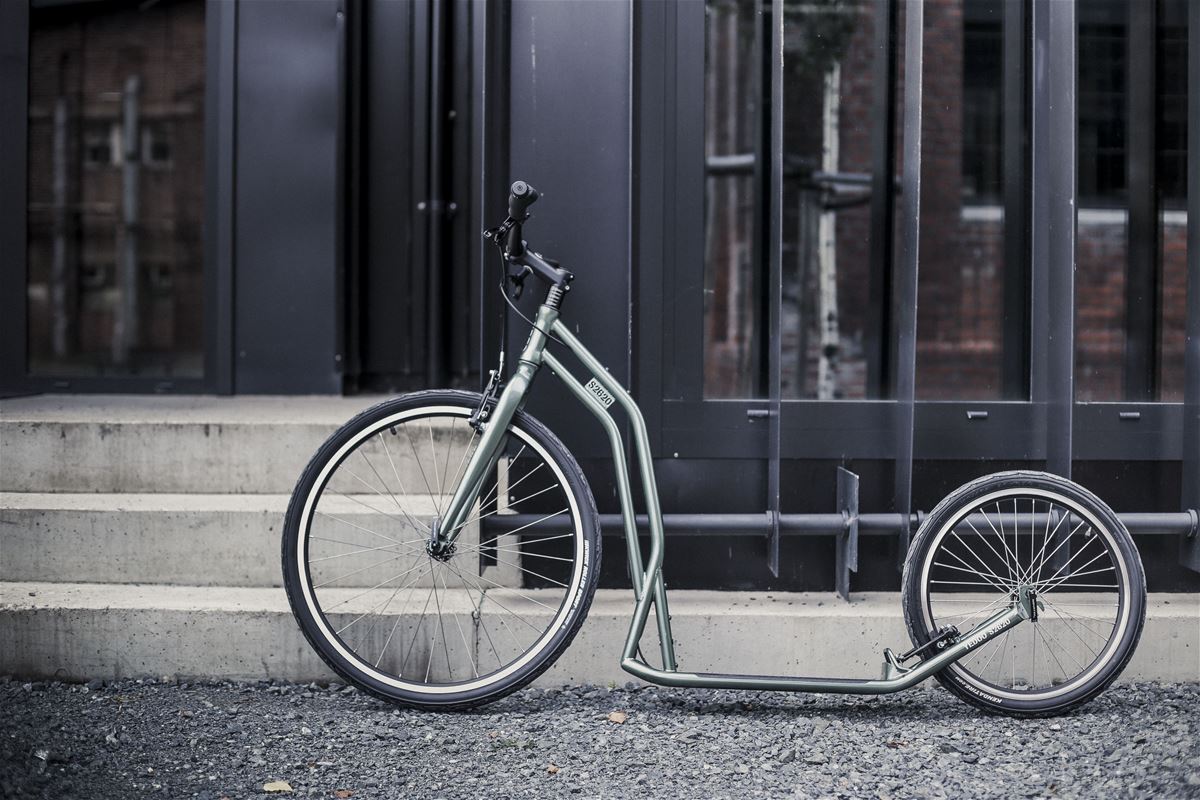 Yedoo S2620
The largest model of the Steel line will imperceptibly work its way through the terrain and into your hearts.
Its slim polygonal construction and metallic colour resembles Stealth fighter jets and its riding performance shows undeniable family links to Yedoo Alloy sports scooters. This scooter has inherited their aluminium rear fork, two-walled alumunium rims and other first-rate components. Despite weighing only 9.2 kg, it can handle heavy load. Never mind the distances, get the engine going and wait and see how lightly and quickly you will race through the landscape.

P.S.: Moreover, it has been endowed with a wide handle and a modern head pipe with semi-integrated headset bearing.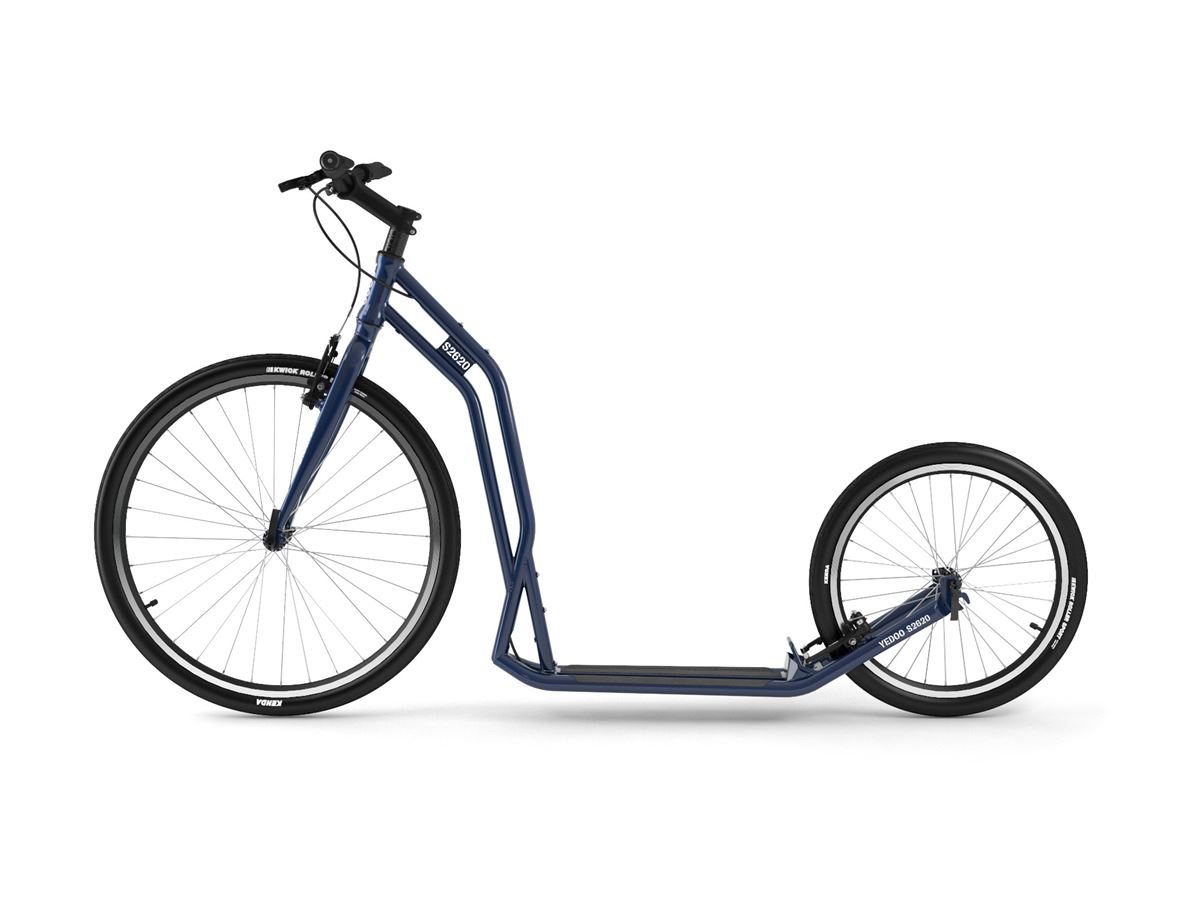 Yedoo S2016
Originally a working title, Steel captured the nature of these machines so perfectly that the name stuck. The best that well-designed steel pipes have to offer has recast into the S2016 scooter. Solidity, stability, plasticity, endurance, stridence, reliability and good intelligibility. S2016 will be a good buddy for you not only in common life but also in rides beyond the old tracks. For one made of steel, it will please you with low weight (9 kg) and unusual riding comfort. Let yourselves be carried away. This laid-back iron guy has strength and endurance to spare.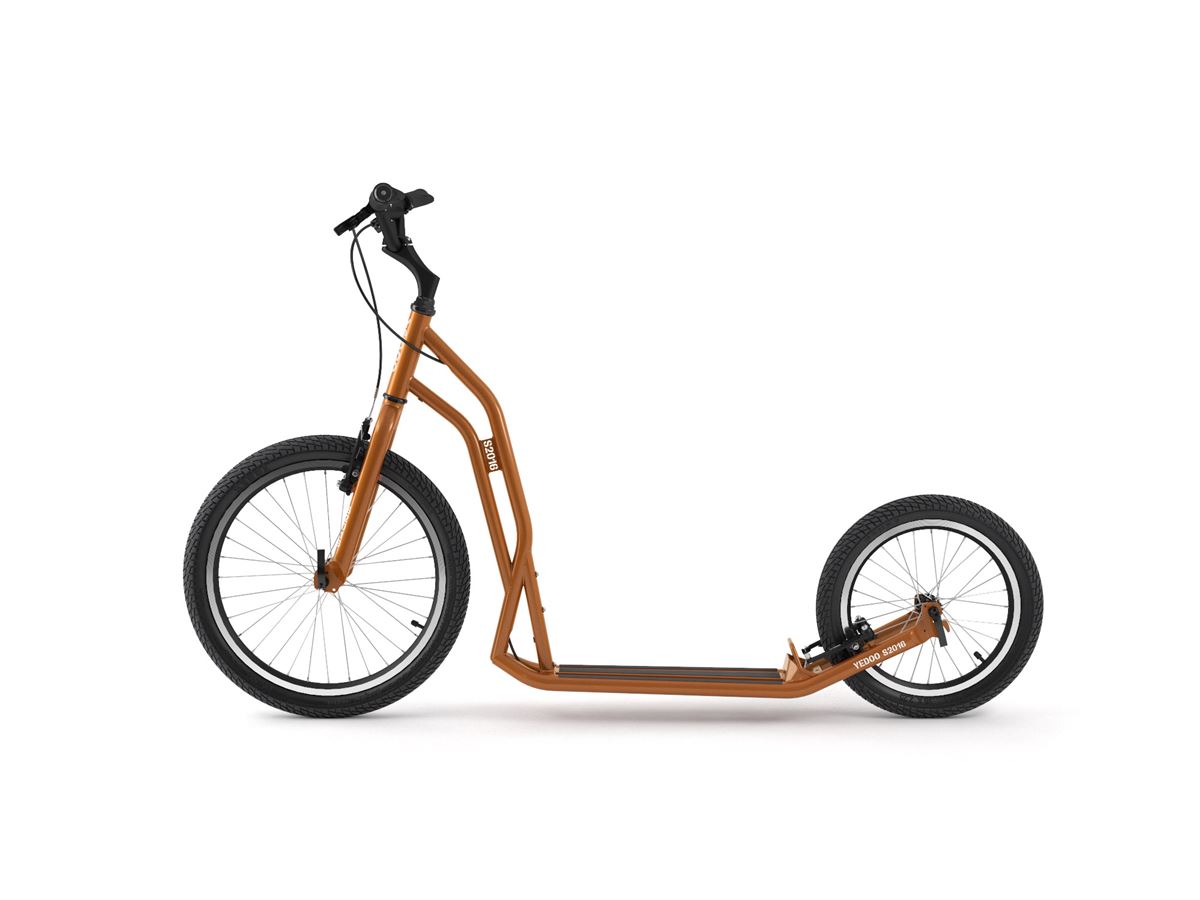 Yedoo S1616
She is more of a girl model than just a model, interesting, exciting, captivating. She is at home in city streets, parks and on suburban bike trails. She will take you to work in the morning, to a bar in the evening, and on weekend she will get your lungs well-aired. Simply a loyal friend that many people will envy you. Who cares that her heart is made of iron and she weighs only 8.4 kg?