Where To Go With Your Children On Scooters
|

Dan Pilát

,

Jitka Slavíčková

Do you also often wonder what you could do with your children? Look for treasures, ride down hills, and inspire yourself with a few interesting scooter ideas!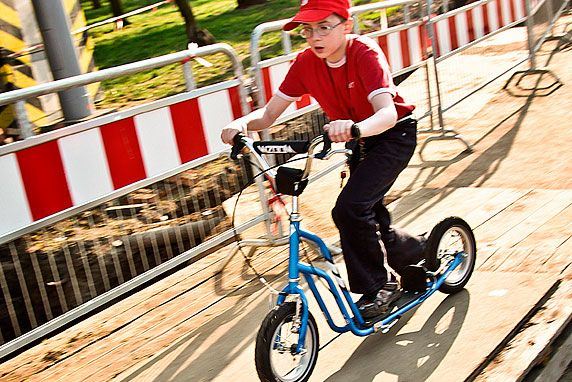 Hurray! Let's Take a Trip!
Don't be afraid of bad weather - get some mudguards.
It would be a sin to spend beautiful days sitting at home. All you need to do is take your family, your scooters and go! You can find ideas for where to go on specialized websites, and many of the trips there are for cyclists, can be used comfortably on a scooter too. All you need to do is to find a route or a destination, and the adventure is at the reach of the front wheels. Don't forget to pack enough liquids to stay hydrated during the trip, and to estimate your own strength well - you usually won't go as far on a scooter as you would on a bike. 
Treasure Hunters
The joy of finding a treasure during your trip is a pleasant reward at the end of the day!
 If you have already been to all the castles, palaces, ruins, indoor and outdoor museums, zoos and outlook towers, try something new. For example, you could become a modern day "treasure hunter" on a scooter and join the constantly growing group of geocaching. 
What is it? It's about discovering hidden mailboxes (so called "caches") out in nature and in cities according to a GPS of coordinates published online. The hunter's task is to find it with the help of the GPS navigation, to write their name into the notebook that's there and sometimes find a little "reward" there - but don't forget to leave something there for the next hunters! You can read more about it here: www.geocaching.cz or www.geocaching.com
And as you guessed correctly, a scooter is the ideal mode of transportation between these "mailboxes" and will give you a lead in the game, thanks to its speed and swiftness. 
Hurrah Down The Hill!
A several kilometer downhill ride  is the dream of any enthusiastic scooter rider!
Everybody likes to ride without any effort. If you've driven too much, you are tired of looking for treasure or aren't up to challenging scooter-tourism, you can take advantage of an interesting service that is expanding here. You can take a cable car up to a mountain or hill and then ride down on your scooter. You can pick whether you go down a concrete path or through the terrain. Of course, it is better to do this on your own scooter that you are used to, but if you don't have it with you, you can rent one from any of the rental shops. 
For example, you can rent a Yedoo scooter at Petřín in Pragu, directly under the Outlook tower (www.prazskeveze.cz) or in Šumava mountains  below Špičák (www.aktivity-sumava.cz) - they will recommend many interesting trips here too. Yedoo scooters have also arrived to the Rolli´s Roller Rent shop in the Austrian Alps! 
When you try out some (or all) of our ideas for trips, feel free to tell us about your adventures: info@yedoo.cz - we will be happy to publish your experiences on our facebook page and our website.