Eight Days In Hell Called "1,000 Miles Adventure"
|

Jan Marx

Great adventures give rise to experiences as gently as spring follows winter. With my beloved wife we were discussing the ideas for a Christmas present for my brother, who had already experienced and tried many adventures. In the end, I came up with an innovative idea and my brother found a Yedoo City scooter under the Christmas tree. Nothing seemed suspicious, as I say.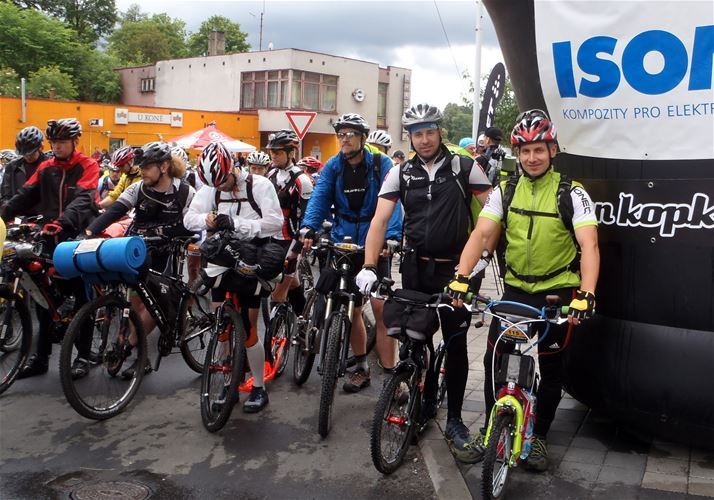 If He Could Do It, I Can Also
I took a ride on my brother's City and within a couple of days I had a punk Yedoo OX scooter at home. My wife took a ride on my OX and within a couple of days we got another parcel labelled with the Yedoo logo. We took a liking to this new sporting activity so much that my brother was incited to register for the Craft 1,000 Miles Adventure, and thus became the third scooter rider in the history of this extreme race.
"If my brother could do it, I can also," I said to myself. Nevertheless, since I had certain experience with this hellish tour (I had taken part in it twice on a bike), I registered for the "SHORTER" version of 500 Miles and asked the Yedoo brand for support. People in the Yedoo are as eccentric as their products, so they provided me with a punk pink Yedoo CITY NEW scooter for the race, which made a striking contrast to the extreme conditions of this endurance adventure.
A Hellish Ride
The route of the race passes through the most difficult terrain anyone can imagine. It runs along the mountains near the borderline in the north of Bohemia and Moravia; only a minimum part of the route runs on roads, a number of stages were hardly passable; it was often necessary to carry the bike or the scooter even down the hill, and wade through rivers and streams. No support and encouragement for the rider is allowed in the race. One has to take everything s/he needs with him/her; s/he can sleep and eat whenever and whatever s/he wants, provided s/he finds something to eat. And that "SHORTER" version of 500 MILES has almost 900 kilometres! I thought that it would be just accurate for me but it was a total hell :-).
Like Walter Mitty
Do you remember the scene from The Secret Life of Walter Mitty, in which Walter is longboarding to the town located at the foothill of a volcano? That is exactly how I felt when I carried my scooter up the hill and there was a passable asphalt road there. I rode down the hill, enjoying the euphoria, and I felt like a schoolboy who feels like spraying "Punk's not dead" on the wall of a train station. Wow!
Scooter As A Symbol Of Revolt And Freedom
And what was the reason for choosing the Yedoo City New instead of Mezeq, for example, which has 20" and 16" wheels? For me, the scooter is something unconventional, a symbol of revolt and freedom. Taking part in this race on a "small" scooter, which is not designed for such a type of terrain, presents a really huge challenge for me!
Since I got the Yedoo City scooter shortly before the start of the race, there was hardly any time for adjusting or testing it. I only replaced the handlebar, which was designed for the general public, with a sporty type, put the off road Schwalbe Black Jack tyres and –just in case – installed the tried-and-tested rear 12" wheel from my OX, since I knew what I could expect from it. In this race the rear wheel including the hub are immersed in mud for the half of the time.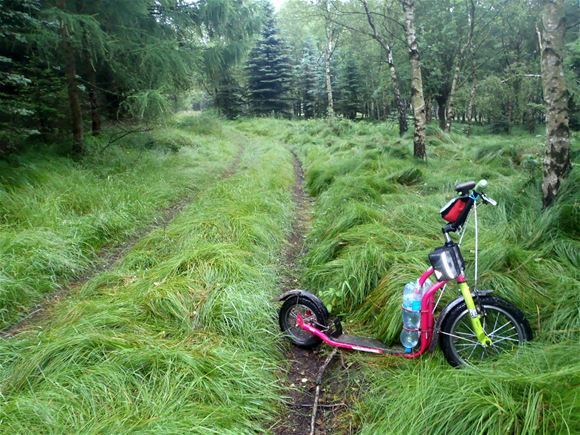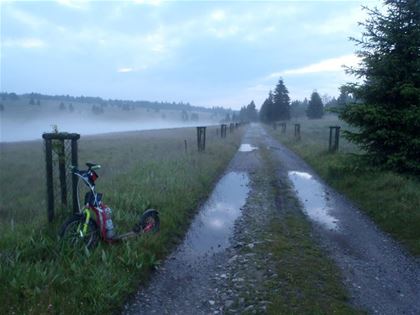 If You Do Not Carry It, You Do Not Need It
I did not worry much about water supply: I simply fixed the PET bottles on the frame with a rubber cord. I carried the heavy equipage, such as batteries, tool kit and tyre inner tubes, in two small saddlebags with the capacity of 2 litres. I put the remaining things to my backpack. Things that are not indispensable are useless. If you do not carry it, you do not need it. :)
Pain, Desperation and Anger
Within the first 24 hours of the commencement of the race I rode a bit over 180 km. During the first three days, like the other competitors, I was battling adverse weather conditions and also struggling with Jarda Jisl and his scooter to stay in the lead. He was faster, so I had to ride also at night. I had only about three hours a day for sleeping (in the open air). I was so happy that I managed to keep up with such an excellent sportsman. The rigorous training I had done before the race was really worth it.
Craft 1,000 Miles Adventure
The most difficult adventure race in the Czech Republic. The route, which is 1,625 kilometres long and passes across the Czech Republic and the Slovak Republic, is preset by GPS. The total route cumulative elevation gain is more than 39 km. Participants who ride on the route without any protection have to rely just on themselves. The founder and at the same time the main organizer of the race is cyclist Jan Kopka, who has become the first Czech to win the extreme race across frozen Alaska. The race took place for the fourth time this year. For more information go to www.1000miles.cz.
But suddenly my health failed. I probably ate something bad in Hřensko. Stomach spasms, fever, nausea and urgent need to go to the toilet very often made me take a rest for about 12 hours. I was convinced that I had to drop out of the race. (PS: I want to express my gratitude to competitor Jakub Gsela for taking care of me and taking me to a hotel, since I was feeling totally beaten. Thanks!!)
My digestive problems improved, but extreme stress, carrying of the scooter, mud, impassable stones and other obstacles caused damage to my tendons. The sharp pain I felt under my left knee made me stop again. During the stage in the Krkonoše mountains I used to ride only 30 km per day. I felt absolutely desperate; this was the second time I was completely sure that I was about to pull out of the race. I cried with anger and in pain. I desperately wanted to continue!
Nevertheless, in the evening I met a guardian angel with a backpack in Pec pod Sněžkou and he took out a bottle of herbal massage oil from his rucksack... I had been searching for it everywhere!!! Massage, Priessnitz wrap, knee bandage and my obstinacy enabled me to continue the following day. I was riding in a rather bizarre style, and with my left leg kept straight I was moving slowly through the route with the average speed of about 6.5 km per hour.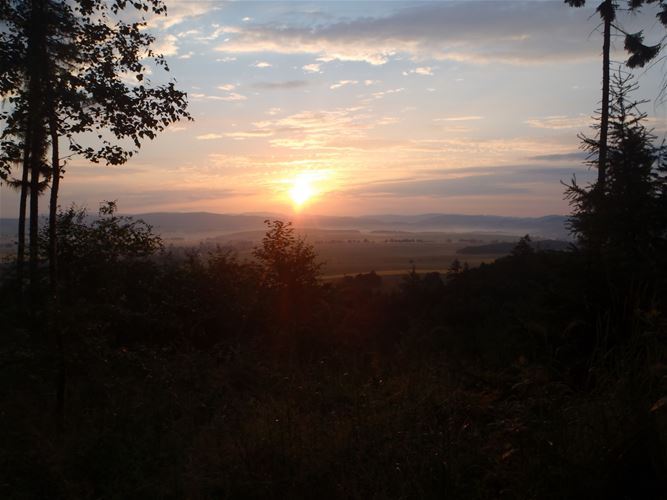 Results:
Jan Marx
500 Miles from Hranice u Aše to Františkov in the Jeseníky mountains
Yedoo City New scooter
8 days 5 hours
Jakub Marx
500 Miles
Kostka Hill scooter
8 days 21 hours
Jarda Jisl
1,000 Miles from Hranice u Aše to Nové Sedlice, Slovakia
Kostka Tour 27,5" scooter
14 days 16 hours
Final Stage
I fall asleep on a meadow near Králíky, I sleep a few hours under the stars and I do not think about anything, and I awake from the deep sleep thanks to the chilliness of the morning. The astonishing atmosphere, beautiful weather, hope of reaching the finish line, all this gave me energy for the final stage. After another day on my scooter there are the final 7 km, which go on the asphalt road and down the hill! Absolute euphoria, the scooter ran very fast and my wife and my mum were waiting for me near the finish line. I made it!!!
I am not quite sure whether it was me who took the scooter to the finish line or vice versa. I was complaining and totally beaten, I only had to grease the rear hub of the scooter once and besides repairing a road defect I did not have any problems with it! It was an absolutely reliable vehicle, amazingly fast on tough surface and it coped perfectly with the difficult terrain. It was quite difficult to ride on the huge stones, but we made it because the scooter is really easy to manoeuvre.
I would have never believed what it is capable of and what it can endure! Stones hit the spokes and the lower part of the footboard hard like thousand times. I really did not want to damage it but it was just impossible. One way or another. What's more, I lowered the height of the footboard for the final three days to spare my knee. The scooter suffered a lot of damage; its lower part looks as if it has been fighting in a war. I owe it much respect and gratitude. I did not believe that it would survive.
Don't Believe in Miracles, Pin Your Faith on Them
It took 8 days and 5 hours to ride those 850 kilometres. My average speed was thus approximately 103 kilometres per day. At the beginning I used to sleep 3 hours, later 4 or 5. It is difficult to describe what I have gone through during the race. It is really hard to understand for those who have not experienced it personally. The hardest thing for me was to get out of the tent at 3.30am, since I went to sleep totally wet after midnight, put on my absolutely wet and cold clothes and set out into the rain, with hardly anything to eat and drink.
I met a number of great people on the route, so I take this opportunity to greet the Dvořáks in Moldava, a guy with a backpack in Pec pod Sněžkou, Kuba Gsela and a great many others. Thanks a lot! And the pure nature, the stunning views! The feeling of absolute desperation, followed by a strong belief that everything would be fine in the end. That was the moment in which I realized that the motto of the founder of the race, Jan Kopka, which says: "Don't believe in miracles, pin your faith in them." was absolutely true.