The S2620 scooter, as seen by Radek Sláma
|

Vendula Kosíková

Not everyone likes the minimalist design of the Yedoo Steel scooters, but those, who try the Steels once, won't hear a word against them. And it is no wonder, because this line with finely attuned riding performance can hardly find its match among other steel scooters. Radek Sláma, a service technician, also fell in love with a Steel scooter - the S2620 to be more specific. We bring you a distinctive review, where you will find out, what it was about the S2620 that captivated him and why he switched over from a bike to a scooter.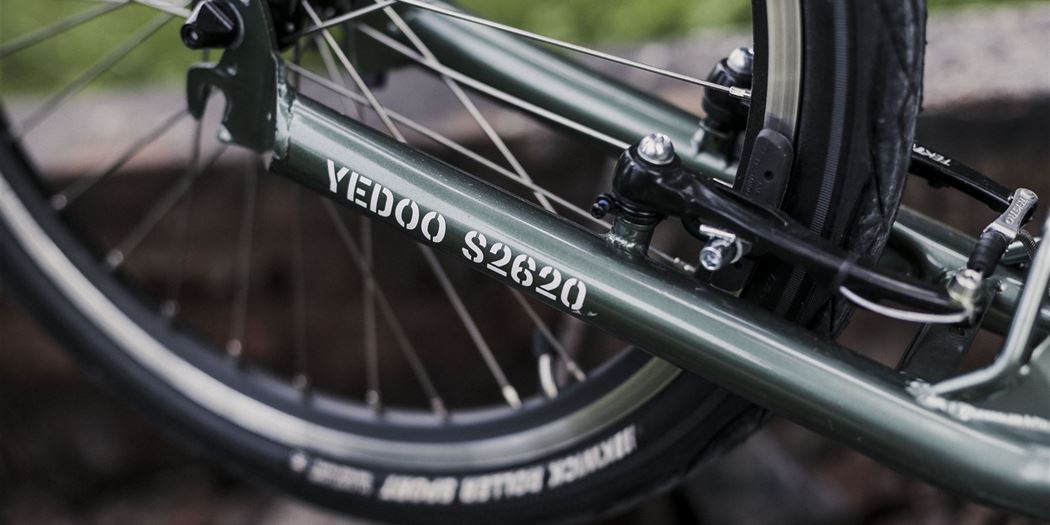 From a bike onto a scooter
Yedoo Steel
Many years of experience, a lot of time and experimenting have been invested in harmonising the most important parameters of the Yedoo Steel scooters – weight, solidity and plasticity – into ideal proportion. And the result is worth it!
Yedoo Steel scooters meet the requirements not only of common users, but also of more demanding riders, who do not fear the number of kilometres, roads less travelled by or austere design that goes to the core. We write about the Yedoo Steel scooters in greater detail on the blog.
I rode a bike (a full-suspension one) for years and was quite happy. But my wife has been having problems with her knees for a few years and cannot ride far, and besides, our daughters (11 and 14) have been at home since spring due to covid, so I was trying to come up with some sport we could all be doing together. For me and my younger daughter, sport is a necessity, and my wife and the elder daughter see it as a pleasant way of spending time, if there is a beautiful trail and the weather is nice.
Yedoo Numbers
We designed the scooters of the Numbers line for all people, who are only just beginning with scootering. They are affordable and their riding properties nearly equal similar models from the higher lines, because they are built on the same frame. You can read more about the Yedoo Numbers scooters here.
I wanted something to get at least a little workout from. My eyes fell on a years-old Yedoo Four for kids that was lying around in the cellar, so I say to myself: "Take that thing and give it a try! Perhaps you will get yourself ruined a little." And so I did! My legs hurt in places I had no idea had muscles in them. The next day I took the kids on bikes, while I hopped onto the scooter and eureka! We can ride together. The girls are satisfied, their old man can hardly keep up with them.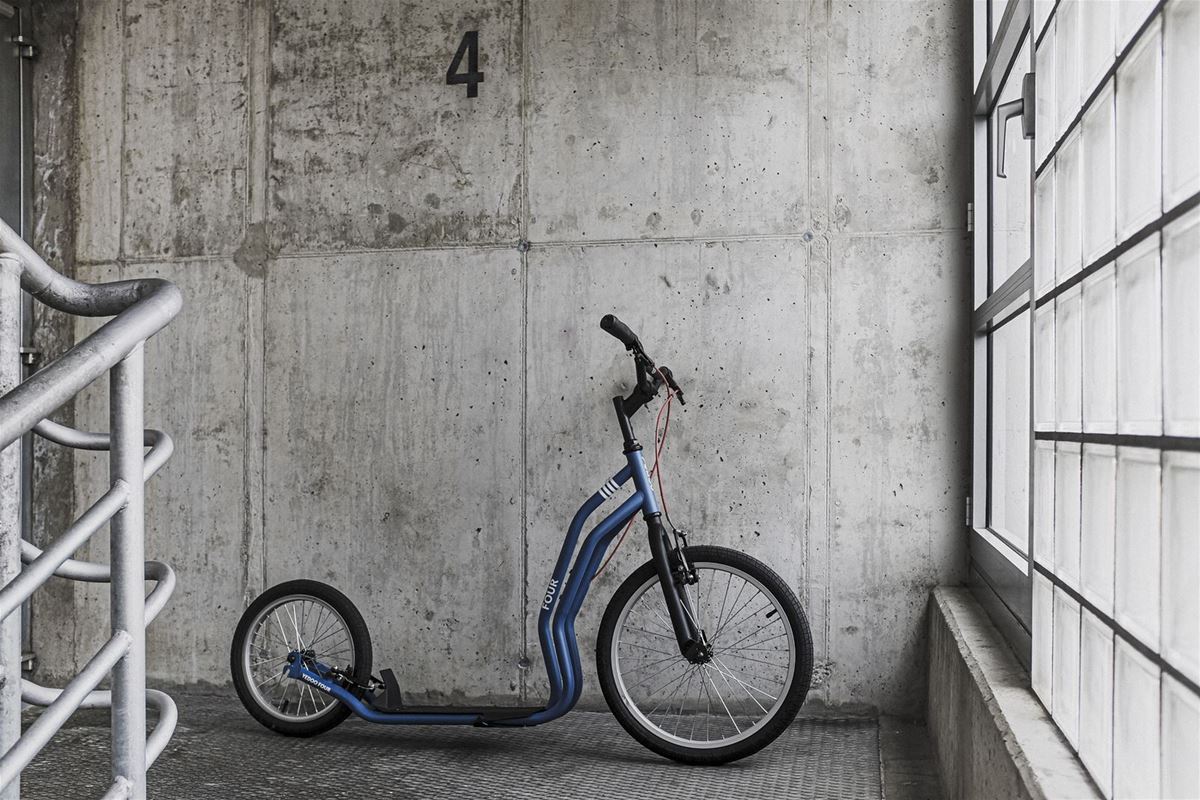 They like really make scooters for adults as well! 
After a few such outings, I set about googling a bit, to see if there isn't anything for a massive man like me. I really marvelled seeing that scooters are made for adults as well as for kids.
I went through some basic reviews, set up a price ceiling of CZK 5000 and began going through some adds. I was not going to put more money into a contraption like this. Having searched for a week, a set out on an 80 km errand to try a pretty old Kostka scooter, wheel size 26"/20", no idea what model it was. Let me cut the long story short. Tough guy gone, scooter squashed, out of shape, handlebar bent. Besides, I did not like the construction as such. Too teeny, one pipe, no invention.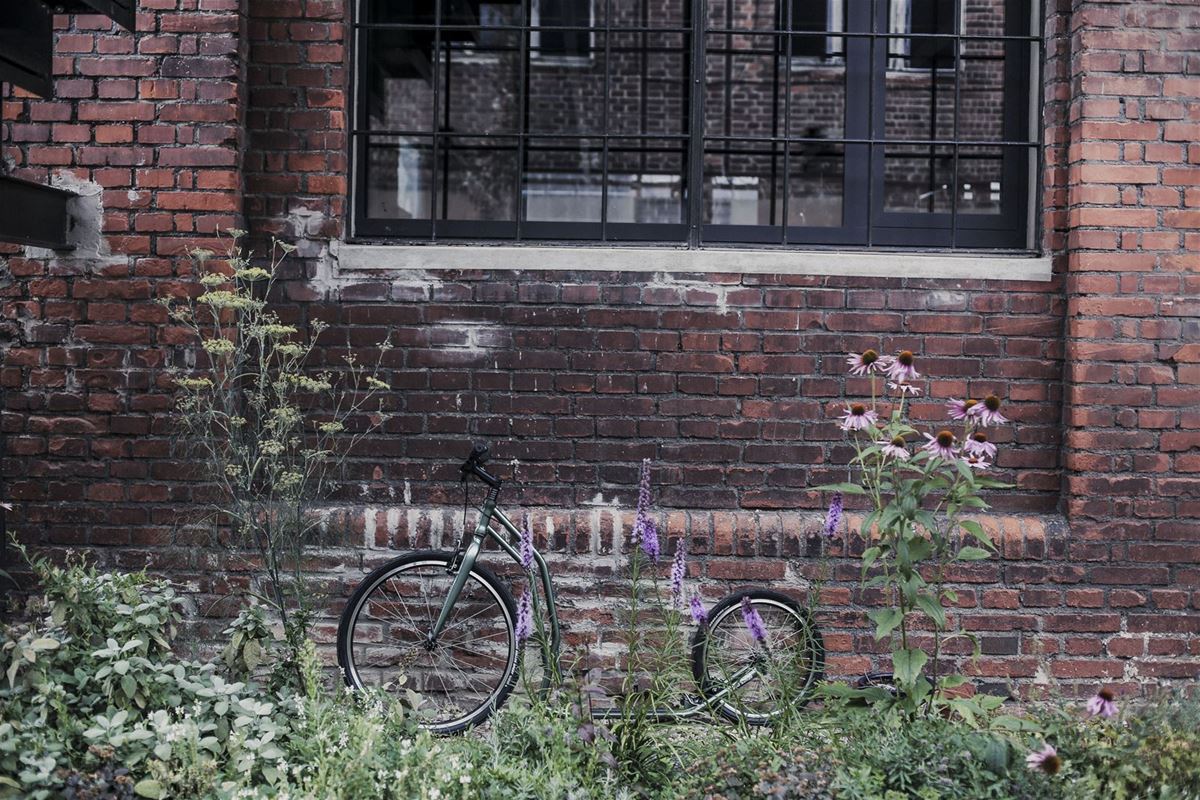 Yedoo Five or S2620?
Luckily, they had a shop selling the Yedoos in the same town. I peeked in, and there was a beautiful red Yedoo Five. The design immediately caught my eye. The gentleman did not want to let me take it outside, so I only just stood on the footboard for a while. It fit well in the hand and gave me something to think about. 
Upon arriving home, I get down to googling, and, lo and behold, there is also a better-equipped clone, the S2620! And the colours! The price is two grand more, but my biking experience commands: "Better pay some extra for more solid components. It's not like you have 50 kilos, make sure you get one that lasts." I won't be lying to you, I had my eye on the Trexx as well.
Even went to check it out in a shop. Tried it at the shop, it was superb, but too hard. The S2620 had been so comfortable. I am not going to races, so a little loss of energy due to suspension is completely insignificant for me. So, after about three weeks of questing and contemplations, I ordered it. Within a few days, I had it at home. A beautiful new blue S2620. Putting it all together was a matter of an hour, everything fit and sat in its place, superb.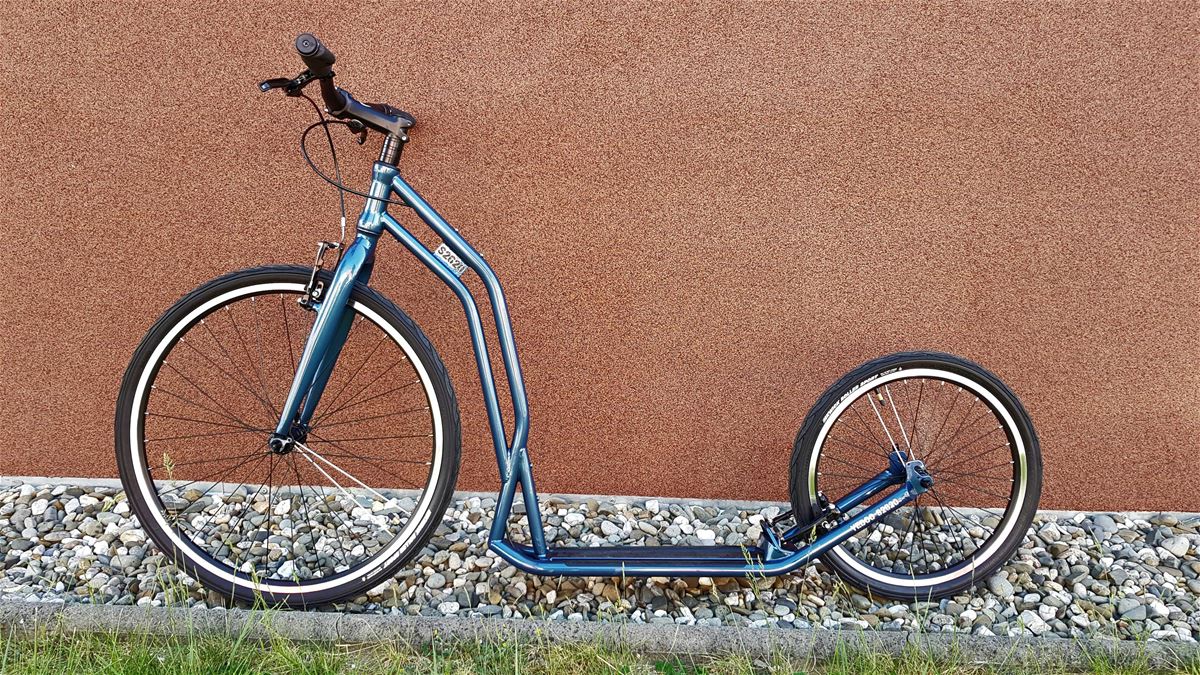 We are riding!
The first ride around the house - splendid. Just whizzed by. It was nice, everyone outside staring at what this old fool (I'm a little over forty) was riding. I called the girls to come and have a look. And that was it for my riding that day. I went for a coffee and they did not want to give the scooter back to me anymore.
First, being inexperienced, I rode it with the rear fork in the lower position, but that was a real slog. So I put it into the upper position, adjusted the brakes, and it has stayed like this ever since. Over FB, I got together with Jirka, who has a Wolfer, and we started riding.
When my wife and kids had time, I rode with them, otherwise with my friend or alone. A longer trip sometimes, and at other times just to go and have beer. An ideal means of transport. After about 2 months, my younger daughter bought a Yedoo Five, so excited was she about it! We made a few beautiful trips around the area together. The equipment of the scooter is quite sufficient. After all, one needs to take into account that the kids may forget it somewhere, and I would not want to lose a packet.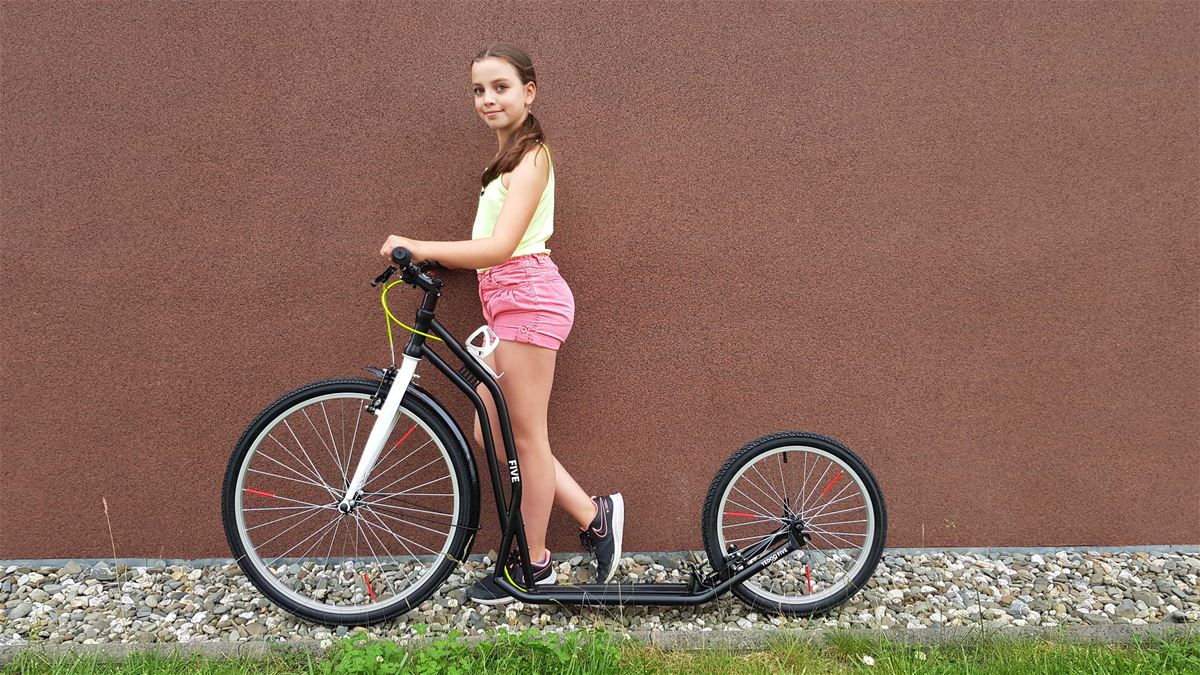 The S2620 is a true prize
I was quite lucky that without any experience, the S2620 met my demands. I read stories about people trying all kinds of machines, unable to find the right one… The S2620 is a comfortable, universal machine.
I met various other scooters in the course of the season, and I must say the S2620 is a true prize for me. It has the ideal wheel size for trips, and a steel frame. After a few rides on field roads, my friend with the Wolfer was all rattled and I kept my smile. Compared to some producers, the S2620 also has a sufficiently wide and long footboard. My shoe size is 48, and even that is no problem. The routing of the brake bowden to the rear brake is really clever, so I do not need to fear I might catch on a root somewhere or tear the brake off in a bike stand.
I have tested forest roads and moderate downhill rides, jumped down from a cornerstone and so on. The scooter does not collapse in any way, keeps the chosen track well and the footboard height is just right for a universal machine. Its only limit were the tyres. I put on wider ones in the autumn, 1.75. The scooter was raised by half a centimetre, the off-road tyre pattern keeps direction well in the mud, so I am not afraid of the front wheel sliding under me.
I do not ride with baggage, so I do not give this much thought, but I guess many a person could use preparation for a rack, because this machine has the potential for long journeys.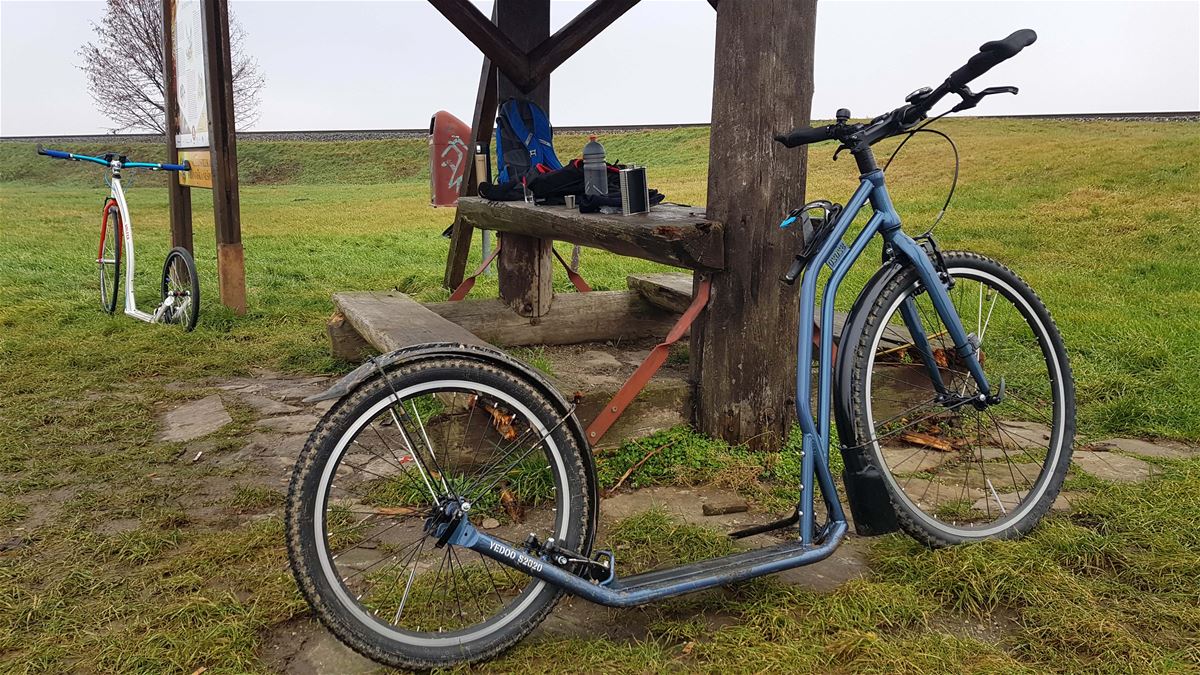 Careful about fenders for wider tyres
I have also equipped it with original fenders of the second generation. The system of attachment is well-thought-out and durable. I guess I will not make those jittery anytime soon. The only thing about them I could criticise is that they are too tight. For 1.5 tyres, they are just right, for 1.75 they are a bit on the edge and for the width of 1.9 they are unusable. The front fender could do with a flappy mudguard, similar to the one on the rear wheel, so mud would not splash on shoes from the front wheel.
General impression
My general impression from this scooter is really good, I could imagine no better starting scooter for adults. I like the design – it is not just a bent pipe, and steel – a comfortable scooter on relatively narrow tyres. If one's not captivated by it all that much, there is not a lot of money in it, so you can keep the scooter and in time, someone from the family will get hold of it. And if, like me, one finds this is the right thing for him, it will last him a long time.
And one other fundamental thing to conclude. I really appreciate communication on the part of Yedoo. Both from chief constructer Jakub Bostl and from Tomáš Vodenka from the service shop, with whom I handled adjustment of Fiveka over a video chat, and I was able to avoid sending the product back and forth. I was very impressed, I don't think it works this well anywhere else. This is one of the main benefits, due to which I will turn to the same brand again.
Staré Město u Uh. Hradiště
1 January 2021
Radek Sláma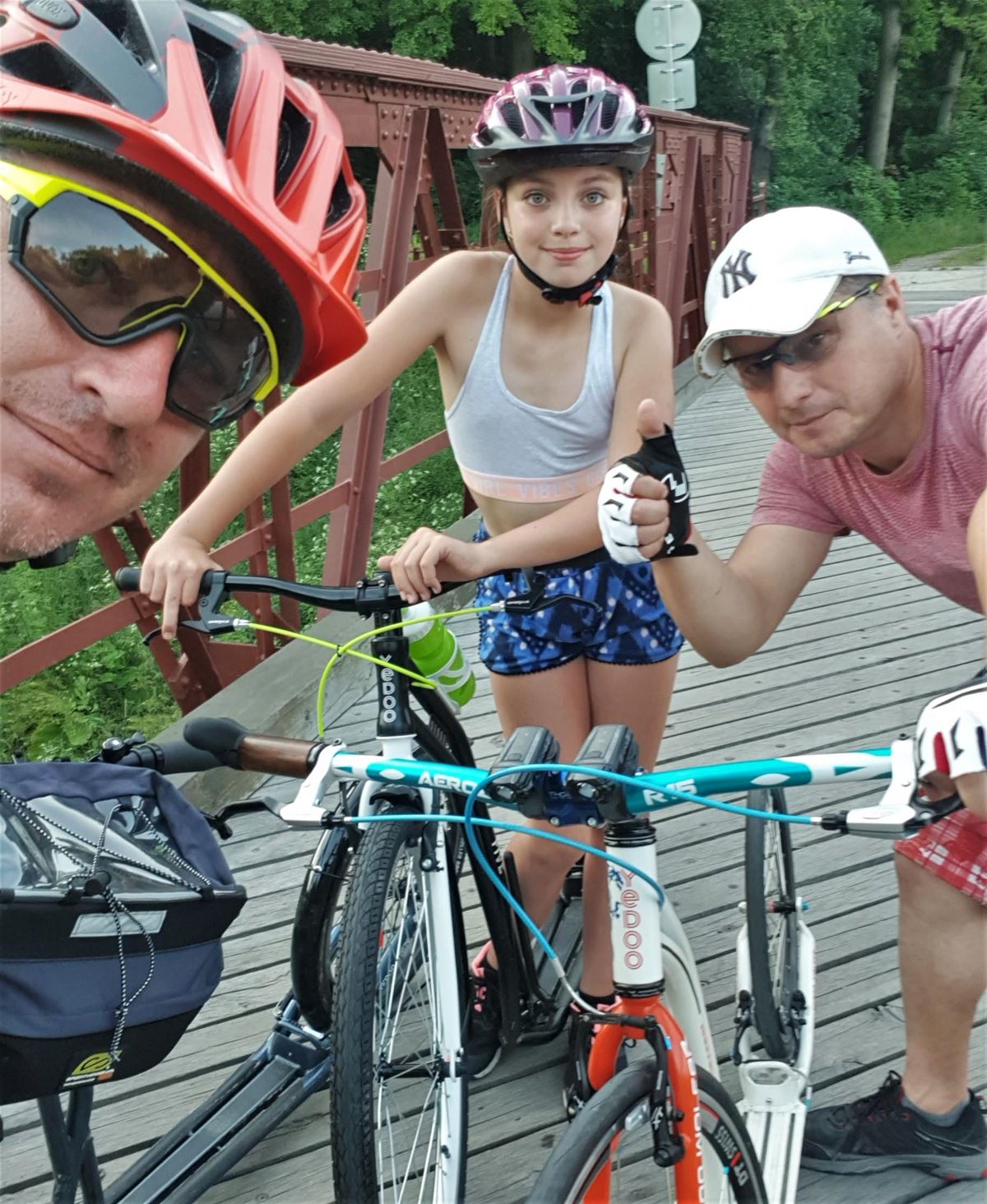 PS: 
The story of Radek Sláma is not over yet. Radek was unable to resist and he recently bought a Trexx with dics brakes in addition to his Steel scooter. And how about you, do you have any experience with Yedoo? If so, make sure you write to us. Feedback from you helps us and our scooters to grow.   
Gratefully your Yedoo team