The Badlands. A Journey Beyond The Frontiers Of The Real World
|

Vendula Kosíková

David Ceccarelli and his co-adventurer who accompanies him on his journeys - Andrea Gesmundo – chose the remote region of the Canadian Badlands as another scooter expedition destination. The arid, parched and dreary territory does not evoke the idea of the Canadian landscape boasting endless forests, Rocky Mountains and breathtaking waterfalls. Average tourists rarely visit the Badlands.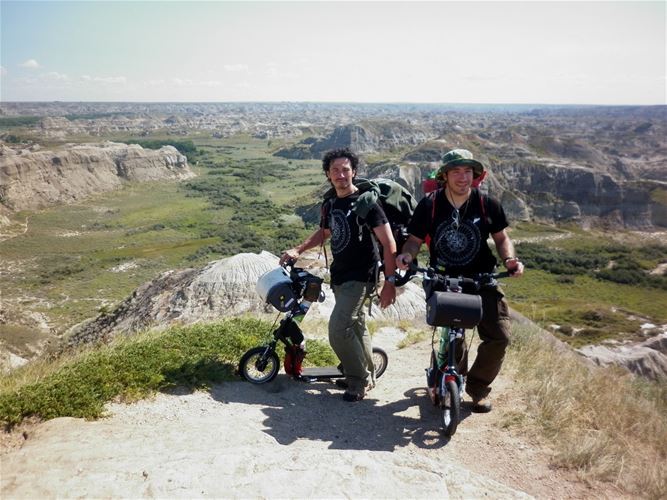 Dinosaur Valley
The region of Badlands was named by its first settlers who found it absolutely useless for agriculture. The peculiarity of the arid and almost deserted region located in the heart of the country of Alberta is even emphasized by surreal rock formations shaped by fierce wind, endless roads, abandoned mining towns, as well as dinosaur fossils. "The wasteland in Alberta as well as the stories related to it somehow attract me," says David Ceccarelli. "I like getting to know the way local people live in such regions, the way they think and behave. The best way to approach these people is to travel on small means of transport, so that you can really appreciate what the journey offers. Scooter is an ideal means of transport for such a purpose. Nevertheless, you have to be prepared to cope with discomfort and problems."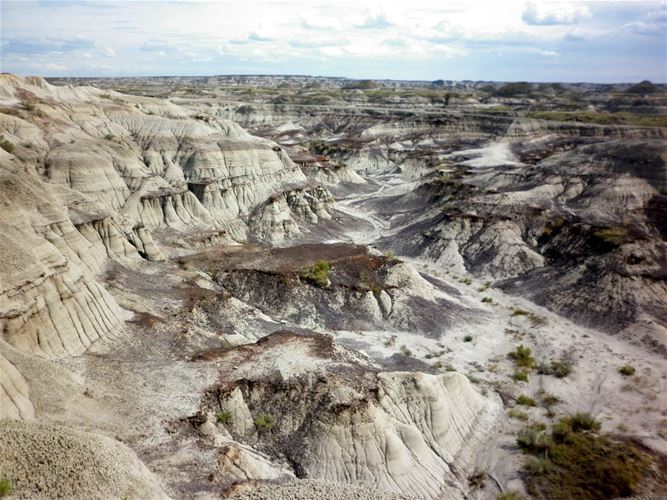 A Difficult Start
This time David and Andrea went through a lot of hardships, unpredictable incidents and unusual encounters. At the very beginning of their journey they had to deal with a damaged front fork on one of the scooters, which had been buckled during air transport. The very next moment they were almost swept away from the road by a board, which fell off the passing truck. "I felt as if the fate had prepared something special for us to happen every day," David describes the unforgettable adventures.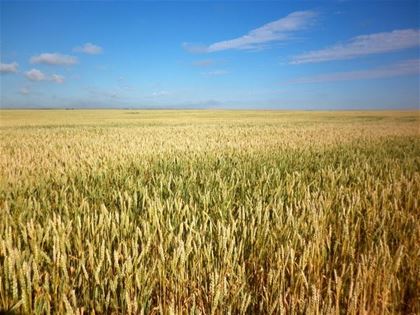 Hermit
David and Andrea began their expedition in the town of Lethbridge. The view of the countryside they could soon admire looked just like the wallpaper for the Windows XP operating system. Finally, they started enjoying the nomadic lifestyle. Grain fields were followed by scorched areas; horses were running through the valleys, and several winding towers for the extraction of crude oil could be seen towering on the horizon.
After several days of ride they passed by a quiet petrol station. There was a nice family house behind it. After a day spent on the sun-parched plains, David and Andrea felt tempted to camp by the green lawn, and, since the owner of the petrol station - Rick Baxter - agreed, they stayed overnight. "We met a guy with a big heart, warm blue eyes and a broad smile in the Badlands. He introduced us to his wife and three children and offered us to stay in his beautiful house, at last. He really liked the way we travelled, it reminded him of the times when he, as a young hippie, explored Canada in his Volkswagen," David explains and adds: "Thanks, Rick!"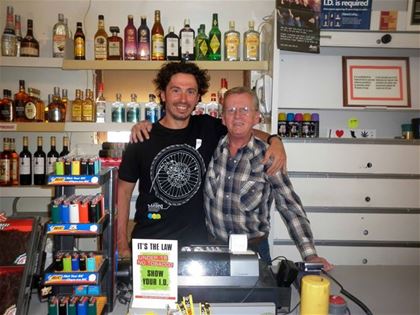 Madman
"Now we find it very funny, but we were paralysed with freight at that moment," David remembers the craziest experience they went through during their Canadian adventure. In Dorothy, one of the first settlements in the Badlands, they accepted invitation to have a beer with a guy who was in charge of several winding towers. "His name was Jeff; he looked quite nice and helped us to replenish our water supplies. He was going deaf in his right ear. Only later did I find out why."
Tour Facts And Figures
– 600 km (Lethbridge – Red Deer)
– 19 days
– Level of difficulty – Very difficult
– Vehicles – Specially equipped Yedoo Ox scooters
His house was located within a 10 minute drive, so we did not hesitate and accepted his invitation. On the way to his house he asked us whether we liked guns. To be honest, I do not like such things, but I decided to remain neutral not to offend him. His house was a terrible mess; the floor was completely covered in garbage and other stuff. Three well fed geese were paddling in the backyard and a large German Shepherd was guarding the house.
After we drank some coffee and beers, Jeff decided to show us his rifle and then other guns. He owned hundreds of guns of various types – guns intended for hunting, battering or assault… It was a real military entrenchment. He had a special machine in the garage to fabricate bullets; he collected metal when he walked from one winding tower to another. His favourite leisure time activity was shooting all day long in the desert.
When he enthusiastically invited us to join him on a drive and test our shooting skills, I was too scared to say no. I wanted to maintain the friendly atmosphere. We heaved a sigh of relief on our journey back to Dorothy that we made on our own."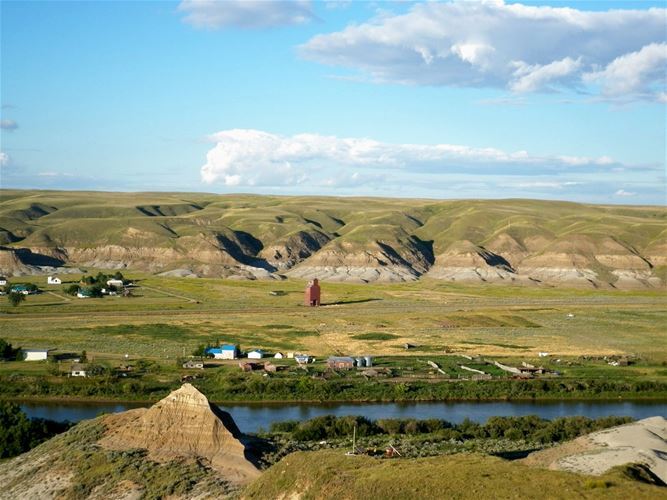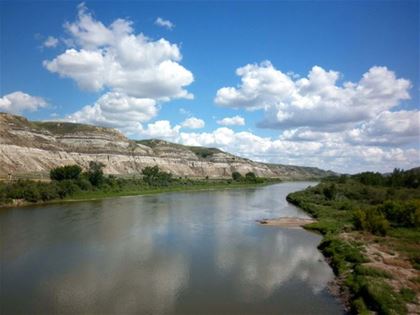 The Wheel Of Fortune
The Badlans – Wasteland In Alberta
- Sparsely populated wasteland with hardly any vegetation
- The difference between day and night temperatures can be up to 30 degrees
- Weather – very dry, with sudden downpour of rain or hail or twisters
- Location – South-East of the Canadian province of Alberta
- Countryside – mesas and interesting rock formations
- The region has the richest dinosaur fossil beds.
- At present, crude oil and natural gas are exploited in the region which was scarcely used before.
- Places of interest: Dinosaur museum in the town of Drumheller, almost deserted settlements of the first settlers
The nearly deserted settlement of Dorothy is called a ghost town at present; it is located in the Red Deer River Valley, and, besides an old church and a granary, there is nothing interesting about the town. David and Andrea hoped to buy food supplies after spending almost two days without any food. However, they found only two modest lavatories in the camp. Nevertheless, a lucky coincidence saved them. They met Canadians, who hold a huge family meeting in Dorothy every year, they go camping and fishing and have BBQs parties. They invited the young Italians to join them and offered them meals and drinks.
"They literally adopted us," David describes. "They considered us to be modern heroes. We drank seven glasses of mojito before dark. We danced around the fire all night long, played with their children and sang. Friendships are formed much quicker when travelling than in everyday life. And that is exactly what we experienced that night - we became part of a huge family (of about 20 members)."
Lucky Coincidences
During their expedition through the Alberta wastelands David and Andrea entered the lives of many people they met for one reason or another. David calls it 'a synthesis of life'. "I will never forget a single person we met – whether it was a group of cyclists who invited us for a drink in the middle of the night; people who had lost everything in a tornado; an owner of a sports car who helped us to repair our scooter; a family that allowed us to spend several days at their farm, work there and share their table; and an old squaw who gave me a sacred stone for predicting future. It was an unforgettable expedition into the depths of the human psyche."
"Memories of the troubles will fade away as the time passes, but the people we met in the Badlands will remain in our hearts and minds forever," concludes David.