Scandinavian Adventure On A Scooter
|

Vendula Kosíková

Zdeněk Valenta made his child´s dream come true. At the age of 43, he rode across Scandinavia, however, he did not ride a bicycle, which was his original plan, but a scooter. And how did it all begin?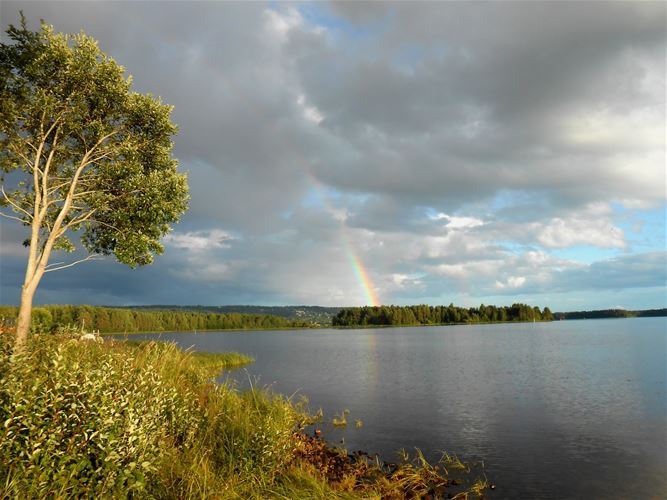 Notes from the journey (shortened):
Day 4 – On the road n° 68, heading to Gävle. Camping and bathing in a Gulf of Bothnia – tranquility, beautiful landscape and close encounters with animals, such as bothersome mosquitoes and loveable doe.
Day 6 – Söderhamn. First fight for survival – I get in to a battle with a jackdaw for a tart. The jackdaw almost won and then you tell me Hitchcock was writing a sci-fi.
Day 7 – Encounter with locals. Grilling sausages. Drinking beer. They said I was a fool.
Day 9 – It´s raining! It´s raining. It´s raining.
Day 10 – A stopover in Fagerstra camp, I can finally have a hot shower.
Day 11 – You cannot plan everything back home. Change of route. Inaccessible trails for cyclists. I continue on the road n° 87. Positive moment: breakfast for free – coffee and cinnamon cookies.
Day 12 – Thunderstorms, one after another. In the meantime, when the weather gets calm, I set up a tent on the shore of a lake.
A Young Man From The Mountains
"As a kid brought up in Krkonoše mountains, I loved all winter sports: cross-country skiing, downhill skiing, ski jumping and, later on, also biathlon; this is what connects me to northern countries", says mechanical engineer and sportsman Zdeněk Valenta. "Thanks to skiing, I came across a scooter; on a biathlon summer training camp we actually kept in shape by riding scooters. At that time, it was our coach who made them for us with his own hands, they were amazing and they even had a seat", remembers Zdeněk and he explains: "Our coach knew very well that we use the same group of muscles on the scooter as we do on the cross-country skis".
We Have Eight Scooters At Work Today
Afterwards, for couple of years, he did not see a scooter until the day when one of his colleagues brought Yedoo Mezeq to work. "I was fascinated by its name. I was also excited by its design, its construction and by the smooth ride and I was not alone to feel this way. Nowadays, we have eight scooters at work and our head technicians use them to go around the shop floors". (Zděněk Valenta works in Prague branch of a Swedish company called Lindab, which deals with air-conditioning system production).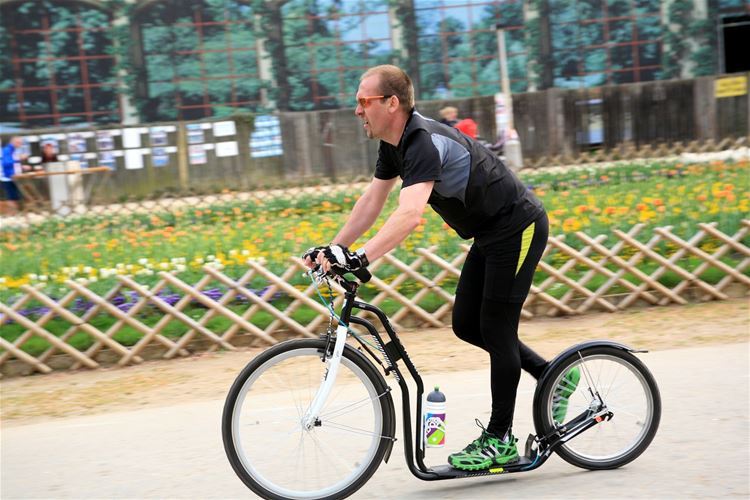 Day 15 – Östersund, I camp in the city center alongside a lake. My clothes are drying up. E14 "No entry" sign for cyclists so I take the route with direction to Oslo via E45.
Day 16 – Night spent in a camp that is actually made for caravans but I will somehow manage.
Day 18 – It´s raining again. I go from the town of Sveg to a town of Mora. It is quite evident that home appliances of Mora brand are not sold in here, the question is who is a copywriter then. I see a reindeer on my way. The reindeer just crossed the road right in front of me and he did not even wait for me to make a picture. He just ran away... I got into Mora town and I camp out on the shore of the lakeSiljan.
Make one´s Dream Come True
"When you want something, all the universe conspires in helping you to achieve it", writes Paulo Coelho. And so it happened in case of Zdeňek Valenta. As if by chance, he personally met the producer of scooters and the head of the Yedoo brand, Mr. Dan Pilát, who supported his newborn idea of riding a scooter across Scandinavia.
On a rented prototype of a city Yedoo scooter with solid rack of own production and loaded with more than 40 kg, Zdeněk set off on the journey on 1st of July 2013, heading North. To the south of Sweden, he was taken by a truck that was transporting air-conditioning equipment from Lindab and another truck drove him some 45km from the town of Örebro, the original starting point of the expedition. "Before the truck dropped me off on an intersection in the forest, I had a great time observing the beautiful landscape and I was excitedly thinking about the forthcoming adventure. However, during the first 40 km on the footboard of my scooter, I began to feel the weight of my load, the wheels battled against the rough Swedish asphalt and I was starting to suspect that my plan would need to be considerably modified."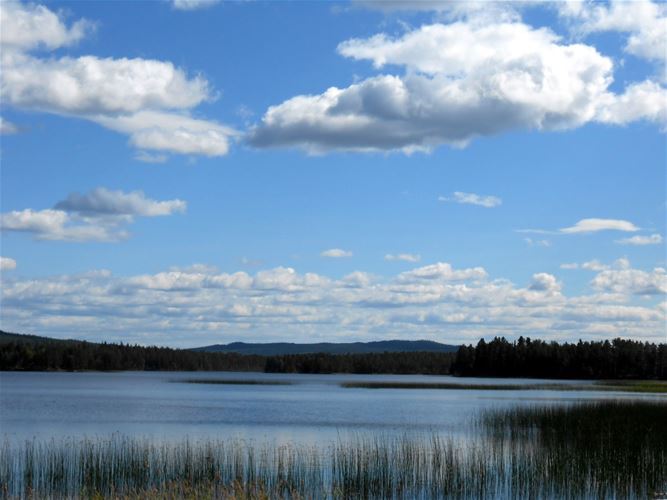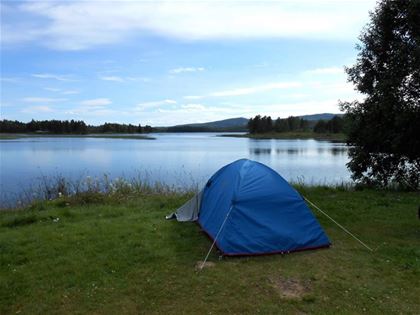 Day 19 – It´s raining and raining. I try to dry my stuff. Sometimes it rather seemed like I was flying a kite and not drying my clothes and it looked like some of it would disappear forever… In the end, all dried up. I still haven´t came across any bear. I wonder why?
Day 22 – I wake up looking at the lake with a flock of wild geese swimming in it. I still have enough time before my bus will leave to Oslo. Sweden is cheaper than Norway so I stay here longer. It is sunny but the wind is blowing. Up to today I have already ridden almost 1 500 km.
Day 23 – I cross the Swedish-Norwegian border at 4pm. Konsvinger is ugly city full of pleasant people. One would say that mosquitoes should be divided accordingly among all the locals but it rather seems that they have not tasted Czech blood yet.
Day 24 – I meet so many nice and kind people. Everyone is interested in that weird creature scootering all his journey. The town called Lillestrøm has been conquered and I go for a ride around Oslofjorden bay. I meet the locals and get some information about where to go next. The network phone signal and the Norwegian operator are disastrous. JL
Day 25 – I am on the coastline again and I bathe in the bay. The beach is full of screaming kids and barking dogs. Nevertheless, the night is calm and dark. No wall socket, no signal, no ATM. Oslo is not far from here but the ferry is too expensive. JL
Day 26 – I ride through hills and mountains back to Oslo. I have two days left before going back home. The weather is fantastic – hot and sunny – and as I get closer to the end of my journey, the scooter feels heavier and heavier.
It Is Impossible To Plan Everything
Even though, on the second day, Zdeněk got used to the unusual conditions and he managed to ride 106 km, he was quite often forced to change the original route along Gulf of Bothnia; the reason why was mainly due to "No entry" signs for bicycles as well as scooters on the 1st-class roads.
When he got to Östersund he found out that it was impossible to get to the road leading to Norwegian Trondheim on the scooter and also the coast road around the fjords heading towards the end of his journey in Nordkapp. He had to improvise. Eventually, he spent 4 weeks in Norway and Sweden and rode almost 2000 km. He lost 16 kg during his trip but he gained unique and unforgettable experiences.
Beautiful Nature And Helpful People
"The northern countryside is gorgeous and photogenic but it makes one think hard: For example, you have to consider how long your food supplies would last before you are able to buy more. Besides, there is no ATM available in every single village so you need to have enough cash on you. The weather is unpredictable and can easily thwart your plans."
"Luckily the Scandinavians are nice and friendly people and my scooter excited their interest so they came to chat with me. I got invitations for a breakfast or a dinner very often and quite a few of these encounters would make a great story to be told", narrates Zdeněk enthusiastically: "Once I was invited for breakfast by two well-built bikers who had travelled big part of the world on their Ural motorcycles. They visited Czech Republic and what they remembered was the city of Český Krumlov and České Budějovice. Both of them owned successful boarding houses which made it possible financially to pursue their motorbike adventures". On the contrary, Zdeněk wanted to prove with his expedition that you can travel on a small budget.
I Can´t Miss A Scandinavian Winter
Immediately after his return home, Zděněk began to plan his next trip to Scandinavia: "Maybe this winter already, on a kickspark! I can´t let go those attractive invitations from my new friends from far north. On a scooter which served me as a loyal companion all the time – I did not have to repair it even once –I would like to go somewhere south next time, I am attracted by New Zealand or Africa".