Kick Crocodile. One more reason why to ride a scooter
|

Vendula Kosíková

Join the Kick Italy team and kick off a charity project called KICK CROCODILE with them. Every kilometer travelled means 1 CZK donated to charity.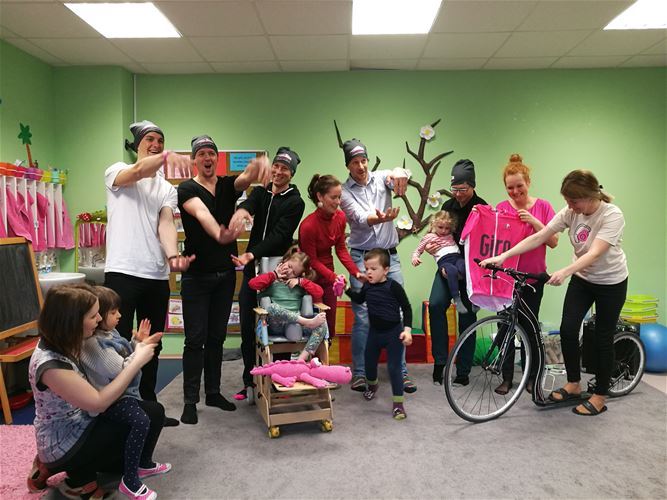 In a few days, the guys from the Kick Italy 2017 team are going to try something that nobody ever has – to accomplish the challenging stage race Giro d'Italia on scooters!!! There is a true scooter hell awaiting them - steep climbs, riding in full traffic, nights in tents and physical strain on the edge of human possibilities. More
The boys, however, have an extra reason for not giving up and for reaching the Milan cathedral, and that is the children with severe multiple disabilities from THE PINK CROCODILE SCHOOL.
KICK ITALY + PINK CROCODILE = KICK CROCODILE
Dan Pilát on KICK CROCODILE
"I have met the people of Pink Crocodile through my seven-year-old son, Ondra, whose school is involved in an integration program, in which healthy and disabled children spend time together doing plenty of activities."
When I saw them run the Prague half-marathon with our kids with no ambition for victory, I got an idea how to help them and help the Kick Italy boys who were looking for a higher purpose for their scooter adventure at the same time."
Dan Pilát, the head of the Yedoo brand, who has a great talent for connecting people together, is the one who has introduced The Pink Crocodile Charity, which is improving the lives of disabled children and supporting their education, to the team.
A unique KICK CROCODILE project came into existence, which can be joined by you as well. For each kilometer travelled, Yedoo and Kickbike (as the main partners of Kick Italy) will donate 1 CZK to the pink crocodile. The goal is to collect 50,000 CZK for building a new school´s building and a children's hospice of THE PINK CROCODILE SCHOOL.

If everything goes well, the Giro boys will collect 25 004 CZK exactly and the rest is up to you. WILL YOU GO FOR IT?
How to do it
How to use STRAVA application
Download the STRAVA app to your mobile phone or register on your computer, but you have to download the app to your phone / tablet anyways
Sign up / sign in - just through Facebook or Google is enough
Find KICK CROCODILE group among the clubs
Join us
Take a scooter
Push the record and hit the road! – the kilometers and your route will start loading automatically
Once you've finished riding, you can look where you stand as compared to others
Simply download the STRAVA application and join the KICK CROCODILE group. How many kilometers you travel depends only and only on you, but remember that every extra kilometer is another Czech Koruna added to a good thing.
I want to participate but I do not have a scooter
If you live in Prague and you do not have your own scooter but want to start collecting kilometers along with others, you can rent a Yedoo scooter for free. Check out this, choose your model and start collecting kilometers that will actually help.
I want to support financially
You can also contribute any amount to a transparent Pink Crocodile account number 2102389650 (Bank code: 2700, Swift code: BACXCZPPIBAN: CZ15 2700 0000 0021 0238 9650) or send a DMS of 30 CZK in the form of DMS PINK to the phone number 87 777. (DMS only possible within the Czech Republic.)
For more information, please visit www.pink-crocodile.org.
I want to express my solidarity
Another option is to spread the good energy and raise the awareness of the KICK CROCODILE project - just take a picture and upload a photo on social media with a crocodile gesture using the hashtag #kickcrocodile.