Šumava on Scooters II. From Železná Ruda to Modrava
|

Vendula Kosíková

,

Petra Koblížková

Šumava is popular among scooterers. They are attracted not only by the wild nature in Šumava, but also by hundreds of well-marked routes. The journey from Železná Ruda to Modrava will lead you around two picturesque lakes, through the romantic valley of Roklanský potok and over Polední hora, from which you will see all of Šumava and the Bavarian forest.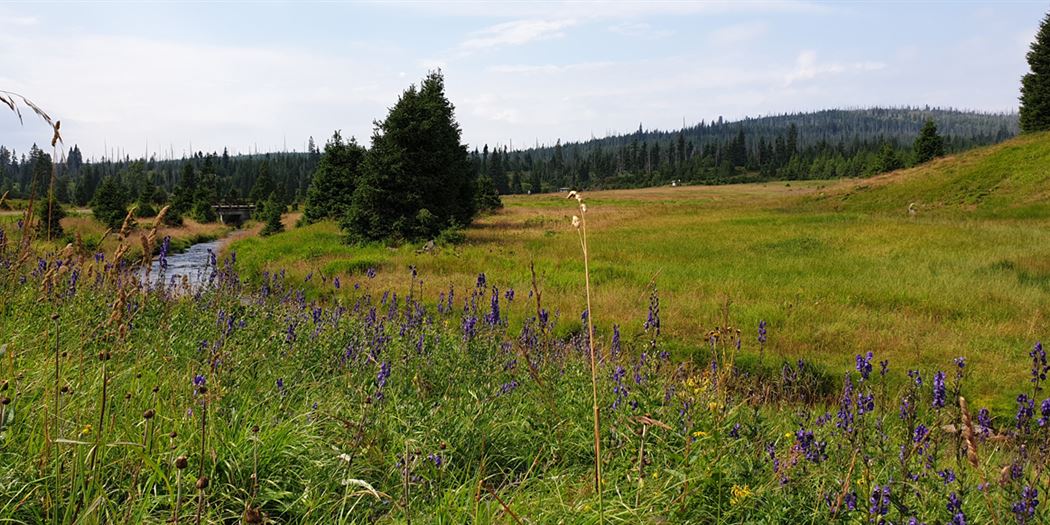 Železná Ruda → Modrava in Brief
OUR TIP:
Plan this as a two-day trip. Stay at the emergency campsite in Modrava overnight and return via the same/or a different route the next day. Scooterers, who are very fit, might manage both journeys in one day, but the total vertical distance of up to 2,000 metres is really considerable.
For more advanced riders, individuals as well as groups
You will cover 47 km
It will take you an entire day, or a half, if you are quick
Hilly landscape
Elevation by 1 100 vertical metres
Descent by 930 vertical metres
The surface is mainly a gravel path, in some places it is asphalt
Parking – parking in Železná Ruda at the campsite   
Public transport – busses and special Green lines
Route map
(You can go also vice versa, you can find a description of the journey in the other direction in Excursion Tips)
Železná Ruda 
→ 

Nová Hůrka
Things To Do

in Železná Ruda

Before setting out in the direction of Nová Hůrka, have a look at Železná Ruda. The local church (Our Lady Auxiliary of the Star), for example, with glass stars on a clapboard cupola and a chandelier made by glassmakers from Šumava inside, is worth your attention. You can also go and see treasures of glassmaking in Muzeum Šumavy, which resides in the villa of the Abel family of prominent glassmakers.

If you are not interested in the sights, you could at least visit the Belveder brewery, located at the second highest altitude, and taste unfiltered beers brewed according to old recipes directly in the brewing house.

At Zámeček – the oldest historical building preserved in Železná Ruda – there is an exhibition of historical motorcycles.
If you are setting out from the camp, go uphill along cycling route no. 33, which begins on Pamferova Huť crossroad and continues towards Hůrecká silnice crossroad.
From the town centre, it is more advantageous to first follow cycling route 2113 and then Tetřeví stezka.
At Hůrecká silnice crossroad, turn right to the straight cycling route that runs along Hůrecká silnice. But be careful, the asphalt surface is interrupted in some places and replaced with gravel, which you might sink into. The gravel sections are very well visible and marked, though.
In Nová Hůrka, you can stop at a small stand, where they will make tea or coffee for you, or offer you beer, lemonade, or an ice lolly. Do not refuse, because there is a greater climb awaiting you.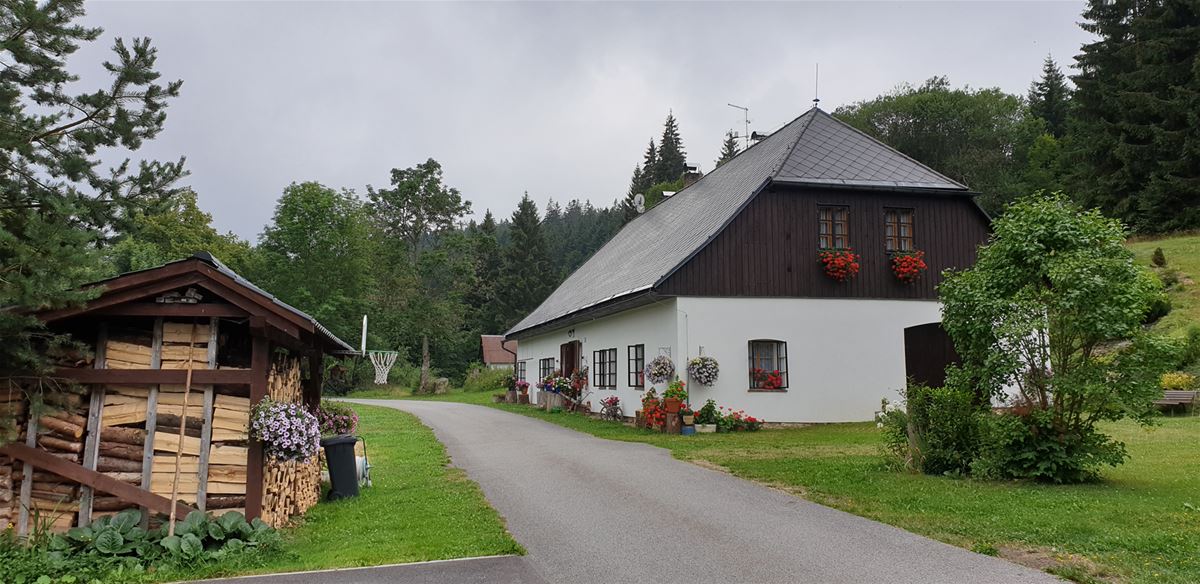 Nová Hůrka 
→ 

Prášily

From Nová Hůrka you will set out uphill in the direction of the former Stará Hůrka, where you will pass the Chapel of the Holy Cross. There is a bell in it that you can sound - the rope, which controls the bell, leads out of the chapel, so passers-by could sound it as a sign of reconciliation among people. So give it a try.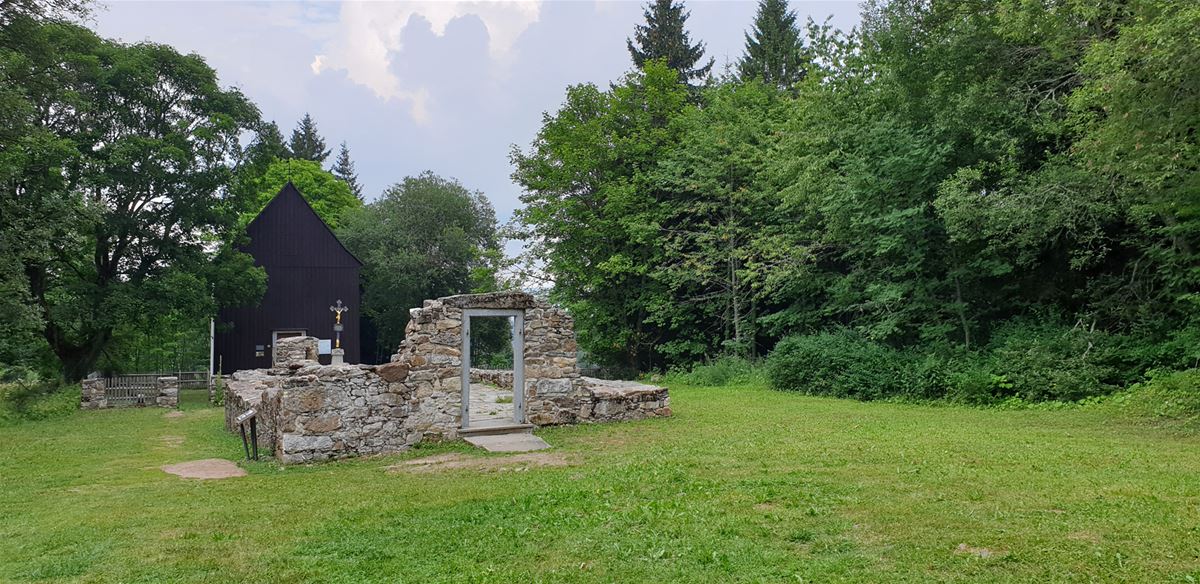 After a brief pause in the shade of trees in Hůrka, continue along the gravel cycling rout 2113 in the direction of Laka lake – the smallest of all glacial lakes in Šumava. Enjoy the view of lush vegetation, because further on, there will be sad views of wind-fallen and dead uprooted trees.
Luckily, the nature is powerful and there is new vegetation sprouting from the roots of fallen trees - small spruces as well as broadleaved trees. Your heart will also rejoice at the approaching descent to Prášily.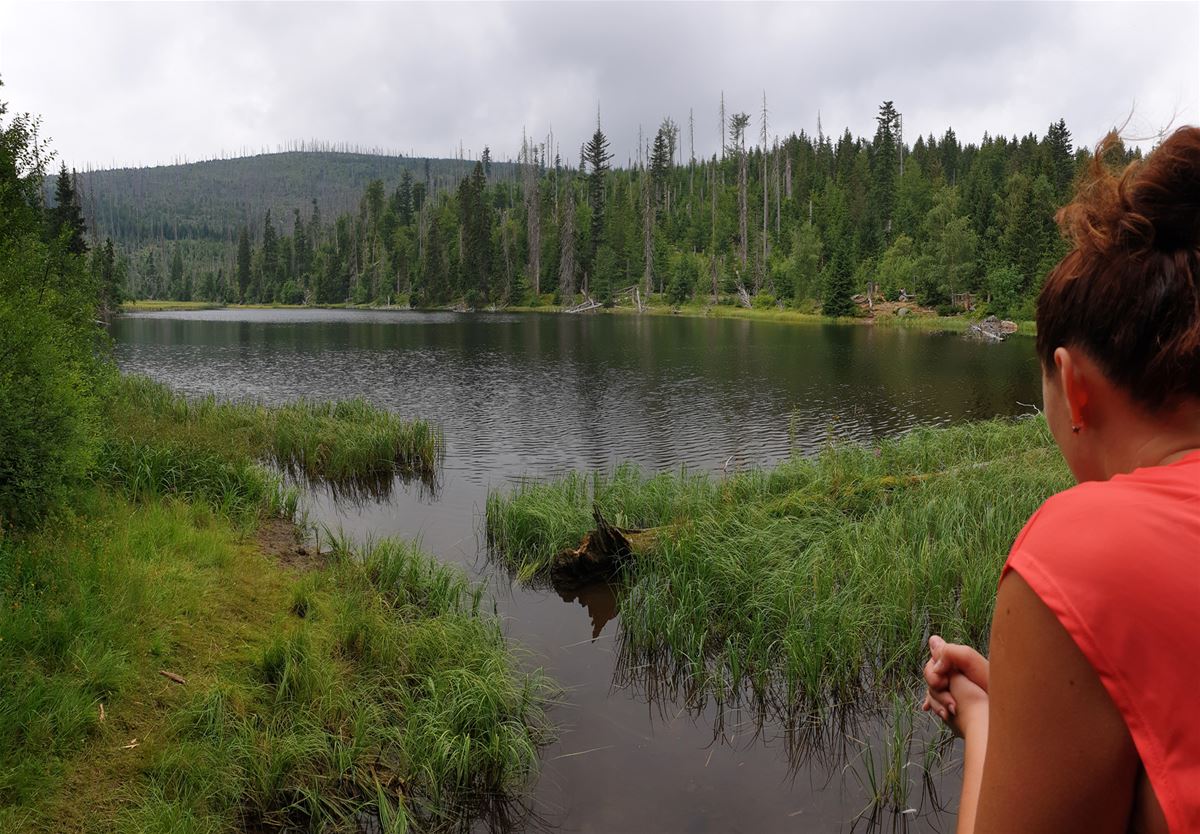 Prášily 
→ 

Modrava

You may enhance the pleasant experience of a long descent with blueberry dumplings at Hostinec U Michala in Prášily. This will also give you the energy to prepare for the last long climb.

From Prášily, you will continue along cycling route no. 2113, which turns right at the Gruberg crossroad on a gravel path in the direction of Prášilské jezero.

You will get to the lake from a crossroad called Liščí díra along a narrow stony path, approximately one kilometre long. Do not miss the view of the most picturesque glacial lake in Šumava. You can leave the scooters at the shed, we left our backpacks there as well.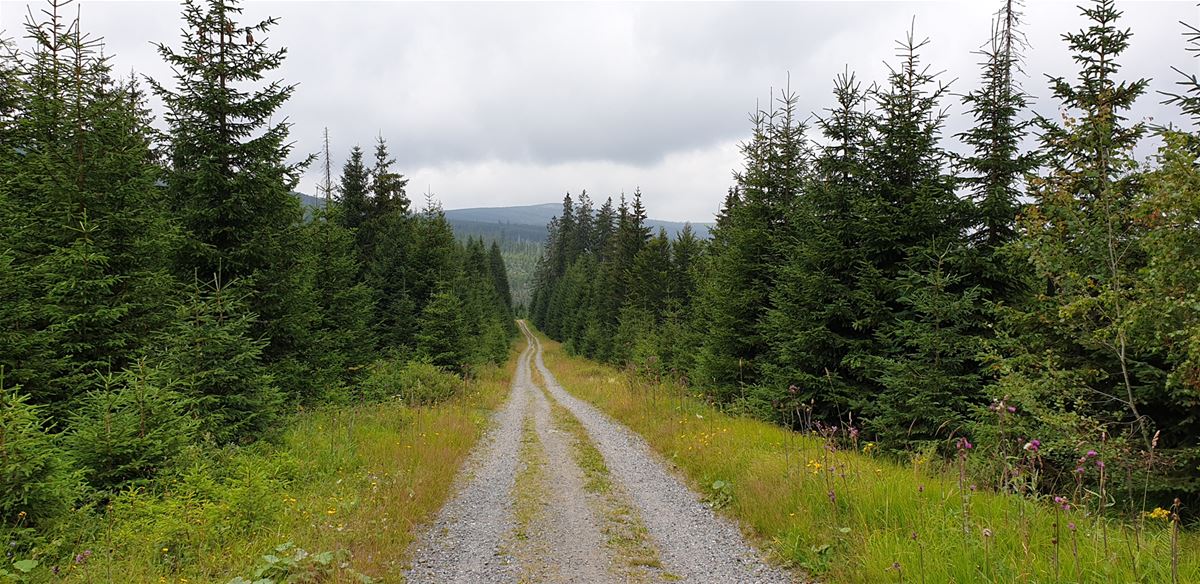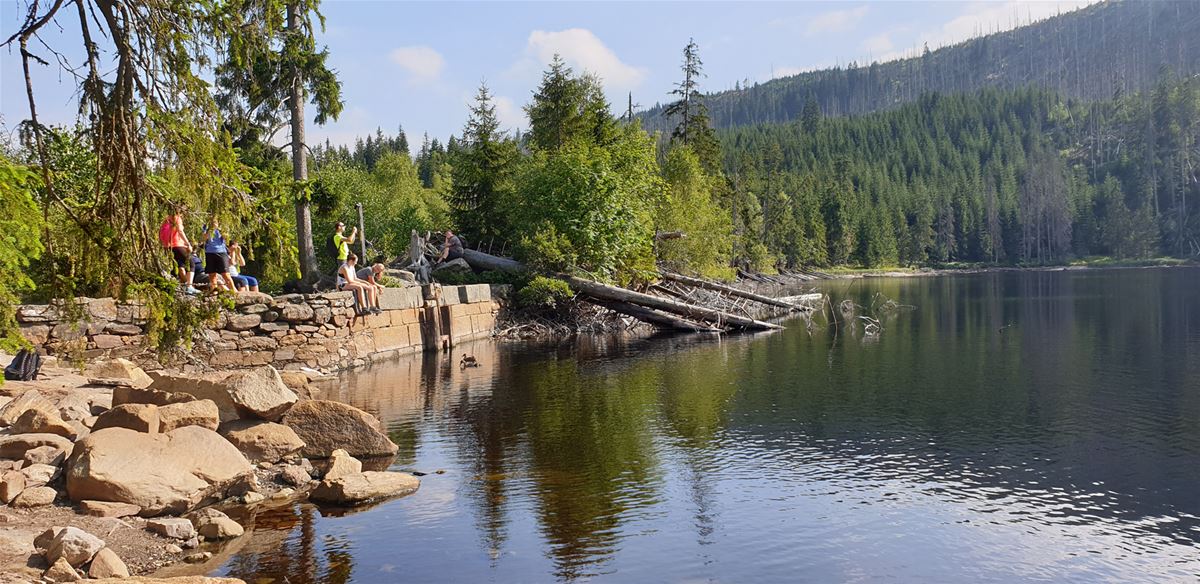 After the lake, the most difficult climb awaits you, to Polední hora. We do not know, how fit you are, but we decided to push the scooters to the top. The views we saw on the way up, though, were worth the effort. 
If you have enough strength, you can ride to the very top of Poledník, where there is an observation tower as well as an emergency campsite. We decided to leave this experience, which would crown it all, until next time.
The last 8 km are really a pleasure. From Předěl, ride down along cycling route no. 2113 and join the asphalt road that leads to Modrava again at Bavorská cesta crossroad.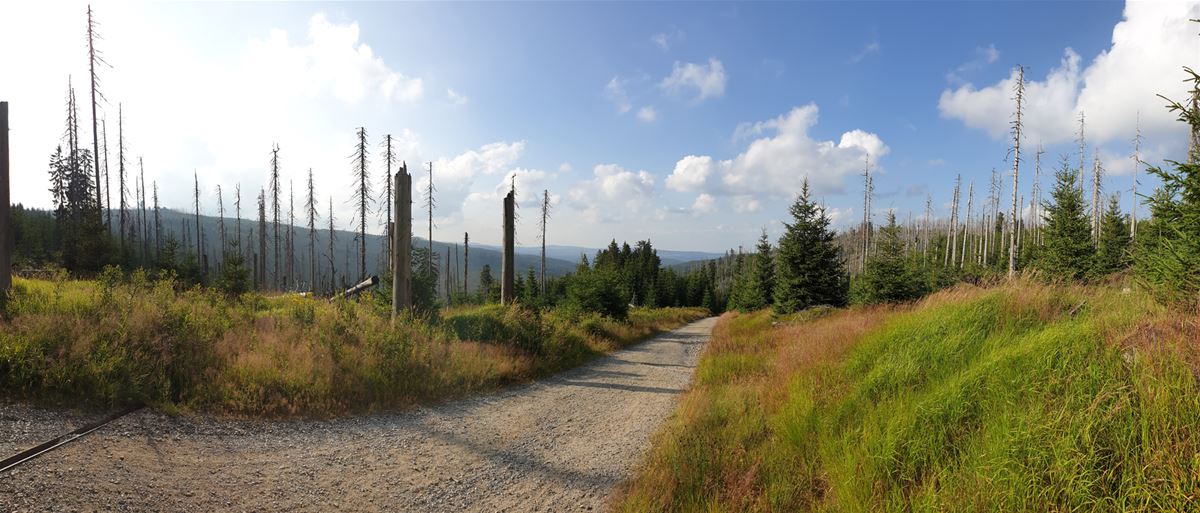 We went straight at the Javoří pila crossroad, though, along a road that follows Roklanský potok, to avoid Tříjezerní slať, which we passed the last time. The romantic valley along Roklanský potok brought us to Modrava, where we sated out hunger in the nearby Lyer brewery and then, pleasant tired, we put up our tent in the emergency campsite and indulged in sweet rest.