Scooters In Road Traffic
|

Dan Pilát

,

Jitka Slavíčková

We mainly associate scooters with childish riding around the house, on playgrounds, parks, nature trails and such. But when you take a scooter out on the roads, road rules must be respected.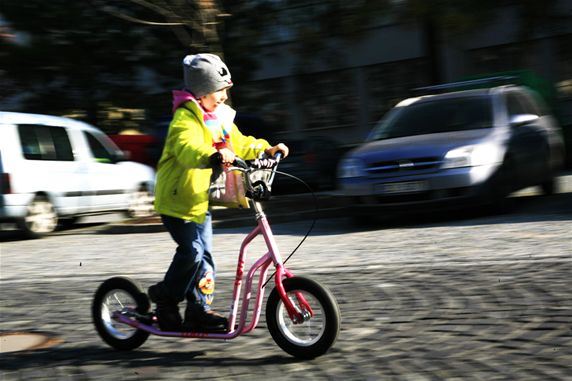 Let's Have A Look At The Rules
Scooters fall under paragraphs 57 and 57 of Czech law number 361/2000 Sb. about surface transportation.  What it means for scooter riders, is that they have to follow the same rules as cyclists. Let's remind ourselves of a couple important rules:
Drive on the right side of the road with enough distance for safety. If pedestrians are not being endangered or limited, you are allowed to ride on the right roadside
If there is a bike lane for cyclists on the road, the cyclist/scooter rider must use it.
Cyclists/scooter riders must ride one behind the other, never side by side.
Drivers overtake cyclists/scooter riders, in principle, from the left.
If you are riding a scooter, you can overtake slowly moving or standstill traffic carefully from the right side of the road, or on the right roadside, being very careful not to cause a collision. 
A cyclist/scooter rider under the age of 18 must wear a safety helmet while riding.
A child under the age of 10 can only ride under the supervision of a person above the age of 15. This doesn't apply to sidewalks, cycling paths and residential and walking zones.
A cyclist/scooter rider must turn on the headlights with white light and tail lights with red light during low visibility. 
Please check if the requirements are the same in your country.
A Little More About The Equipment
More is written about the compulsory technical equipment in edict number 341/2002 Sb., which states that a bicycle/scooter in road traffic must have two brakes that work independently of each other, a frontal white reflecting glass, and a red reflecting glass. 
Scooters Are Tolerated More Than Bikes
In our own experience (and it has also been confirmed by our customers), we have found out that the scooters on sidewalks and in walking zones are tolerated more than bikes. Scooters are more agile - you have one foot on the ground, therefore you can react to the situation around you and get off faster. But don't forget to ride carefully, keep the requested speed and make sure not to endanger the pedestrians in any way. 
There are places however, where riding your bike is prohibited in national parks (such as the Krkonoše National Park, or the National Park in Šumava). We recommend that you respect these rules with scooters too. 
Scooters On The Public Transportation
Although a scooter slightly exceeds the size of allowed baggage on the public transportation, you will usually be allowed to transport them (unless the metro/tram/bus is packed with people). It is important to respect a few rules:
Transport the scooter in designated areas - in the back deck. There can be a maximum number of two scooters there.
Baby carriages and wheelchairs have priority over scooters, they enter first.
The scooter needs to be in such a shape that it doesn't damage the vehicle. 
Scooters On A Train
Usually, you can take a scooter on a train as your baggage. Please, check with your local railway company. In Czech Republic, a single ticket costs 25 CZK, for a daily ticket 50 CZK.