Scooter. A great assistant in physiotherapy
|

Vendula Kosíková

Due to its complex approach, not only many professional sportsmen, but also common people suffering from pain in the locomotive system seek out Vladimír Ščerbanovský's Rehabilitation and Motion Centre. In addition to massage and other treatments, they prescribe revolutionary methods for clients there, from Gyrotonic to the re-discovered scootering.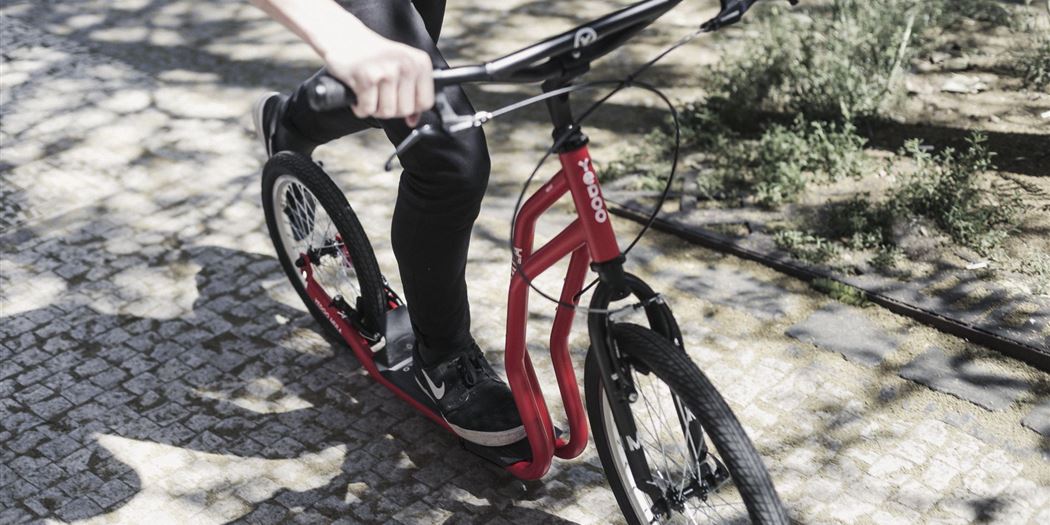 Without due regeneration and movement compensation, all sports may bring you health problems. In this respect, walking and scootering belong among the least risky ones, presuming you switch legs regularly on the scooter.
"We mainly help sportsmen, not only with acute problems of the locomotive system and convalescence, but also with the creation of biweekly, monthly as well as annual training plans that balance one-sided burdening, which sport brings them," Vladimír explains, adding: "Well composed training in connection with suitable regeneration maintains a sportsman's performance, while reducing the risk of injury to a minimum.
Massages and similar treatment, such as the magnet, ultrasound therapy or extracorporeal shock wave therapy, may help, but their main benefit consists in creating space for change. After them, long-term individual work in the form of exercise, stretching and strengthening etc. must follow.
We include scootering, which belongs among movement activities that do not overburden any part of the body, while evenly engaging the entire locomotive system, in physiotherapy or in the course of rehabilitation - for example after injuries of joints of the lower limbs, when we need to gradually start burdening the operated ligaments again. Running is not suitable due to high impact and when riding a bicycle, there is a danger of sharp and jerky movements in case of stopping suddenly.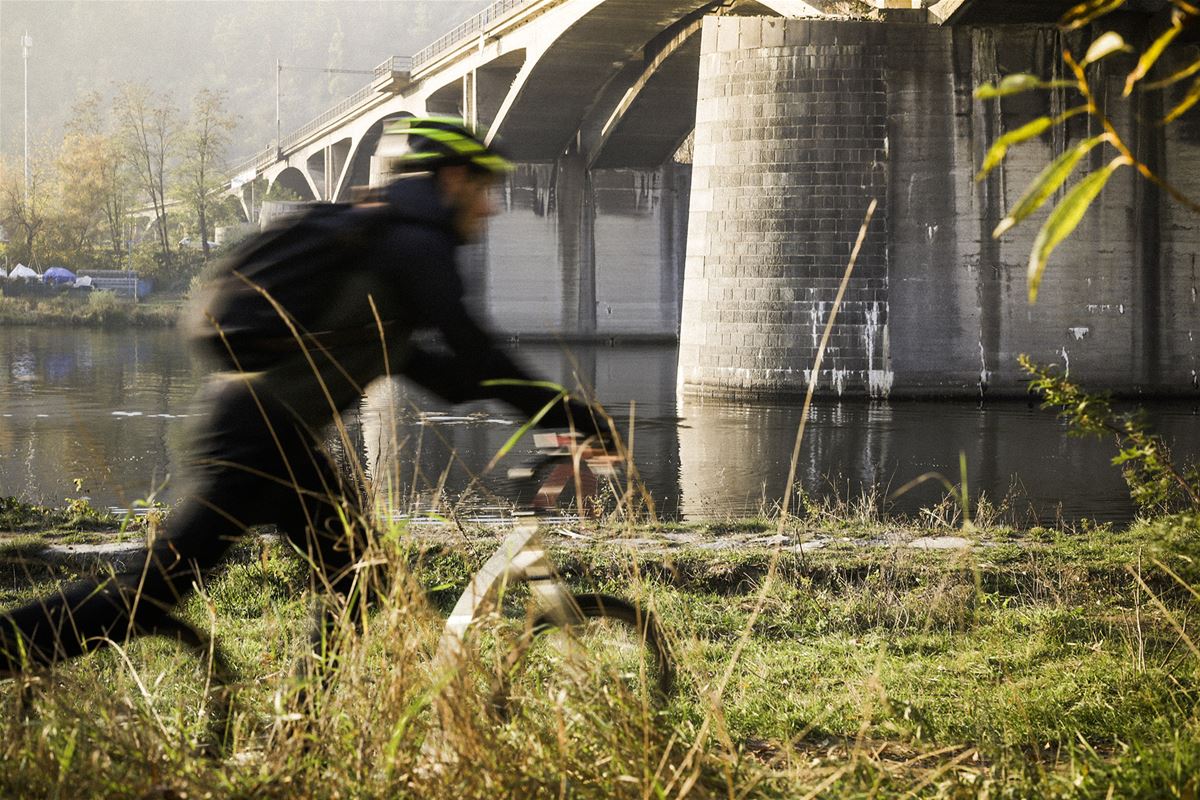 The painful place is often very far from the location of the cause. A shortening of the posterior thigh muscle (hamstring), for example, will influence deep muscles in the pelvic area. Weakened muscles in the small of the back subsequently cause a shift in the position of the pelvis, which may lead to compression of a disc and a pinched sciatic nerve.
Exercising on the scooter also helps increase the range of motion of the lower limb joints and supports a correct functioning of the sacrospinalis group of muscles. We have prescribed scootering for a weightlifting representative, for example, who was dealing with lumbar spine problems, for a young figure skater after an ankle surgery, who needed to improve the dynamics of her takeoff, and also to young table-tennis players to improve their fitness.
Other sportsmen use a scooter to diversify their aerobic exercise. Switching between activities helps maintain performance and minimises the risk of injury. We recommend the scooter to common clients as an excellent helper for backache and spinal pain," Vladimír lists purposes, for which to use a scooter.
The benefits of scootering from the perspective of a movement therapist
Strengthens back muscles – sacrospinalis muscles
Works to prevent blockage of the sacroiliac joints
Contributes to flexibility of the spine
Has a positive effect on lower limb joints
Improves posture
Helps in case of scoliosis
Has a good effect on the foot - the sole as well as the arch
Influences growth development of children positively, presuming they switch legs regularly
Vladimír Ščerbanovský tried out scooters accidentally, during a family meeting. He immediately recalled an article on the positive effects of scootering and decided to test and try them for backache, with which a growing number of people are turning to him.
"My colleagues at the centre and I began to test scooters ourselves. We then selected suitable clients, for example two clients after a knee surgery, two with spinal problems and two non-athletes, whom an unhealthy lifestyle brought to us, and we included scootering in their movement programme, depending on their possibilities, up to 2 times a week. The effect came relatively quickly… It turned out that scootering can help with problems caused by long sitting, lack of movement, as well as poor movement habits.
Riding a scooter strengthens the back muscles well, contributes to the overall flexibility of the spine and improves the posture in general. It has a positive effect on the range of motion of the lower limb joints and prevents pain of the sacroiliac joints," Vladimír explains.
Vladimír Ščerbanovský – profile
He was quick-tempered, when he was young. It bothered him, and hoping to find help in individual sports, he threw himself into things like mountain climbing, speed diving and shooting sports. He eventually stuck to shooting, not only because he was good at it, but mainly due to the deep concentration and philosophy that went with it.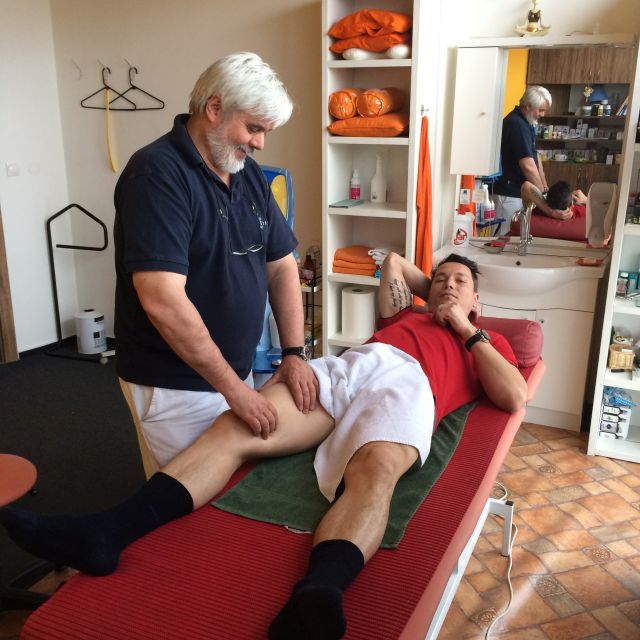 In addition to competing himself for the national team, at the age of twenty years he also began to train the youth. In order to be able to develop his charges successfully, he began studying at the trainer study programme at the Faculty of Physical Education and Sports and began to educate himself in physiotherapy. He needed to know how to compensate great one-sided burdening of the back related to shooting sports.
Later on, Vladimír naturally moved on to adults. In shooting sports, he helped Jozef Gönci to an Olympic medal in Atlanta in the year 1996, he worked as a consultant for skeet shooter Danka Barteková, he was a physiotherapist for the Slovak basketball representation, he helped the hockey players from Košice, etc.
After the revolution, Vladimír founded his physiotherapy and movement centre in Košice, which not only many professional sportsmen, but also common people suffering from pain in the locomotive system seek out due to its complex approach.
And since Vladimír is very enthusiastic about new things, he was the first person in Slovakia to start using the revolutionary Gyrotonic method, which consists in creating balance, strength and flexibility in the spine and the entire body. He re-discovered scootering for his clients and it appears in the movement plans of his charges increasingly more, whether they be professional sportsmen or common clients.