An Ordinary Story Of An Absolutely Extraordinary Scooter
|

Redakce

An Ordinary Story of an Absolutely Extraordinary Scooter has been sent to us by Ronald Pfister along with a historical scooter to enrich our collection. Thanks a lot!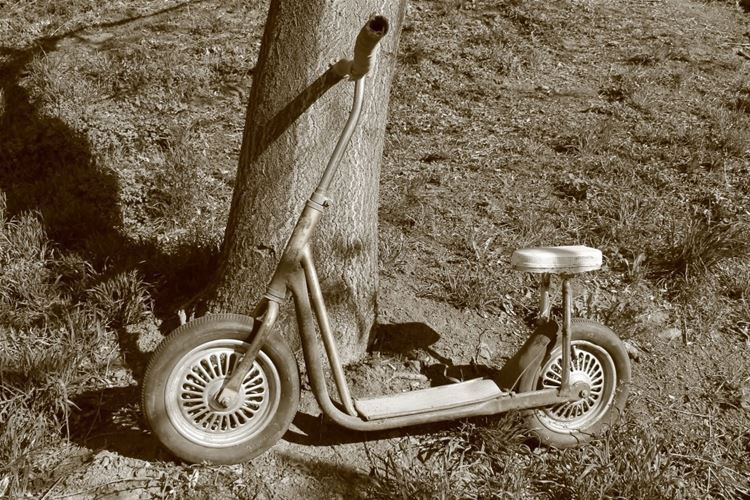 When Did It All Begin?
I am not quite sure about how to start the story, so I will begin with my birth. I was born during the period of the (post-1968) 'normalization' and I am one of 'Husák's children' (term commonly used for a generation of people born in Czechoslovakia during the baby boom which started during the period of normalization). The year I was born is known exactly, it was the year 1970.
Well, let's get to the point – the unique single-track vehicle, whose engine were both my feet taking turns for a long period of time, produced by comrades from the Deutsche Demokratische Republik (DDR), probably in the town of Sangerhausen, in a factory with a quite long history. The first bicycle was produced there in 1907. It was there that my reliable, steady, red scooter was born (around 1973).

My parents brought it from Dresden by train and I, at that time a four-year-old boy, was quite shocked by its size. Until then I had been riding only a classic wooden scooter that the famous Czech puppet Hurvínek used to have, two rear wheels and a front wheel. So I had to put playing with the scooter off until I got used to it.
True Ride
And it grew with me. We went on trips to the Hostivař Dam, where I could freely ride on the asphalt roads, or to the Průhonice Park, where I used to practise skidding on the sandy routes, or to the Rieger's Orchards, accompanied by my parents, which was not that much amusing. I had to restrain myself from being too naughty, since there were quite a lot of people around.
After 1976 we could transport the scooter also in our car, so I used to take it on holidays with me. The car boot of our Škoda 445 Spartak was large enough, so I could practise hard to be able to go in for a race in 1979.
Race In Žižkov
Enthusiasts from the Union for Cooperation with the Army in Žižkov organized a unique race for scooter owners. Golden Helmet was not only the title of the race but also the first and a very attractive prize. The race took place at the roundabout in Žižkov, in the Škoupa square, near the Žižkov Television Tower, which was not built at that time, indeed. In the square that became famous ten years later thanks to President Havel. I will talk about it later.
The race was exciting and dramatic and, surprisingly enough, I did a good job till the finals. In the finals I led the peloton till the first half of the final round, however, since I lacked experience and was too eager at the start, I got leg cramps and I lost. But it was only by the skin of my teeth. Nevertheless, I did not conceive hatred for my scooter and went on enjoying my rides.
Unfortunately, we bought a new car and it was impossible to transport the scooter in the boot of Škoda 100, since it was too shallow. Never mind! Well, suddenly I am 12 and then 14 and I still ride my scooter. At the age of 17 I got acquainted with a mechanic working in Tatra Smíchov, where the famous T3 type of trams was produced, of the same red colour as my scooter. The skilful mechanic managed to make a tougher frame from the material he brought from the factory and thus increased the load carrying capacity of my scooter.
Scooters To The Castle
The crucial period not only for scooter begins. At the age of 18 I become member of the S.H.P. (Society for a Happier Present), with which we provoke a bit and at the same time have fun under the firm leadership of the S.H.P. President, Luboš Rychvalský, and his wife, today's famous actress, Bára Štěpánová. It is important to say that in the period which followed the Velvet Revolution it was the S.H.P. that gave the newly elected President Václav Havel, the most valuable gift, the scooter. It was intended to have a practical purpose, particularly to enable the President to whizzle through the long corridors of the Prague Castle. That wasn't my scooter, nevertheless, it is necessary to point out that since then scooters have been included in the government fleets.
At that time we moved from a small flat in Žižkov to a much larger flat in Nové Butovice and a new era of riding began. On my way to school I ride down the fantastic Radlice hill and once I even managed to overtake a hooting ambulance. You know, Š 1203 did not rank among the fastest cars, although it was flashing its blue lamps and hooting.
When I lived in Nové Butovice I used to enjoy trips to Karlštejn, which seemed to me to be located within a stone's throw thanks to the scooter. I used to take a train to return back home, but I think that such a means of transport is allowed for scooter riders even today.
A Journey Around The Country
We went on a long journey around the Czech Republic with my scooter, however, not all the limbs were willing to ride hundreds of kilometres. Some of them preferred communication with girls and we thus failed to complete the journey and ended at the location where there were the most beautiful girls, or at least it seemed to me so.
I spent some time living abroad and I found out what a poor life people live in foreign, remote countries, not knowing scooter riding. This was one of the reasons why I decided not to stay in America or France for good. There's hardly anyone to whom you can talk about your vehicle, unless it has at least 8 cylinders, 4 wheels and a steering wheel. So boring!
Nevertheless, the scooter wasn't out of action at that time, since my sister's little son discovered his uncle's perfect vehicle at the right age and began to ride it. He gave it back to me after my return and the poor scooter was stored in the garage for several years. We bought a new scooter, a sophisticated one, which my wife uses today and what's more, we bought another one, even more sophisticated, which my small daughter rides. Of course, I'm going to have the most sophisticated one in the nearest future, red, for sure. I'm already looking forward to exciting adventures.
And you, my dearest scooter from the DDR, please feel proud and happy in the museum of scooters founded by the reputable scooter rider, Mr. Bostl, who fills many people with pleasure by selling them these vehicles.