Strikes Vs. Yedoo
|

Vendula Kosíková

On the day of union strikes in Prague, "I do Yedoo" happening introduced scooter as an alternative means of transportation for the city.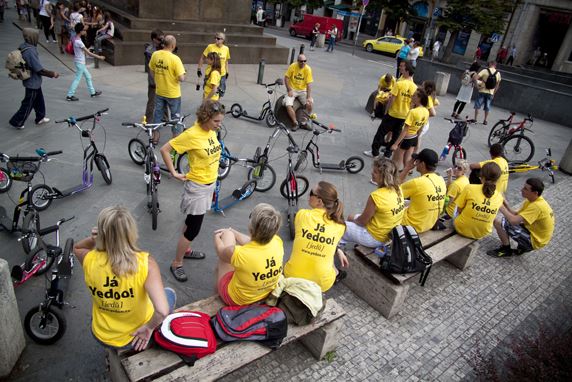 On Thursday, June 16th, the city of Prague experienced the biggest general strike from the times of the Velvet Revolution (1989). By blocking railway transportation in the whole country and  restricting public transportation in most cities, the unions protested against reforms introduced by the government.
However, the inhabitants of Prague were well prepared and used their bikes, roller-blades, and scooters to get to work or school. For one day, the capital of the Czech Republic became one of the most ecological cities of the world.
The happening organized on this day by a group of enthusiasts proved that scooters  were an ideal alternative means of transportation for the city. More than 50 people dressed in yellow T-shirts with the sign "I do Yedoo" participated in a collective scooter ride through Prague.
The organizer of the happening and the head of the company producing Yedoo scooters and bikes Mr. Dan Pilát said: "It was an non-political event, we just wanted to lighten the situation and show others that there are other ways of movement through the city, then to which most Praguers are used to."
On Thursday, June 16th at 10am, scooter fans met in the center of the city – Wenceslas Square, where they began their ride through the city. They rode around the National Theatre, across the bridge over Vltava River to the Lesser Town, where they met the strike procession.
Not only those passing by but also media respresentatives monitoring the situation showed interest in the scooter happening.
One of the most prominent Czech newspapers MF Dnes wrote on July 17th: "As far as cycling density, Prague exceeded world capitals such as Amsterdam or Vienna and approached Kopenhagen."
Even some polititians were pleased with the amount of single-wheel vehicles. Bohuslav Svoboda, the mayor of Prague declared: "Prague is finally a city for bikers. If only it stayed like that."
Participants in the happening proved that it is possible to move around the city fast, ecologically and independently on the public transportation. The organizer of the happening Dan Pilat himself came to the city center from the outskirts of Prague. Other enthusiast who came all the way from the Northern part of the city confessed with a smile on her face: "It took me almost an hour to get here but I really enjoyed the ride".
Don´t wait for strikes to strike your city and join the scooter community today! Yedoo.eu offers you a wide choice of scooters in different sizes and colours.