Life does not end with retirement, says the message from a nearly 70-year-old scootering pilgrim
|

Vendula Kosíková

Although he is nearing seventy, nothing prevents him from criss-crossing the entire Bohemia on his Blue Dragonfly – the S2620 scooter. He calls himself Skuda Gramps (Děda na kolobrndě) and in the middle of this April, he will set off on his third scootering pilgrimage, during which he intends to cross the country from west to east. Keep your fingers crossed for him and follow him on Facebook.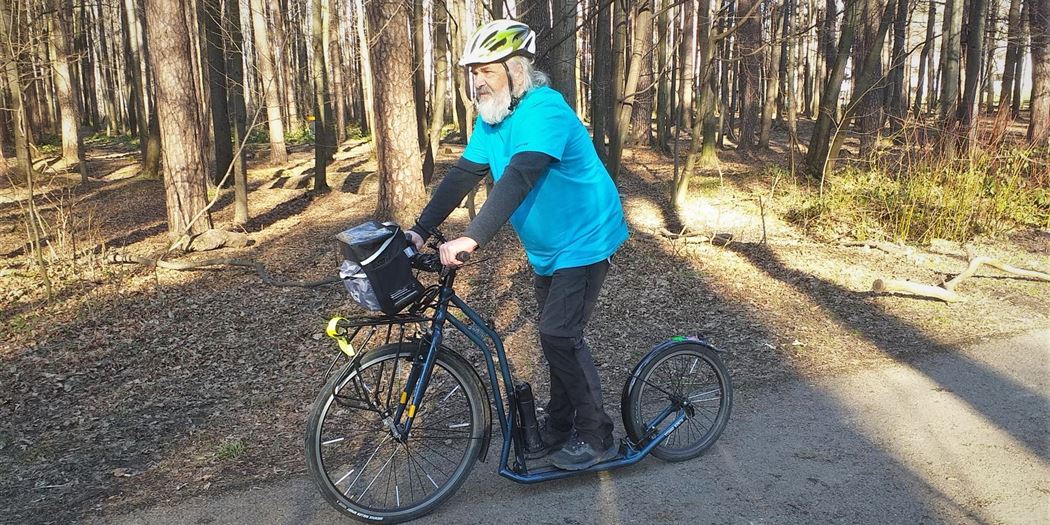 He began to ride a scooter to keep up with his grandchildren
From the Facebook notes
"We have been on the road for three days. The kilometres we have covered are tough on our legs. We get up from a different bed every morning, setting out before dawn. We need to absorb energy from the rising sun and travel as many kilometres as possible. We have all we need for several days in the backpack. We try to travel while enjoying all beauties of autumnal nature. Sometimes we stray from the set route. This makes the number of kilometres increase. Never mind, wandering is worth leaving our traces in the area."
For more, see: www.facebook.com/Děda-na-kolobrndě
Břetislav Snášel alias Skuda Gramps (Děda na kolobrndě) grew up in Rožnov pod Radhoštěm, in a region, where scooters have a long tradition. Despite this, he only came by his first machine recently.
"My father encouraged me to pursue cycling, I even made it to races, but I always eyed the children, who were able to joyfully cruise around the village square without any pressure on performance. I only made my scootering dream come true when my grandchildren started to ride scooters.
"First I only wanted to keep up with them, but soon I took to pushing-off so much that I started to make increasingly longer trips."
He dedicated his first 300-kilometre-long pilgrimage to his family
Břetislav set off on his first pilgrimage last summer. He travelled three hundred kilometres across Moravia in honour of his family, which has supported him all his life.
"I like going from one specific place to another, and harsh weather or occasional wild shelter for the night is no problem for me." I hiked in the mountains, bivouacked in snow caves in winter, I was a summer camp leader, I organised the Moravian stilt walkers club and so on."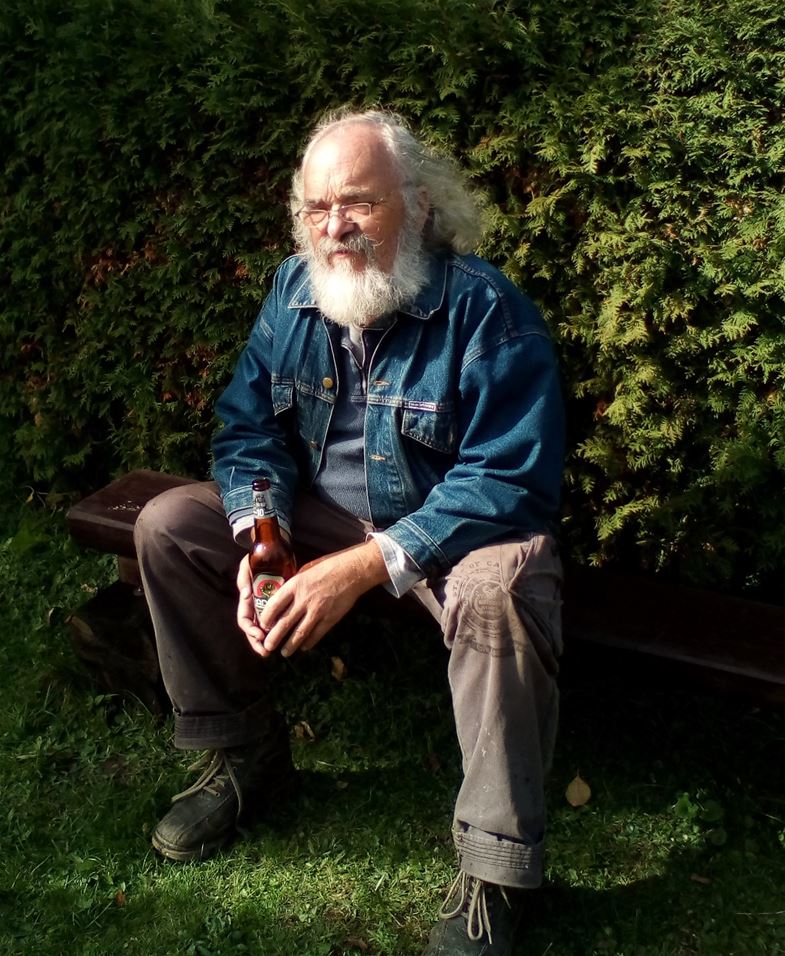 He managed a journey from Poland to Austria in 14 days, this time he did not go alone anymore
From the Facebook notes
"Everything has been going as expected. The weather turned fine and the real autumn weather has begun. Farmers are ploughing the land after the harvest. Swallows flock around me and race me. Cows, horses, sheep as well as deer shake their heads, wondering about this apparition puffing and creeping past them up the hill. We are nearing two hundred kilometres and will start to whizz towards our destination."
Břetislav planned his second scootering pilgrimage that led from north to south across Bohemia for last September. He informed about his intention on his Facebook site, where he also requested tips for shelter. At the end, he added a comment that he would like for someone to join him, even just for one day.
The 65-yer-old Honza Kos joined in. They met in Kácov and travelled to the destination together. They are preparing a pilgrimage in April together, too.
He calls his scooter the Blue Dragonfly. Why is he satisfied with it? 
Břetislav has dubbed his Yedoo S2620 scooter the Blue Dragonfly, after its colour and the lightness of movement it provides.
"I am very satisfied with it. It is reliable (carries my 96 kg as well as my 15kg backpack without any problems) and its price is favourable, too. I have already travelled more than 900 km on it and would not change it. It was able to handle torrents of water and stones, when I went from the area of Podkrkonoší to Jaroměř in a rain. Besides, it races much faster than the Sulov scooter, which I had at the beginning of my scootering career.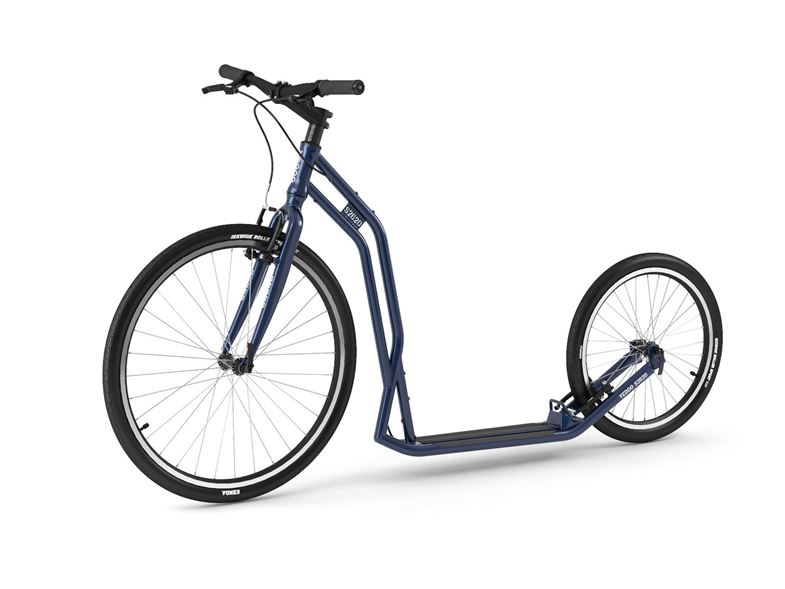 It is never too late to begin, the scootering pilgrim says to his age-mates
From the Facebook site of the wife of Břetislav Snášel
"Everything is different again with Skuda Gramps. Having only a card with him, he ran out of cash and was not able to stay overnight at Rajnochovice (even the hotel did not accept cards). He set off in the direction of Bystřice pod Hostýnem in the evening. In the first village, Podhradní Lhota, firemen, who had their training there, took care of him. The treated Grandpa to some coffee and cakes, a place to sleep on the porch, dry and under the roof, and this morning he received some more coffee. Good people exist, still! Břetík looks a bit like an oddball to many people, so they pamper him. Thank you very much, and I keep my fingers crossed for further ride. He does not have much left, only 45 km until Sunday. He is likely to roam somewhere again."
Břetislav Snášel is young at heart and he prefers moving outdoors in the fresh air and enjoying adventure rather than sitting at home at the TV lamenting about politics. "Riding a scooter is fun for me and it is good for my joints. I enjoy every kilometre I travel, and every night I spend outdoors."
The message Břetislav sends to his age-mates says: "It is never too late to begin. You need not go far, around the village square is enough. You will find in time that the distances you travel are becoming longer. You head will clear and you will forget about unpleasant things in life.
You will be tired and sweaty, when you return, and perhaps you will say to yourselves there will be no next ride. But in two days you will head out again and in half a year you will realise you find it easier to breathe. Bad things will subside and you will start to see the world in better colours.  You just need to get up, go outside and find something positive about every day."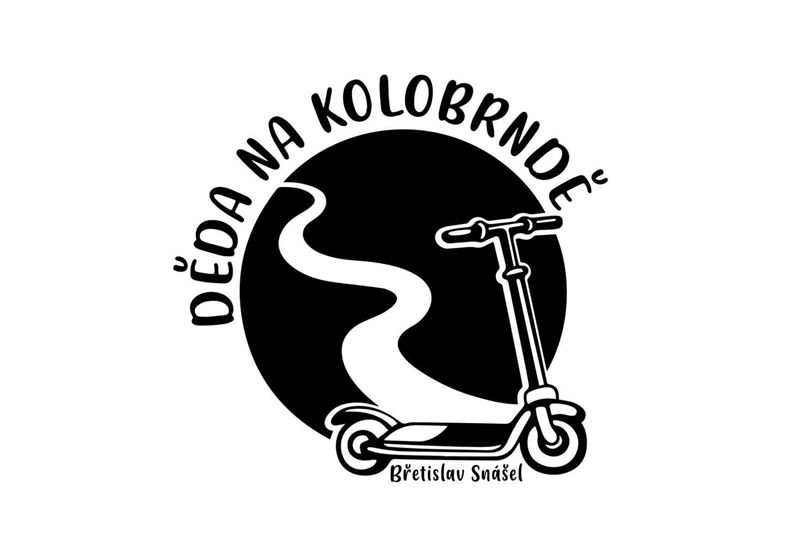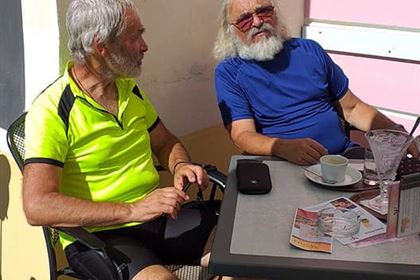 April pilgrimage slowly approaching 
If all goes well, you will reach "Skuda Gramps" somewhere between the westernmost and the easternmost place in Bohemia between 12 and 27 April. Immediately after that (on 28 April), he will celebrate being 69. You can find a detailed plan of his upcoming 670 km long journey on Facebook.