Why work at Yedoo?
We are a nice bunch, a friendly and positive team. Even though we are all completely different, we share the same goal – the joy of people who, after mastering their machine, start their next ride with a triumphant shout of "Jedůůů!" ("I'm ridi-i-i-ing!") See what we value most about our work: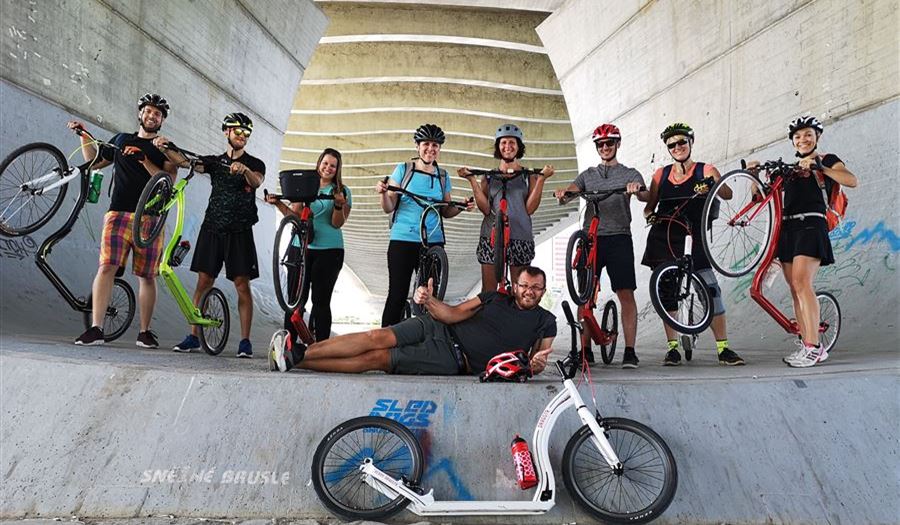 "I have been with the company for more than thirty years, so logically I was also at the birth of Yedoo. What motivates me to make it worth getting up every day and starting over again and again? It is exactly the ability to move on, to contribute to moving things forward, to not accept that something could not be done. To co-create our common future. And that's what I enjoy."
Dan
"We have a great team at Yedoo and we are moving further and further every day."
Tomáš
"I love working at Yedoo because I can develop, design and manufacture products (scooters, balance bikes and accessories) that are guaranteed to improve the users' quality of life, both physical and mental. With every push-off on a Yedoo scooter (or balance bike), you improve your mood, you spread that mood further and that makes it easier to overcome problems. If you are physically and mentally in better shape, your life is better. And that is the mission of Yedoo, which I like because it makes perfect sense to me: Improve life = improve the world!
Kuba  
"It's a great group here, I haven't seen that anywhere for a long time. And I love that we're all enthusiasts and riders at heart. I think you can tell from the scooters."
Petra
 "There is a great group of people at and around Yedoo, and we are selling a great product that we all love and trust."
Martina
"Because at Yedoo, your visions and ideas become reality."
Josef
"I like improving things and I'm happy to be able to improve things."
Kryštof
"At Yedoo we have a great group of people I can rely on and a product that is a pleasure to work on. The work is varied and everyone has the opportunity to take responsibility and implement their ideas for improvements. Yedooo!"
Irena
"Because work goes smoothly in a friendly team with a good mood and under management with a human approach."
Jakub 
"With scooters I sell joy to people. Our customers are great and as a bonus, I work with a wonderful group of people who always make me laugh."
Monika
"Working at Yedoo, I feel like a fish in water. Working around such great scooters is a great joy, and my colleagues are the icing on the cake, enhancing the joy even further."
Zuzka
Back to We are looking for reinforcements