Yedoo stands for our passion of movement on two wheels
We're Czechs. We like a good laugh and know how to fix anything - and that's why kickbiking has taken off here more than anywhere else in the world. A scooter racing league has organized competitions here since the 1960s. The very first European and world championships were held in Pilsen and Karlovy Vary and we even founded the International Scooter Association. The Finns are probably more into competing and the Dutch have better terrain, but a great bunch of people into kickbiking – that's a Czech invention.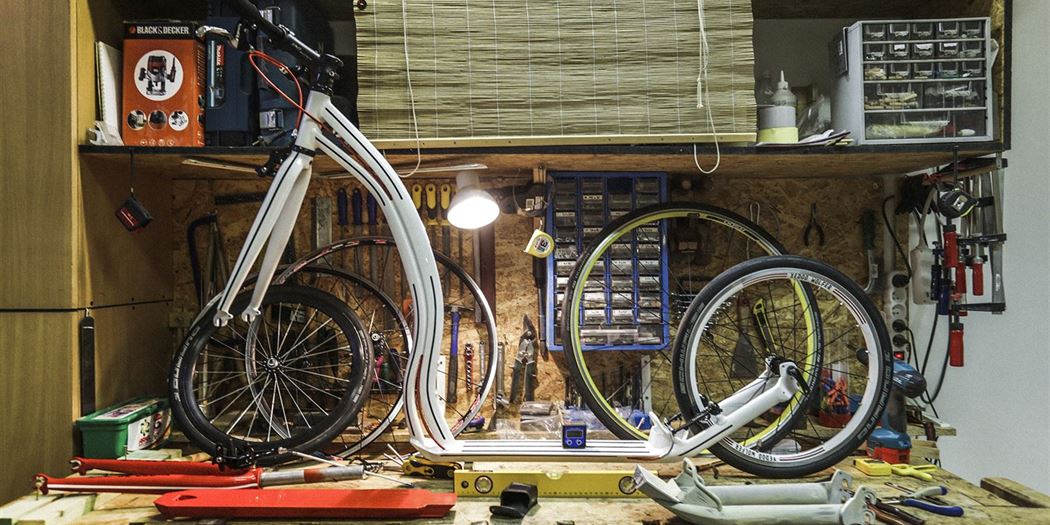 At Yedoo, we've been dedicated to scooters since 1998. We started with children's scooters, moved into scoot bikes and children's bikes, and now scooter racers who want to compete at the elite level can get a set of wheels from us to help them win. We design all of our products ourselves and we ride them, too. Initially that meant locking ourselves away in a garage for a few hours and welding and cutting and welding… and then at the crack of dawn, right after we'd finished the prototype, we set off on a 24-hour race and covered over 500 kilometres. 
Some of us have taken our love of kickbiking all the way to the top competitions - but the most important thing is to have fun, enjoying ourselves together, whether we're competitive racers or preschoolers, riding in the city or along the river, walking the dog or making our way to school.
Today, our children also ride our scooters and balance bikes. When we're developing a new saddle, you can be sure that all our neighbors´ rear ends will sit on dozens of tested prototypes. Kuba Bostl, our development manager, devotes most of his work and free time to designing, throwing hundreds of hours into preparations, thinking and finding out what our riders need. Only then come the months of work of computer design and testing the first prototypes, until everything is as simple as possible, durable and more or less maintenance-free. And if current procedures are out-dated, we take a new approach.
For example, we were the first company in the world to produce twelve-inch tires with pressure up to 5.5 bar. We have designed superior hubs, and we were the first to introduce extruded aluminum profiles to slim the overall weight of the frame. Our main goal is to get the best ride experience for racers and preschoolers alike.
That's why you come across Yedoo in almost forty countries worldwide. We may not be related but we feel like family: Kuba, Petra, Pavla, Lukáš, Andulka, Alena and many others from our team have been propelled by their love of scooter riding into the top competitions. It's not just them - lots of adventurers fulfill their dreams on Yedoo scooters - such as Prague to Edinburgh or to the northernmost point of Europe. Still, pleasure remains our central interest, for parents and children, teenagers and adults alike. We can enjoy scooters together - in the city, along the river, walking the dog, on the way to school ...
Every year, we organize dozens of events to help popularize and develop scooters. From the races in Vrbice, a small vineyard village in southern Moravia, to supporting a bunch of enthusiasts who decided to take part in cycle races on scooters - the 100th edition of the Tour de France and the 100th Giro d'Italia. We all promote the same thing - scooters are fantastic and riding them is really fun
That's the most beautiful thing about our work and scooter-riding - how scooters have brought into the open air loads of "office rats", how more and more people have been joining us and, once they can manage their machine, they start their next ride with a triumphant shout: "Jeduu!" (I´m riding!)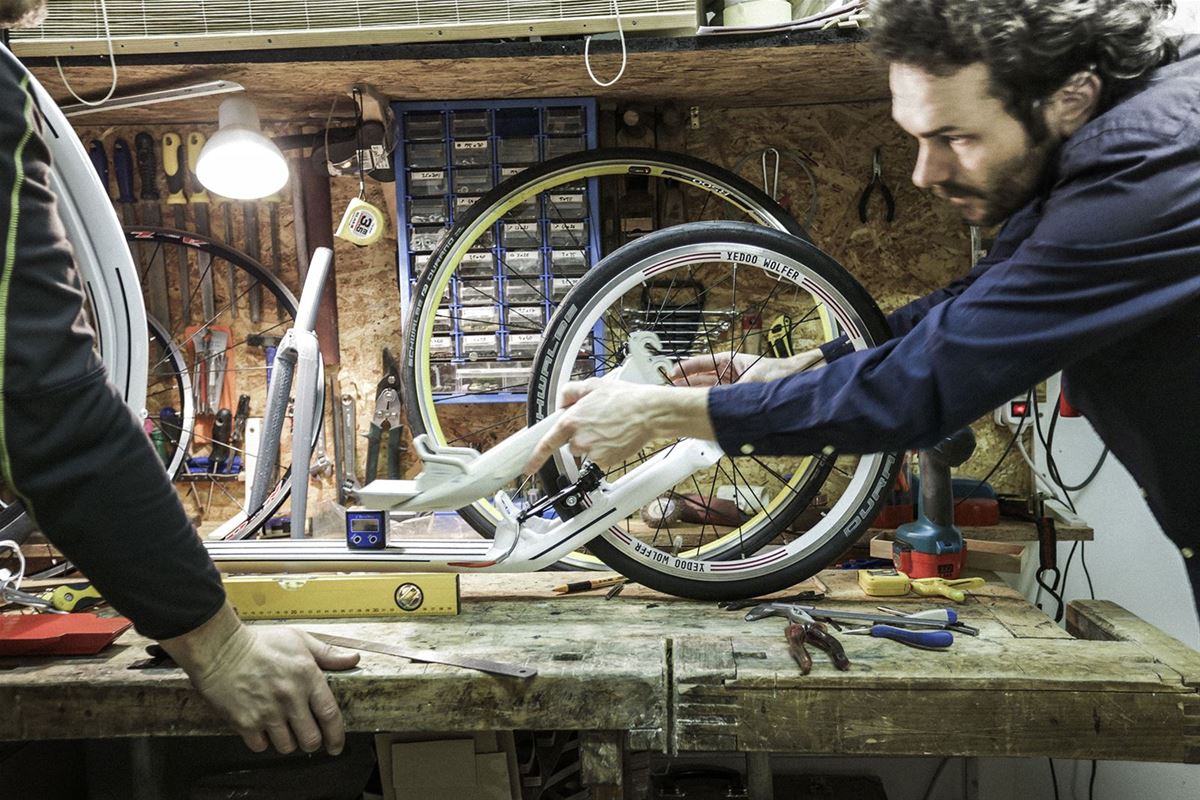 Construction
"Not all construction problems are always easy to solve but everything flows better with motivation and when you know what you want – a great scooter and excited riders." Jakub Bostl /Head of Development Yedoo
Development – a Process That Shall Never Stop
The development of new products is a never-ending process. In order to surf the tide, we have to note the newest trends within the world of materials and technology and evaluate the desires and feedback from product users. The development of a good scooter, running bike or child's bike can't be rushed. Many years of hard work and experience have been put into assessing every detail to make great vehicles which their riders enjoy.
That's why our latest models from the Yedoo Alloy line boast several design features the rest of the market has not yet seen. This is mainly the use of extruded aluminum profiles that can easily withstand both vertical and lateral loads. Using this technology, the frame is lightweight and sturdy at the same time. This technology has allowed us in every way to shift the driving characteristics of our scooters to a whole new level.
Safety and Quality
No real development can be done without a whole range of testing and certification. In times like these, when some producers introduce substandard solutions to save money, for us, thorough testing and certification are non-negotiable. Our products are safety-tested by renowned labs in compliance with European norms. The certificate of safety and quality for each scooter and balance bike can be found on our website.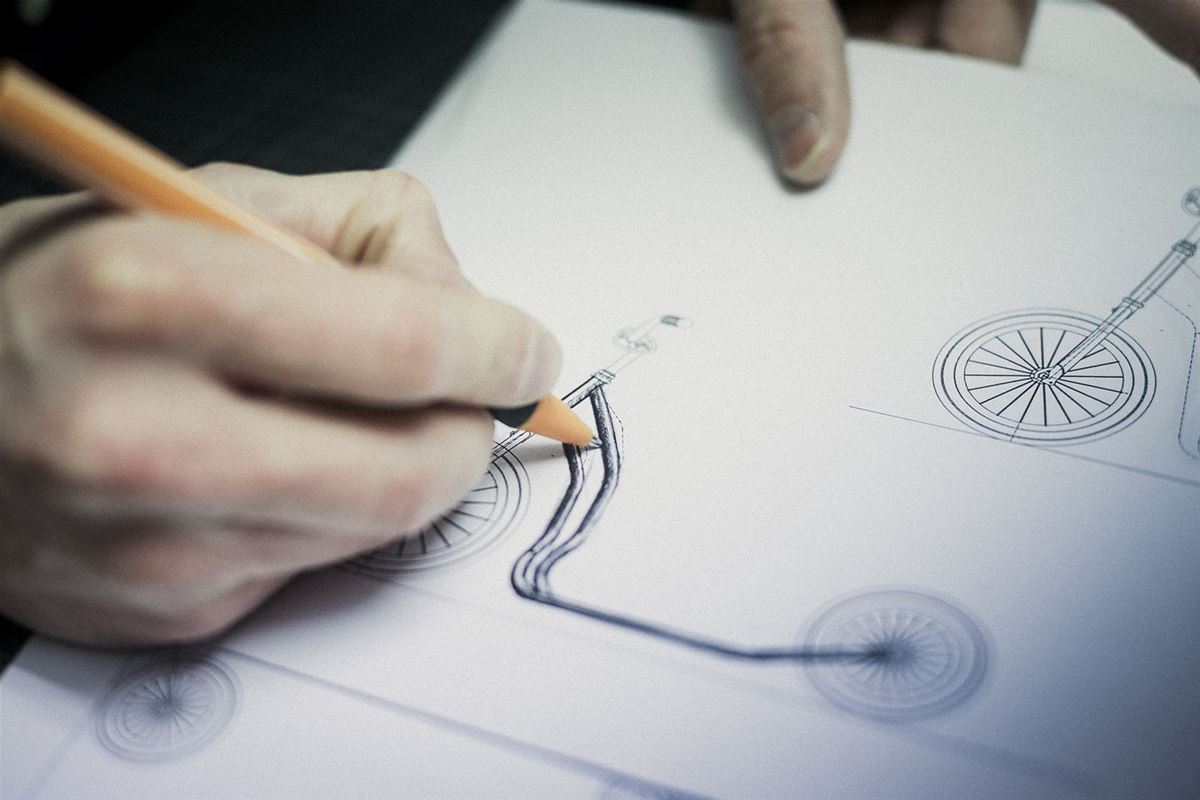 Design
Each model has its own personality: we provide a look to suit. We want the different models to reach out and grab their future owners.
Product Design...
For today´s customers, it's not enough that it works. More and more, they want it to look good. We like that. Who wants to be surrounded by ugly things?
Red Dot Award 2016
Yedoo's serious approach to design is illustrated by our Yedoo Wolfer scooter winning one of the biggest design contests in the world and being awarded the Red Dot Award 2016 for product design. "I think we've shifted the image of scooter perception through our new line of Yedoo Alloy scooters. We´ve managed to get rid of the clutter of clichés and to present the scooter as a fully-fledged transport or sports vehicle. The award we have received is the evaluation of great teamwork," says Yedoo designer Jaroslav Juřica, who together with graphic designers Zuzana Lednická and Ondřej Kahánek from Najbrt Studio designed a becoming and functional coat for the Yedoo Alloy line.
.. and Designer Products
Our new logo, along with the whole Yedoo visual style created by Zuzana Lednická, is based on our original idea: "Two wheels are enough". The two-circle logo shows two wheels (one bigger and one smaller - the same as on Yedoo scooters). This duplication is also repeated in Yedoo logo characters, with double lines representing traffic lanes or lines running on a road, which add dynamics and speed.